ES Friday 3-6-15
Feb
VPOC
: 2091
Feb
POC
: 2091.25
Weekly
VPOC
: 2109
Weekly
POC
: 2110
Dec Hi: 2088.75
Last week's Low: 2099.75
All time high: 2117.75
Greenies:
2109.75/2110.75
2103.5/2105.5
2100.5/2101.75
2090/90.5
2085
2077.5
2073.75
Some top down analysis.
Click image for original size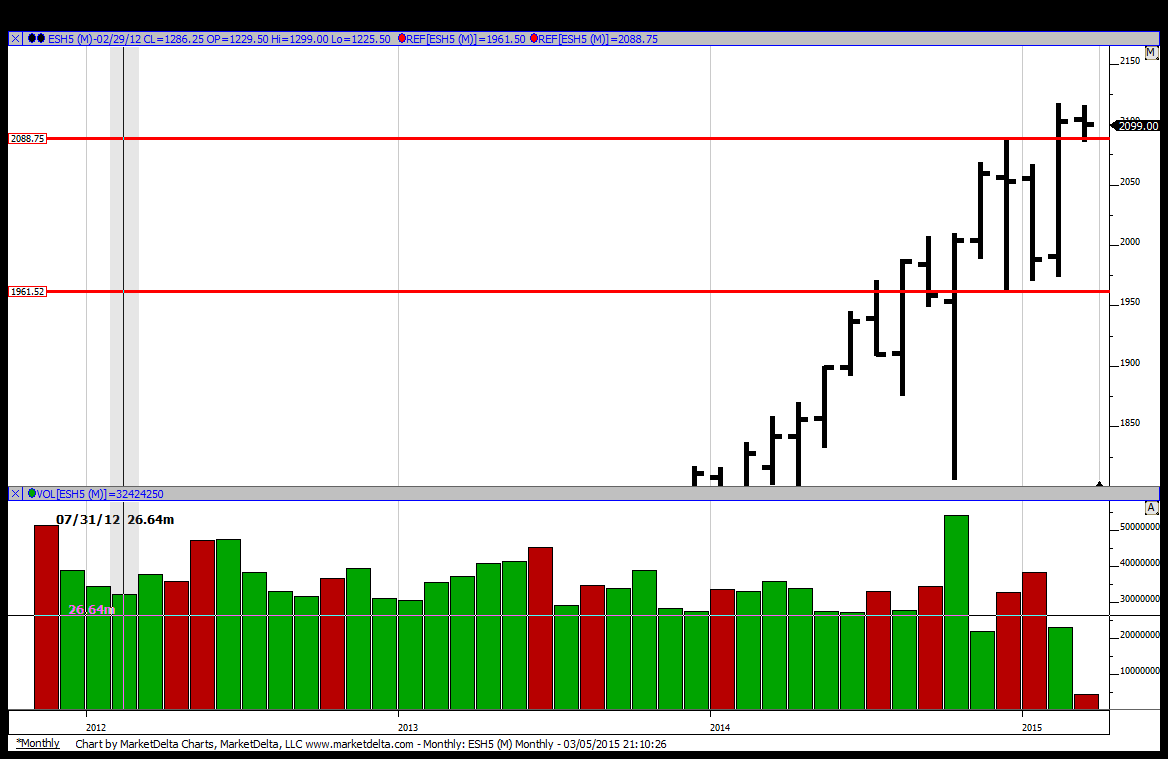 First we have a monthly picture above. I have marked the December high of 2088.75 and we can see that we tried going below that once and failed. So I will continue to monitor this level and see if we can clear it comfortably (with high volume) and close below it. This is kind of a go/no-go level. If we go below it, then 2000 level comes into the picture provided we see follow through.
Click image for original size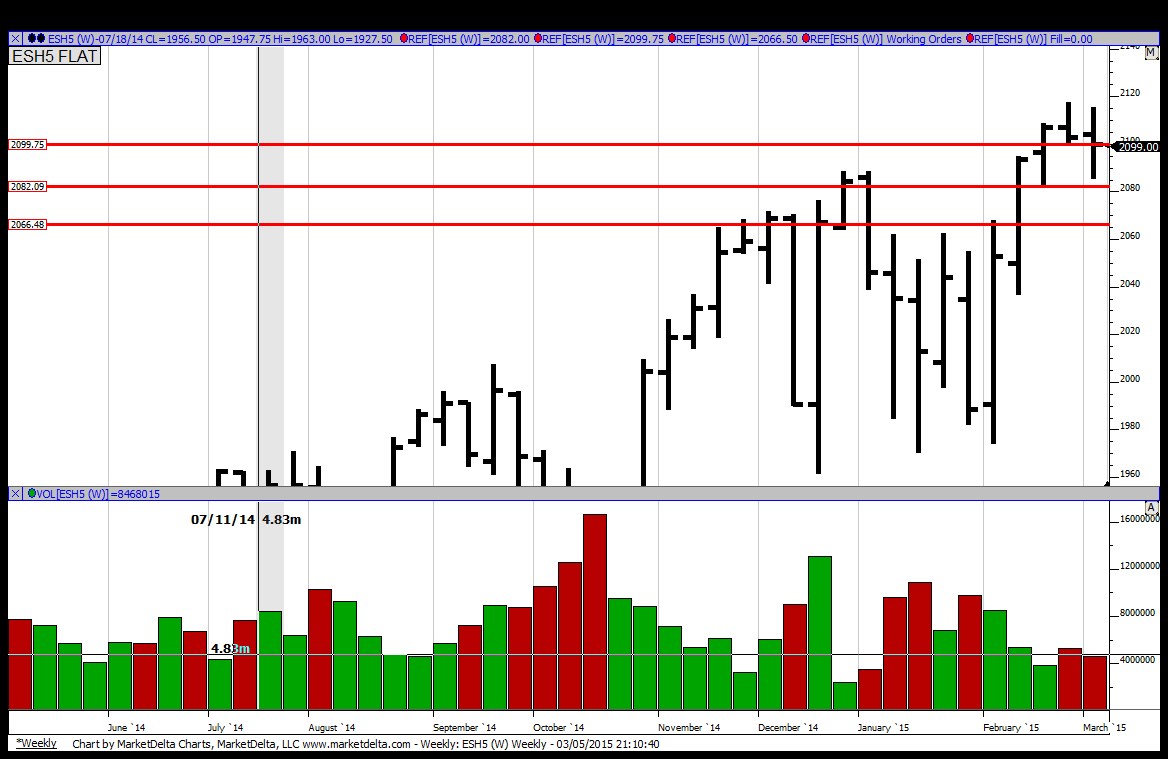 Now we have a weekly view above. We can see that on a weekly basis we still have not closed below 2099.75. So Friday 3/6 is going to be critical with respect to that. If we do close below it, we could take out 2082.25 and target 2062-2068, the previous balance high.
Click image for original size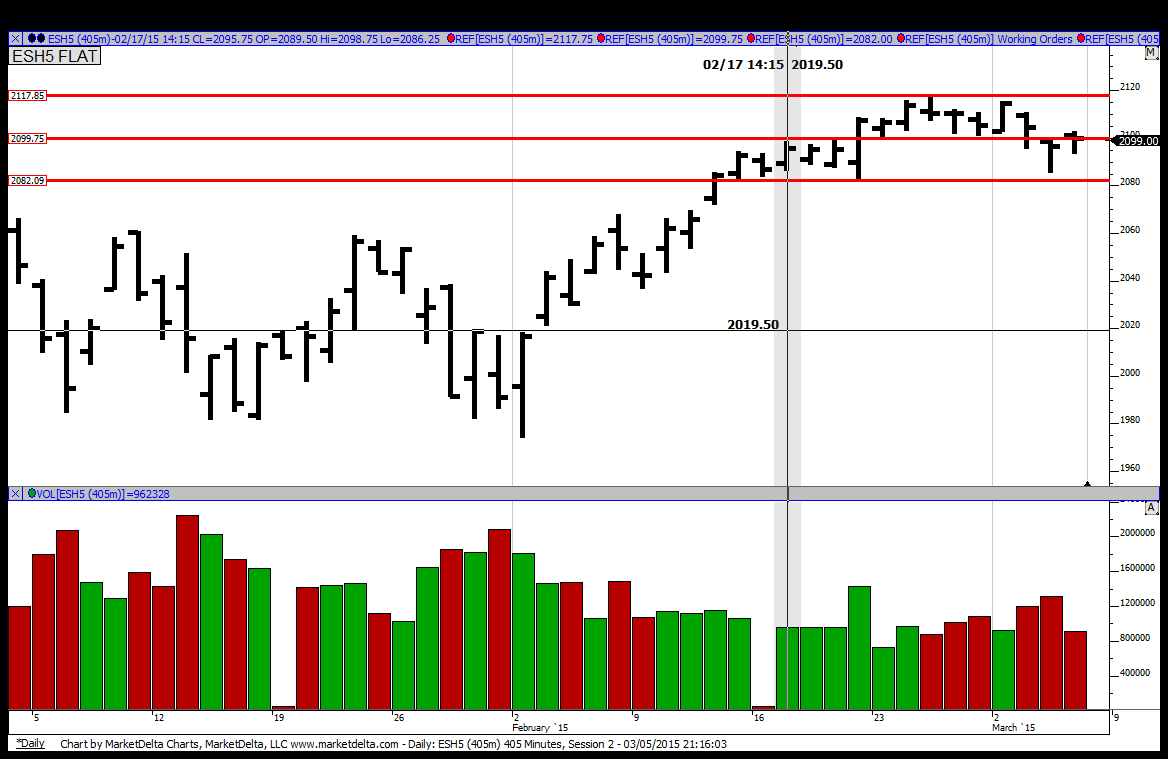 Finally we have the daily view above. Today (Thursday 3/5) we closed right at the 2099.75 level. Again like the weekly view, this level is important on deciding what could happen next.
Let us see what tomorrow brings. This analysis is to likely help us catch a good trend day which would likely happen by triggering of stops or new sellers coming in and doubling up.
Also if we look at the weekly view, we can see that as we had approached the all time highs, we had made higher highs reaching HH3 but with each higher high, the range was contracting. So if we again apply Joe's theory, there was a decent chance of the rally at least pausing this week and it actually ended up making a lower low. To tie in with the analysis in the previous post, was this just a pause or the start of a real move down?
attempting small longs at 94.25 now.....and working on a video....these will be small and try for 96.25 area as a target...midpoint is above there
they cannot seem to get much lift into YD's range...
there have to be stops below Wednesday's lows at 85.25 and then at the 82.25 level... it could get there and just accelerate downwards triggering all those stops so i am going to be careful in that area attempting longs... if we open below YD's low and there are no buyers, we could
gap
and go so i am on alert for that as well.
took loss at 92.75 and starting again at 89.50
coming out heavy at 92.25 to make up for earlier loss...video will attempt to explain more
nicely done Bruce. that was excellent trade location that went with the level i had as well... i am still sitting out
O/N
trading but that was definitely nicely done
All good. For me, the open is a significant level. Many bigger players have a simple saying- long above the open, short below the open- and I try to hop on with them when possible.

Good luck.