ES Thursday 9-29-16
Messing with my
TOS
charts tonight...here is the basics of how I see it....as usual I will revise and check
MP
charts with overnight action in the morning
Click image for original size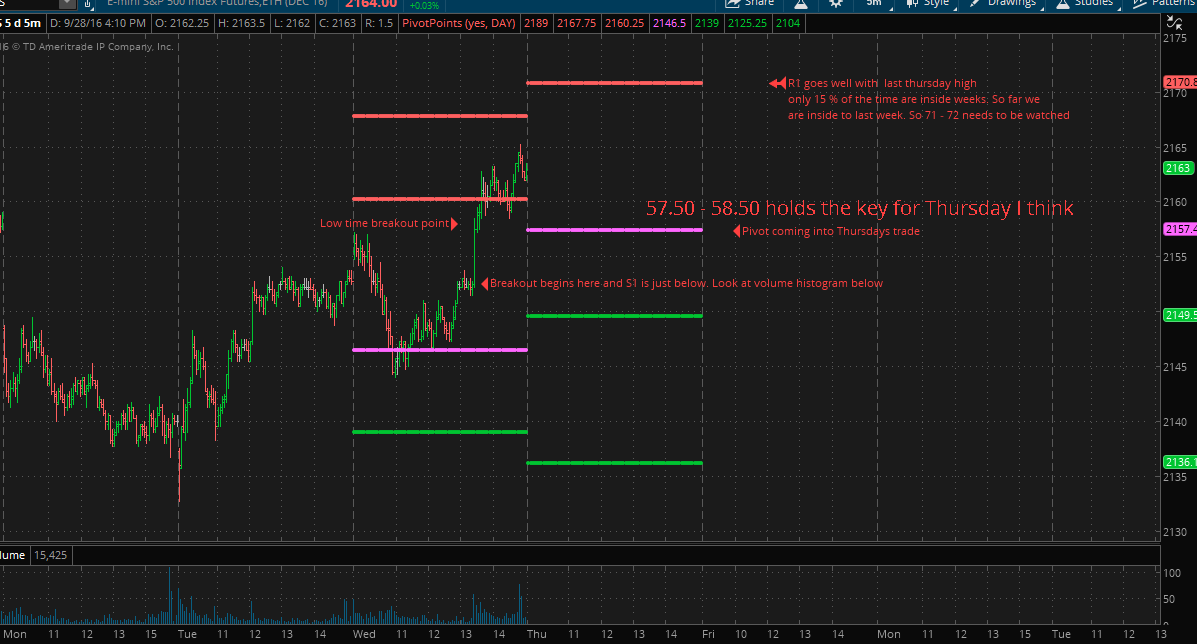 I think it's best to use the areas that have the most confluence...to me that is the 57.50 - 58.5, the 53 - 54 and the 48.50 - 49.50...here is another view..with the time histogram on the one minute included
Click image for original size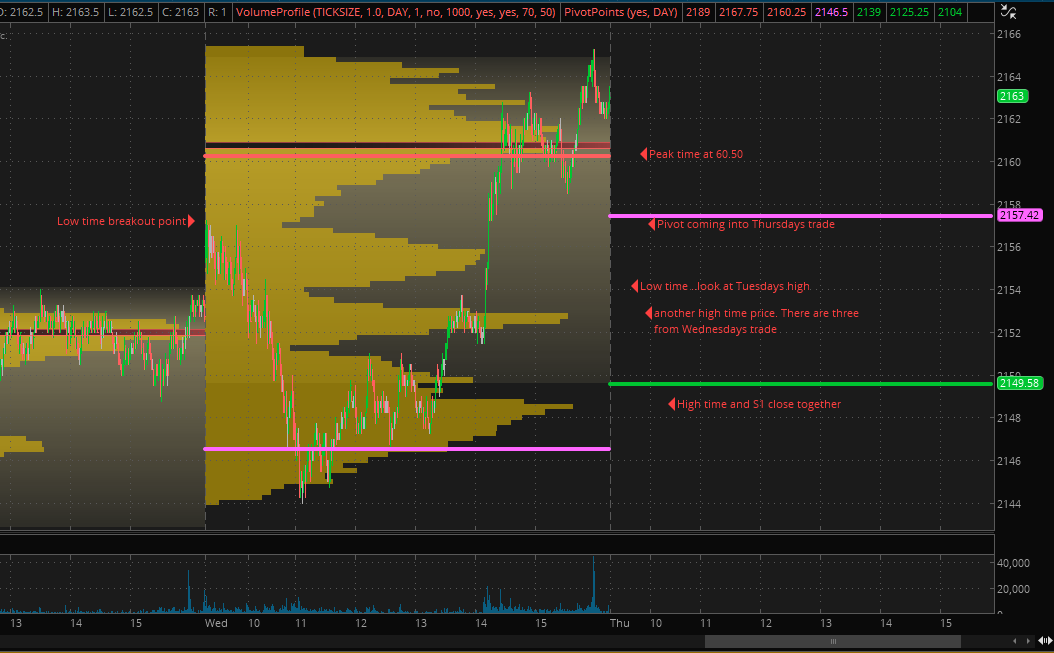 a whole bunch of buyers just came in..lol sorry couldnt resisted..there was big 700 lot buy at 61.75..now there big 700 sell at 64.25 and 298 at 64.75
runners got stopped...ego in the way here....gonna break discipline and try one last short from 64- 65 area and keep a close stop...this is it though....I'm concerned that all us shorts will bail and then a quick drive up to r1 happens....filling that 66.50
gap
on the way
this means it is the very short term traders yanking us around. lack of direction here is maddenning
Originally posted by BruceM

yeah, newkid...now poor highs and poor lows...equals poor trade !!

yeah i deserved that for making a patently stupid comment. i should know better :)
Originally posted by duck

a whole bunch of buyers just came in..lol sorry couldnt resisted..there was big 700 lot buy at 61.75..now there big 700 sell at 64.25 and 298 at 64.75

i would like to see it trade up to the
rat
at 68.75 then down to take out those
triple
3-5 min bar..
big lot sale at 64.25 got it one point. i didnt trade it..
yeah...just the fact that they can monkey around yesterdays highs tells us also that short term traders are goofing around.....that is of course until somebody just steps up and puts the pedal down on a big buy or sell order.....these kinds of conditions may lead to us seeing the
gap
at 66.50 and the
gap
at 59 filled.......I'd like to see the 59 first......I have calls on as a hedge but that is in case the 66.50 prints first......and plan to hold those even if the 59 prints first
so I am a buyer with calls and a seller with
ES
........crazy stuff for me......only about twenty minutes left....
I thought this was interesting as usual - it drives home the concept of how often high time prices get retested when the market just passes through them as if they aren't there......so for those that trade more often you can look for trades
AT
the high time areas but if you don't get signals and volume clues then you can look at other areas and use the high time areas as
Targets
...so the moral of the story is this - Most times high time areas that get blown through sees price come back to retest those areas...
here is todays EOD chart with only the 3 high time areas I mention last night on the chart.....
Click image for original size