ES Thursday 9-29-16
Messing with my
TOS
charts tonight...here is the basics of how I see it....as usual I will revise and check
MP
charts with overnight action in the morning
Click image for original size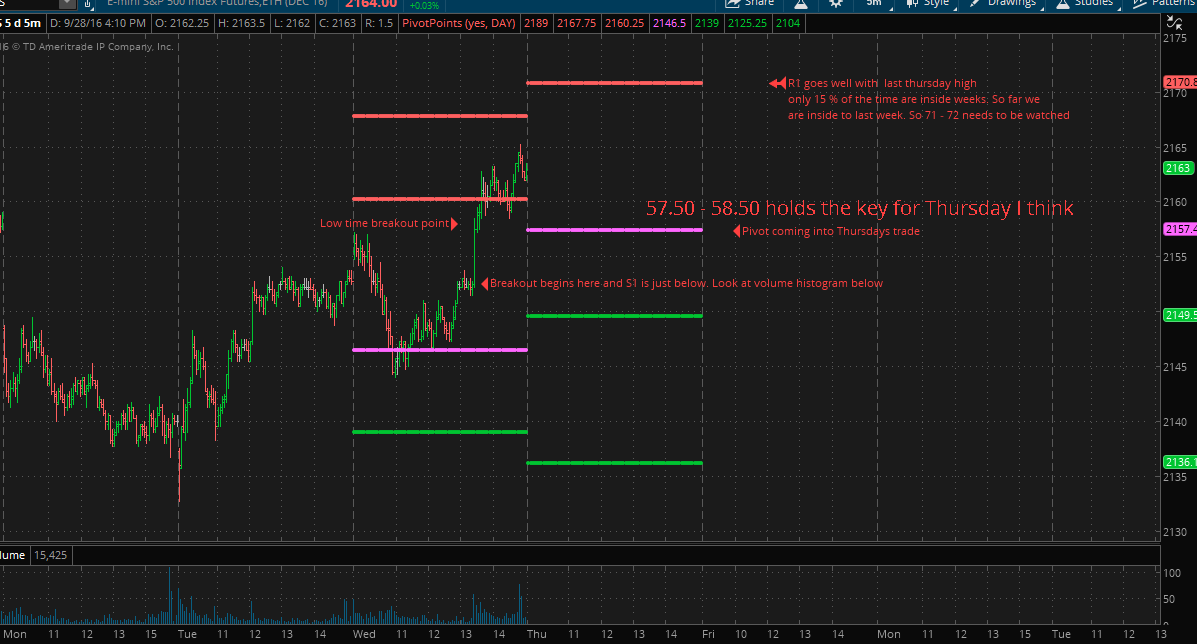 I think it's best to use the areas that have the most confluence...to me that is the 57.50 - 58.5, the 53 - 54 and the 48.50 - 49.50...here is another view..with the time histogram on the one minute included
Click image for original size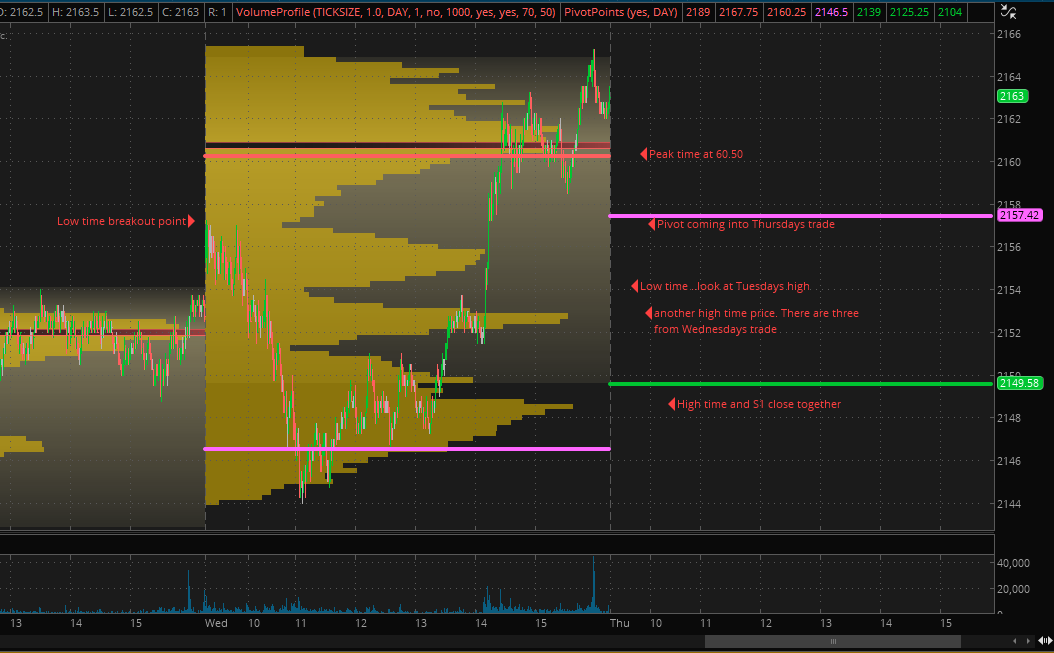 runners stopped ...gonna look one last time for the 59
gap
...keeping it smaller each time and using the 60.50 as first target.....R1 at 71 and pv at 57.50...so the
split
is 64 area....and now we have a
gap
from Overnight at 66.50 and one at 59 which happened closer to market open.....
point of last post is that those of us trying for the Pivot and the
O/N
low want 64 to hold back rallies...if we firm up above there then they might go for the r1 especially if the pivot hasn't traded yet
good point Bruce. the inability to get out of the 5-min OR is certainly disconcerting. now we have weak highs and weak lows
side question: what does everyone think of having a continuous
ES
thread instead of a new one everyday? this way it would be easier to look through our postings and we will not have to go through multiple posts for any materials. all of us post great charts and it would be good to have them in a single post. thoughts?
EDIT: even the lurkers can chime in here :)
on last and final sell at 63.50...i figure the failure to hold outside wednesdays
rth
high may be a good sign...still want that 59
see if my 60.50 can work magic one last time...much more time being spent above the center of that bell ( which is a concern) now ...so this may be the end to downside tests....just not sure inhere...confused like everyone else and still no overnight high or low yet
there it is ...coming out heavy at center of bell......ego wants that 59
gap
and then last for On low/pivot and
single prints
......ego may mess with my head today
triples
on the lows.....anyone remember that classic from the 5 minute bars ? an oldie and hopefully a goodie today
the buyers are surely making it hard to take the market down today... it has been a very confusing day so far indeed. something to learn from... we learn something everyday
I thought this was interesting as usual - it drives home the concept of how often high time prices get retested when the market just passes through them as if they aren't there......so for those that trade more often you can look for trades
AT
the high time areas but if you don't get signals and volume clues then you can look at other areas and use the high time areas as
Targets
...so the moral of the story is this - Most times high time areas that get blown through sees price come back to retest those areas...
here is todays EOD chart with only the 3 high time areas I mention last night on the chart.....
Click image for original size