ES 7-25-17
Here is how it is going to look for me today....sells off the 75 - 76.50 will target the
POC
from Thursday near 2473 ( SURE WISH i COULD INCREASE VOLATILITY BUT FOR
NOW
WE WILL USE WHAT WE ARE GIVEN)...ideal would be to get sells at 75.50 or higher and cover first at 73.50 ....further downside will be multiple highs and the R1 area today at 70- 71...really not much to work with.....if we get a close outside of last weeks highs on a 30 minute bracket then the multiple
tpo
idea comes into play. Fed meeting tomorrow. and all time highs still exist in the overnight. I'd like to see day session highs as the all time highs as per Daltons ideas. I'm treating last Wednesdays low and last Thursdays highs as one bracket......so a failure at those Thursdays highs has the chance to go back to the opposite side of that range which would be Wednesdays lows !
Click image for original size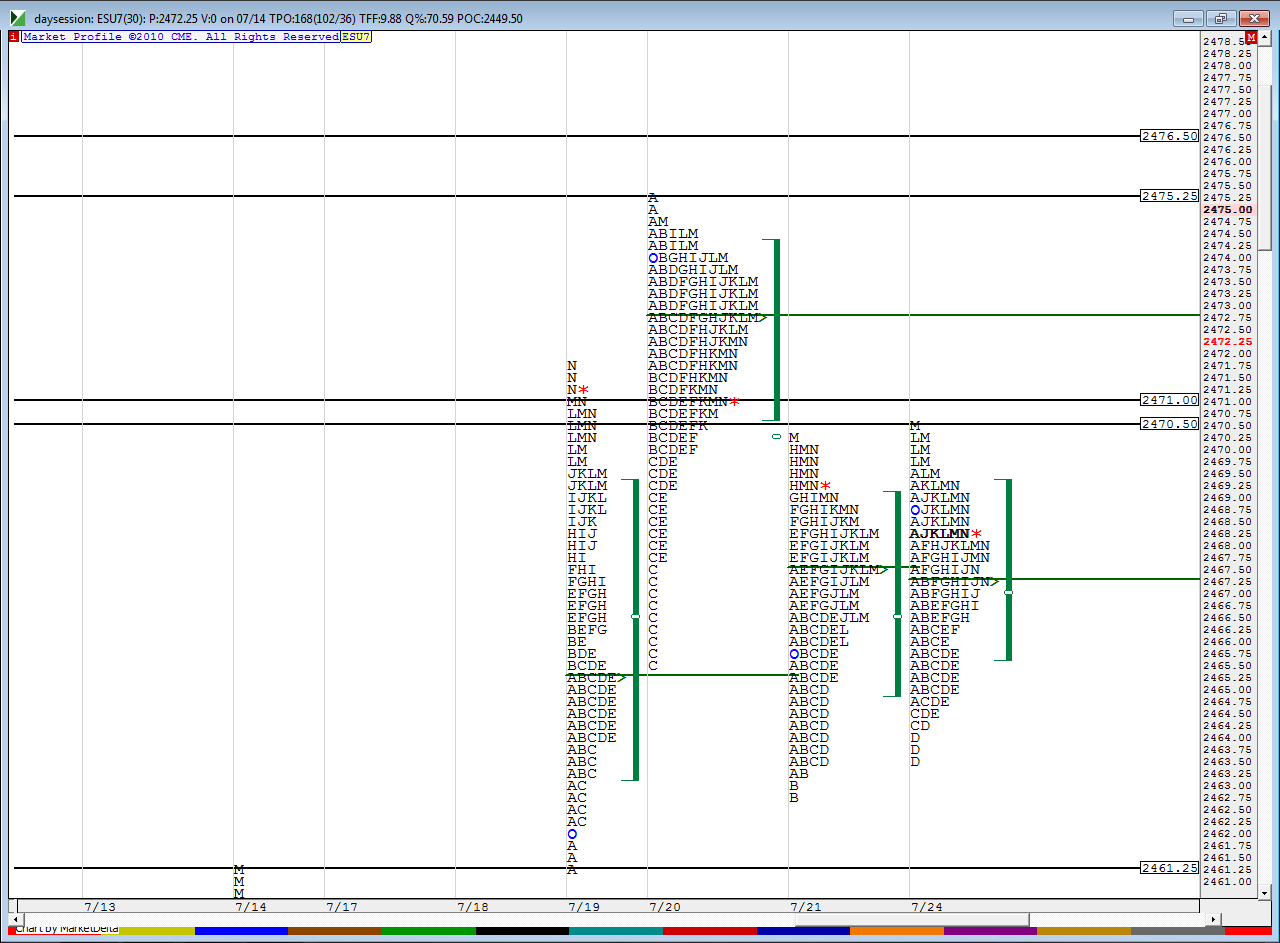 first target is 76 for me if they will give it....the 78 was merely the
split
between R2 and r3
scaling heavy in the 75 - 76.50 zone...this is a previous weekly high here...next target for me today if lucky will be 73.50 on runners
that 73.50 may be trouble given the
single print
from overnight session.....and a
vpoc
is there from thursday
double
tpo
's at last weeks highs...I'd like to see sellers pick up the pace now or I'm getting out on runners...I want this open and drive to keep driving !
finally...my 73.50.....will make a quick video to further explain that 78 and other ramble...also about
POC
's of time on 30 minute and how they can be tricky...revising final target to 71.75 on final contract.....could take forever
jing cut me off but ending was just going to say how overnight single at 2472 went real well with my 71.75 price that hasn't hit....yet....neither has overnight midpoint or an overnight high or low...I want no part of this battle and the
poc
for today building at last weeks highs...I'll let others fight that one...no more day trades today