Larry Williams darlings - help needed!!
Larry Williams darlings - help needed!!
I may have asked this before but I'm looking for an online stock screener ( preferably free) that can help me scan for LW's darlings.
We can debate the validity/credibility of Williams at another time but here is what they are:
The Darlings are the low priced
DJIA
stocks that have low price to sales and low FORWARD 12 month p/e ratios
Here is what I want to do:
I want to subtract the P/S and the price to cash flow ratio from the stocks
dividend yield
. The stocks with the highest figures are the ones to buy but as a final filter I want to take the top 5 - 7 stocks that have the LOWEST 12 month forward p/e ratios.
Whew !! You math guys are too much.
Any help would be appreciated..
Bruce
Here is a chart that shows the % of
NYSE
stocks above their 50 day
MA
.
Click image for original size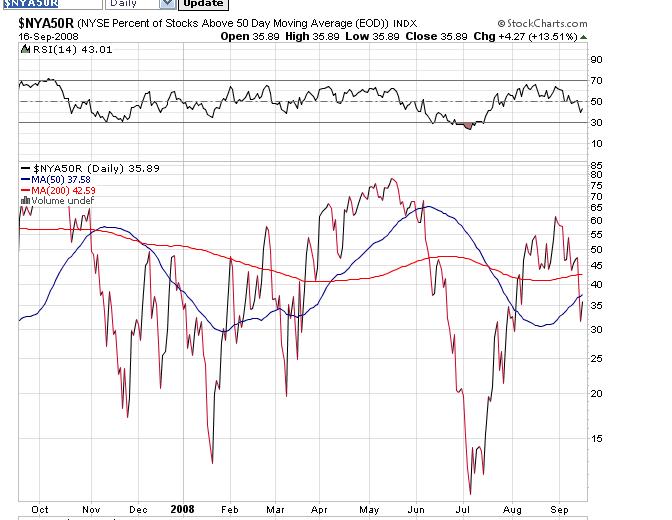 On Monday the big down day the
S&P
broke it's July lows but not the Dow or Compx.....yet look at what happened to stocks above the 50
MA
. They are not even close to the July lows.
So does this mean that we have had a selective decline and the strength of the remaining stocks will help lift the market OR
Does it mean that the market needs to have a broader sell off to encourage broad based buying....?
I think a broader selloff may still come.....we did have a 90% up day last week which in theory is a good sign but we need at least one more.....then I'll feel better...

It seems that high volume upthrust needs to be absorbed a bit before we go higher.....I think it will take one - two months before any significant rally can take hold...even with the "bailout". It won't be easy....
I bought disney april 09 calls today at $3....a meager attempt to try and absorb some of this
drawdown
this portfolio is taking
One thing Williams doesn't seem to address is the
drawdown
when the timing is off/late....anyway here is a chart of the % of
S&P
stocks above the 50 day
MA
....doesn't seem to be any at this time.........if this doesn't help Iron out a bottom with a
Vix
above 52 then we are in trouble...and so is this portfolio....Jim Kane...are we there yet?
Click image for original size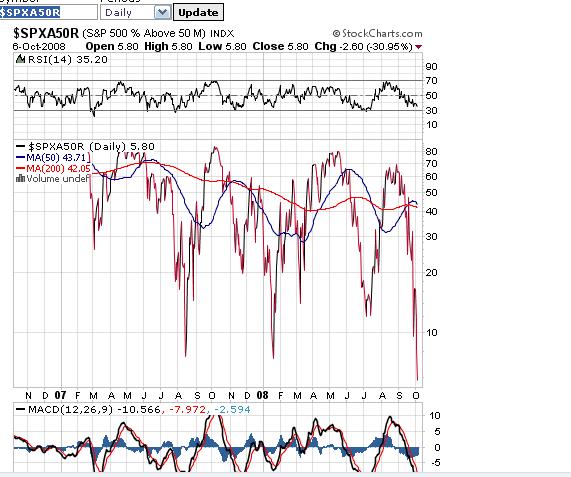 I sold these today at 27.88...this was/is a relative strength stock and I just don't like that
gap
after the report it had recently.... also
quote:

---

Originally posted by BruceM

I added CALM at 27.69 today....


---
I sold these
add
ons at 105.23 on the open today
quote:

---

Originally posted by BruceM

I added spy's at 85.54 today...we are down over 40% over last Octobers highs...


---