ES 1-5-2009
Watching the
910
area this morning...
VAL
910.25
910.50 is the 61.8% retrace level of Friday's up trend.
Below 910 we have the
904
level:
Weekly
Pivot Point
at 904
Daily S1 at 903.75
904.25 is the 78.6% retrace of Friday's up trend.
POC
at 913.75... will probably be ignoring this level today.
Pivot Point
918.25... will be ignoring this level also.
Hi ladies and gents- busy at work today but was able to net out +5 points. Question regarding the projections: if a price projection is met and price gets into the 361% or even the 423%- do you go to the next higher time frame chart to get the price projection? Thanks
The Batman-enter when your momentum indicators turn down
Click image for original size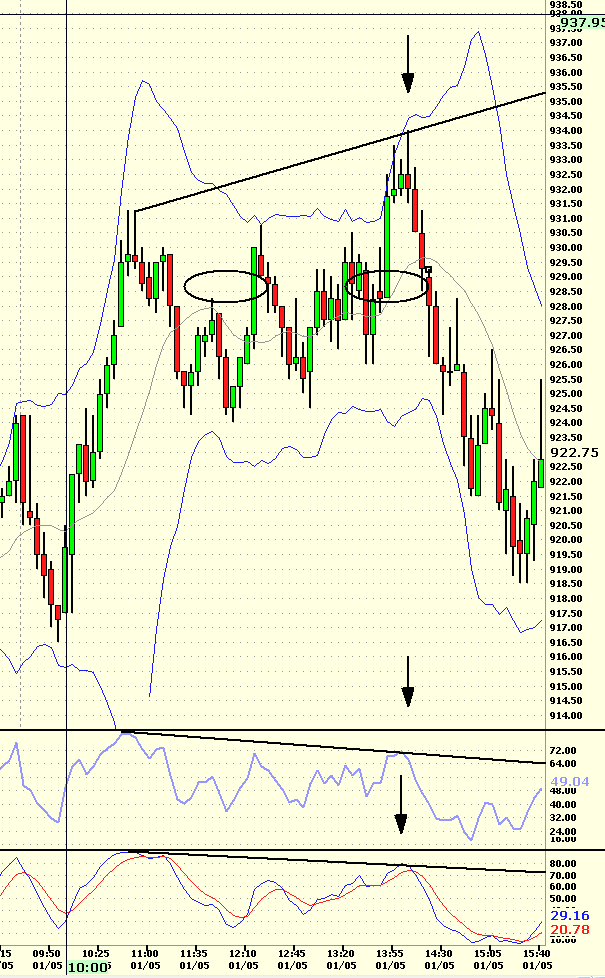 I missed it I was out walking the dog
quote:

---

Originally posted by culsu

Here's a FibBands script for NT. Inputs include the fib numbers (defaults are 1.618, 2.618 and 4.236) and the length. I believe VO uses 34 (fib #), but 21 and 55 also produce good results, depending on your timeframe.

I've never exported a script before, so if you run into problems, let me know and I'll try to correct.

To install:
1. Copy the zip file to your desktop.
2. Go to NT's Control Center window and click File then Utilies
3. Select 'Import NinjaScript' and "Trust me... I'm a trader!"
4. Browse to your desktop and choose the file.

That's it.




---
Thanks. These are great!
quote:

---

Originally posted by Margie

myptof, I thought you were joking the other day, hilarious!


---
lol, no its real...its just a
divergence
trade, need to have been in a trend and a higher high or double top (or close) The
divergence
is the big thing. I ended up drawing eyes and naming it for my own amusement. I've been calling it the Batman for years now.