ES 1-5-2009
Watching the
910
area this morning...
VAL
910.25
910.50 is the 61.8% retrace level of Friday's up trend.
Below 910 we have the
904
level:
Weekly
Pivot Point
at 904
Daily S1 at 903.75
904.25 is the 78.6% retrace of Friday's up trend.
POC
at 913.75... will probably be ignoring this level today.
Pivot Point
918.25... will be ignoring this level also.
quote:

---

Originally posted by VOwater

PWD...got any comments on TLT! Thinking about selling my puts here - what says you?


---
I think you have a shot at getting the
TLT
to the 113.25 area but it may be worth it to just get out with less lost skin than what would have happened last week. Barron's was really negative on Treasuries this weekend and I think they are right, fwiw, but you are dealing with time decay too.
that was my original target, but it isnt gonna get there by next fri...Im right about the bond complex - just wrong with the trade...thanks for your thoughts
Click image for original size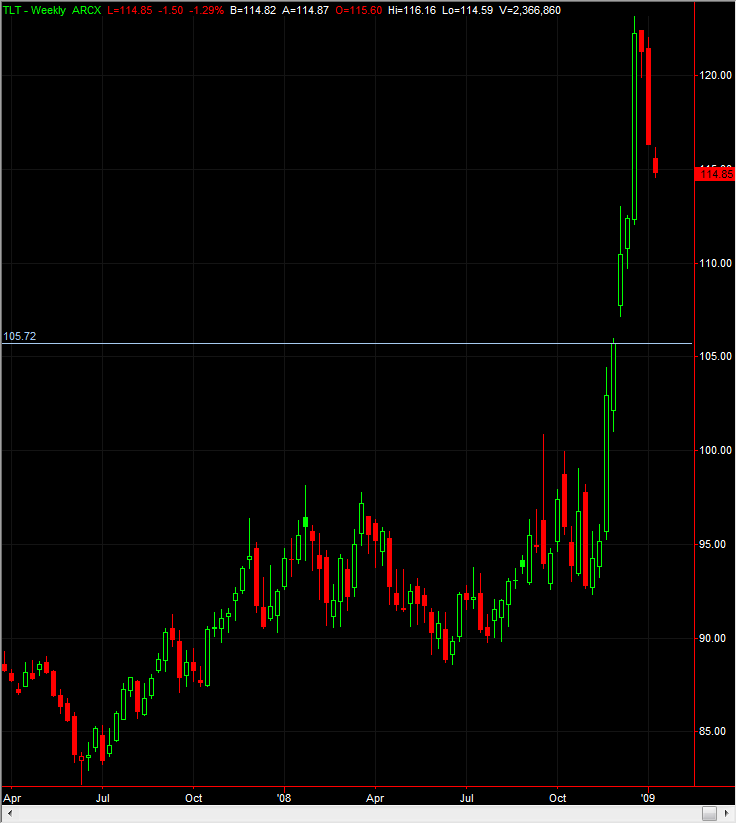 quote:

---

Originally posted by Margie

myptof, I thought you were joking the other day, hilarious!


---
lol, no its real...its just a
divergence
trade, need to have been in a trend and a higher high or double top (or close) The
divergence
is the big thing. I ended up drawing eyes and naming it for my own amusement. I've been calling it the Batman for years now.