successful paper trading
I'm paper trading the
ES
. Successfully! I've came up with a strategy that I've been using since june ( since I lost all my money in march). Since June I only have 8 losers and 7 days where I wouldn't have attempted to trade. I have read some of the comments about people who show results from a simulated account. well, I have no choice. When I re-fund my account you will get to see me trade through my account. With real money. Today I was over confident and didn't wait for my signal. But I knew what was about to happen so I reversed my position at 1151.00 and ended up breaking even for the day. I'll let you guys know in advance that I will probably miss a couple of days sometime soon due to me switching my service to
AT
&T.
Click image for original size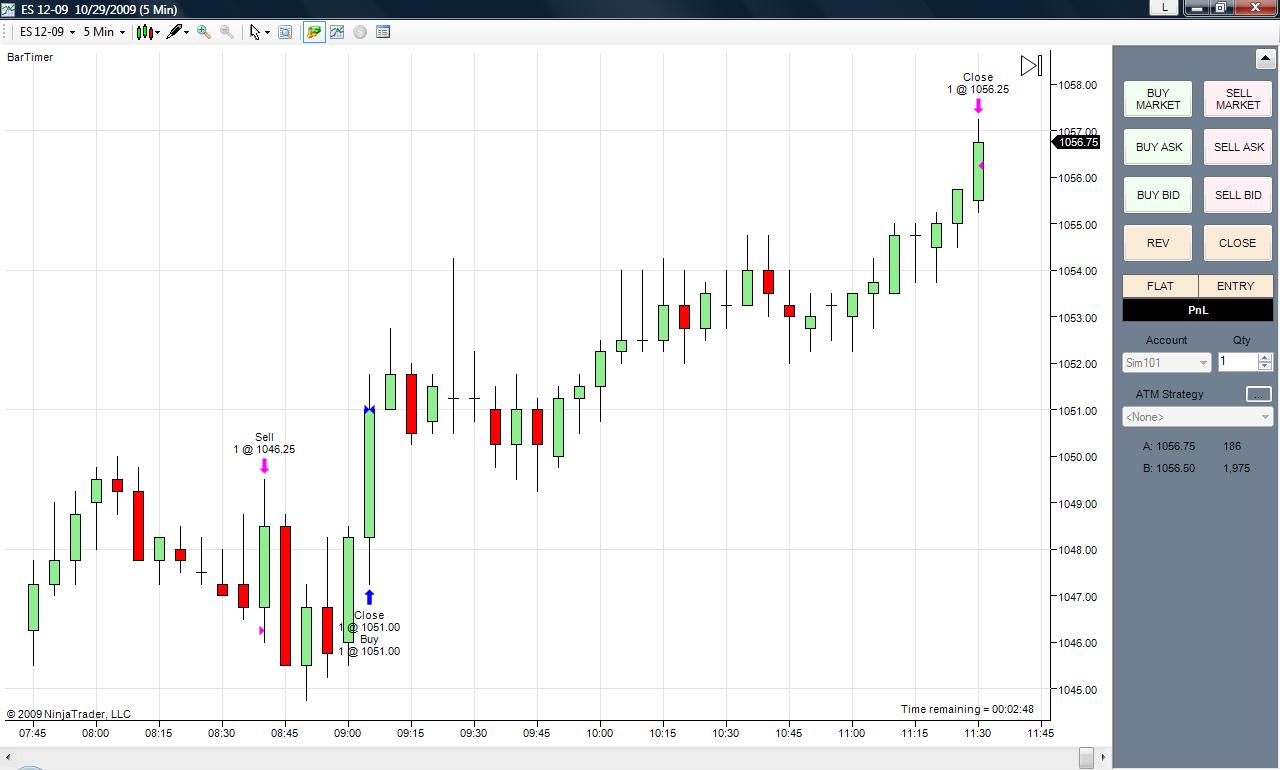 Ain't got no code
Ain't got no rhythm
Just postin' notes
With nothin' in 'um

(cue crickets)
Love ya man ... you rock ... what's your fav band? (do you play guitar or anything ... just wondering) ... She keeps the Moet and Chandon, in a pretty cabinet, let them eat cake she say's, just like Marie Antionette, Kruschev and Kennedy ... etc. [regards to Queen]
Saw Queen at the Garden too.....great show......very flamboyant...lol...so is this thread over and can we just "Ramble ON" about Rock and Roll.......? 2 pac wouldn't fit ....I'm from the old school where rap isn't even music....
Great moments...yes I saw Zeppelin and had 9th row for Jimmy Page solo in CT...Saw him with The Firm and Paul rogers ..saw Bad company in their day....a very under appreciated band......they left the stage that night because some ass was throwing Fireworks at them......they said if it didn't stop they would leave....they left after two hours and did no encores.....anyway, a I LOve how page uses controlled chaos.....the zeppelin show was fantastic but not ther best tour...have tons of bootlegs from them....as a 15 year old , I got home at 3:30 a.m. from NYC....the parents crucified me..but it was worth it....
For guitar shows, no doubt the best was Beck and Stevie Ray in 1989 ( I think)..again at
MSG
in NYC....SRV basically blew Jeff Beck off the stage...his playing that particular night was amazing.....he stood at the edge of the stage and said " I don't know about any of you folks, but I've never been here and it sounds F--kin great". You could tell he was thrilled to be there and I've never seen anyone since who really became "one" with his instrument like he did....it's a shame he bought the farm a year later....more concert news to follow if this permits............I always get a bad feeling when we have after the fact charts with nobody looking to improve or share ideas...and then the vicous language begins......so why not just babble about rock and roll?
Lol! I feel sorry for you guys. I guess you guys win. That is you plan right? To discredit me and run me out of the room? Or is it to bully me into giving up the "Gold". Well I'll give you both. For the guys and gals that's been following this thread waiting for me to reveal my secret, I got something for you. If the
RTH
price opens above 1084.00 go short immediately at the open. Only take 5 points. Even though it's going to drop further. Only allow a five point lost. And here's some big advice.
DO
NOT FOLLOW ANY OF BRUCEM OR MOMKEY MEAT'S THREADS. THEY
DO
NOT KNOW WHAT THEIR TALKING ABOUT!!!! THEY LOSE MONEY EVERYDAY. Look at how many trades they've started ans abandoned because the method didn't work. Okay guys I guess you ran me out the room like you wanted. I'm going to go and listen top me some 2pac now. P.s everyone knows that bullies are the biggest cowards. A drive for superiority comes from a deep rooted since of inferiority. See you at the top!
I meant to say "look at how many threads they've started and abandoned because the method didn't work"
Insider,
Is it always 1084? I am not trying to discredit your system but a couple years ago when the
ES
was 1500 you would have went short every day?
i think his system is only backtested for the past year (if that).

InsideTrader I think you should show some respect for these elders here. Seriously. I understand respect works both ways but the way you were touting your "code" gets on people's nerves. Either come out straight with your work or don't bother mentioning it at all. Don't be playing games and waste people's times. Go boost your ego somewhere else.

And people here have plenty of reason to doubt you. There's been lots of people on these forums claiming one thing or another and saying that people are fed up is an understatement.
As you notice, the market did the exact opposite of what I said it was going to do. I wonder why that is? That's right! I take my enemies down with me. MonkeyMeat and BruceM, I know one of you guys took that trade. You're not going to admit it, but I know one of you did. Most likely MonkeyMeat because he's a follower. He's to old to be a follower but he is. CharterJoe, there are casualties in every
war
but I hope you didn't take my advice this morning. I made that post about 5 or 10 minutes before the open for a reason. I didn't think anyone would read it except those that was already up posting. BruceM and MonkeyMeat. But if you did, private message me and I will get it back for you tomorrow. I will work with you. I hope no one else (besides the names mentioned) took that trade either. Now that's the epotime of making them think you're weak when your strong. Now I'm leaving to never return. I would show my winning trade but that would only be for an ego boost right DayTrading? Lol! mmmmmmmm, what else? Oh yeah, Good Hunting!
P.s And to think, I started this thread with good intentions.
Feng456. Shut up! I only got respect for those who got respect for me. What do I care about who thinks what? I ain't getting anything from any of you. You all are to in love with this computer stuff.
Yeah Bruce, Queen definitely was flamboyant but have some classic songs that never get old. And you had 9th row seats in front of Page!?! Always thought he was better in studio than live until I saw a video of a concert Zeppelin did (decent quality) ... don't know the venue but was pretty overwhelmed just thinking what it would have been like to have actually been there live. "Controlled chaos" is a good description. Have a friend who's a big Paul Rogers fan. Didn't realized he'd sold so many albums ... I stumbled across the stats about a year ago and was suprised.

Stevie Ray was pretty unique. He was born and grew up here in Dallas and began gigging locally and around the state. My gf's brother saw him back when he was just a kid in Dallas. I ran across him down on South Padre Island one morning out on the beach. There was this one-and-a-half foot tall (small) platform plunked down between one of the hotels and the ocean. A band and a short little guy dressed kinda funky and wearing a hat were playing some rocking blues. There were maybe 20 or so people paying any attention when I wondered over ... and was litterally watching him perform standing just a few feet away. And damn that boy could play. You could sense he was unique. A few years later he hit the big time and I was like, "Hey, that's that guy that I heard whaling on the beach." It's ashamed his life and music were cut short. Went to his gravesite a few months ago during summer ... a warm quiet day. (was gonna post the pic but can't find it) Some folks had put their guitar picks on his grave ... I woulda too but didn't have any in my pocket at the time. My favorite songs of his are his version of "Little Wing" and also a 12-string acoustic version of "Life by the Drop" and any live solos he'd cut loose on.
We'll forgive you
MM
..we all make mistakes...and besides I once was forced to see Michael Bolton..I was dating this girl who got tickets and wanted me to go......it was one of those really blazing hot humid August nights and an outdoor concert .....he did this thing where he disappeared onstage and then popped up out in the audience...well anyway he popped up right next to me and I just couldn't take it anymore...It's like that pushed me over the edge and I snapped.....we left...the rest of night didn't go very well....
Cheap Trick..Love those guys...seen em a few times...warmed up Robert Plant once as did SRV......"Tonight it's you" ..great tune.....Do u remember "Up the creek"...it's probably on Youtube..You've had a chance to hang out with Rocks royalty...I'm jealous