successful paper trading
I'm paper trading the
ES
. Successfully! I've came up with a strategy that I've been using since june ( since I lost all my money in march). Since June I only have 8 losers and 7 days where I wouldn't have attempted to trade. I have read some of the comments about people who show results from a simulated account. well, I have no choice. When I re-fund my account you will get to see me trade through my account. With real money. Today I was over confident and didn't wait for my signal. But I knew what was about to happen so I reversed my position at 1151.00 and ended up breaking even for the day. I'll let you guys know in advance that I will probably miss a couple of days sometime soon due to me switching my service to
AT
&T.
Click image for original size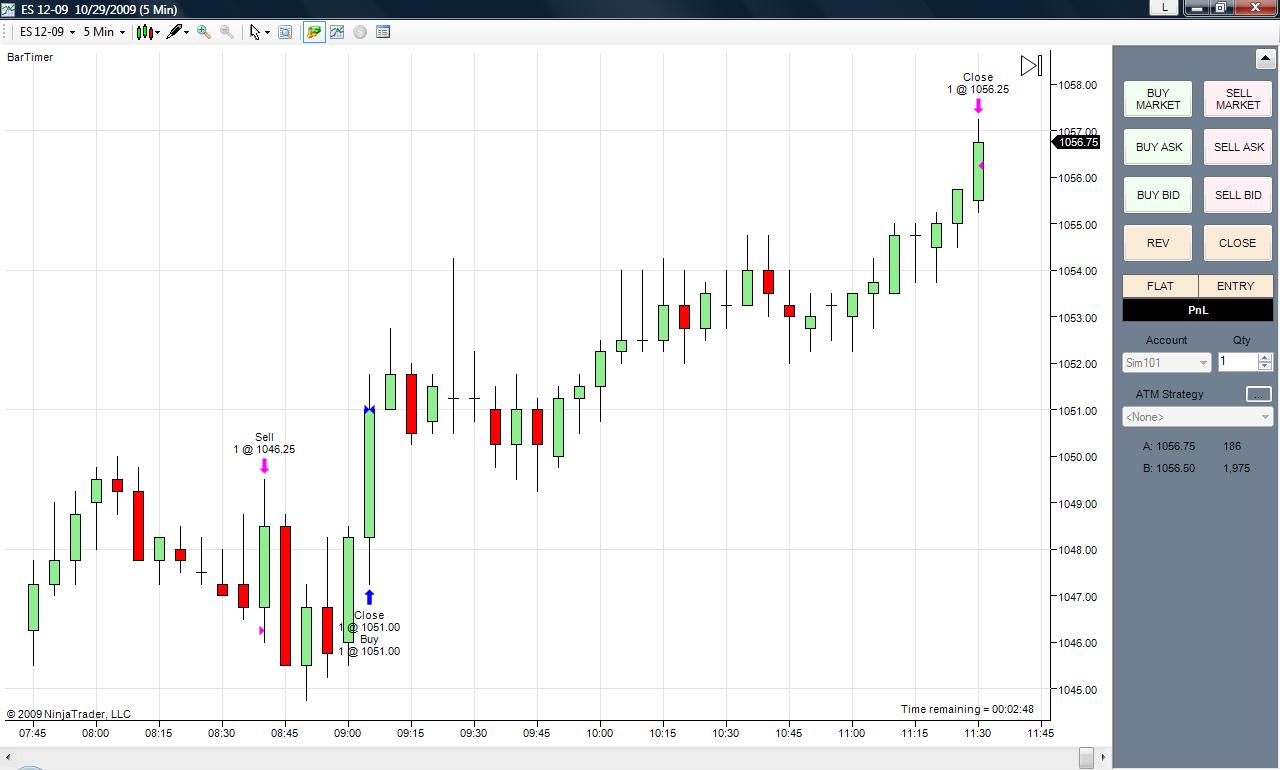 I somehow knew we'd never see the code. It's really too bad. This entire thread is a perfect example of what I was hoping mypivots was evolving away from, and what separated this community from the rest...
agree Jim......that's why we need to shut them down early...unfortunately they get hostile...I wanted to get something going early on but it just became chart postings after the trade was taken...it is no surprise to me that the only trade posted in advance was a failure.....now I'm not beating on this poster for having a failed trade. I had 4 failures yesterday myself. I just don't like the agression. It would have been far more productive to try to improve or learn from this method if it actually existed.It is a shame though...perhaps it's
MM
playing a trick on Us...! LOL!!
Hey
MM
- Great SRV story...what a great memory to have..that is awesome....Imagine having that outside session on tape/
cd
....or a video....
Closest I ever came to something like that was seeing Brian Setzer and the BOPcats ( just before he went to england and formed the Stray cats) his brother was on drums in a small bar on LOng Island..no stage we were on the same level...he'd walk around the bar with his Gretch Country Gentleman Guitar...big ole twangy thing........full of
NRG
and the whole place was on fire....he hit it big after that.....but that SRV story has me beat...great stuff
Worst Rock and Roll show....Rolling Stones steel wheels tour.......Living Color opened up at an outside stadium In Mass......but then the wind picked up and the Stones came on...the sound system sucked and the music was "waving" in and out all night....seemed like it would have been a good show....
Comtinuing with or concert theme....a few awards..


Most Upstaged: The Who's John Entwistle at Chuck Berry's 60th B-day bash made you think that Chuck wasn't even there.....it was like lead base on every song and he made it seem effort-less.

Most Disappointed: Clapton Live....boring..there was no GRIT to his shows...great playing but didn't feel like a concert....just another day for slow hand

Scariest Moment: Being swept up by the crowd rushing the stage at Pearl Jam. For about 400 feet, I had no control and I was standing upright but my feet weren't on the ground.....amazing...nobody dies

Most Violent: A friend of mine turned into a martial arts samari after smoking some weed at a WHO concert at the Philly Spectrum....problem was that he didn't have any skills and started karate chopping everyone.....even Roger Daltry yelled at him....we had floor seats..chairs went flying and lots of fists.....some stitches , an arrest and blood.....many bruised ego's......what a mess..... nobody dies that day...really cleared out that section of the floor for those of us who were allowed to stay...

Deepest moment: Listening to Bono on the Joshua tree tour 1987...telling us how his friend was given a big pile of heroin on his birthday from his girlfriend...so much that it killed him...then they started playing "Bad"...what a great simple tune

Coolest thing that didn't happen to me: Same show and Bono brings somebody up on stage out of the audience. Hands him a guitar and the guy is playing along with the band ( can't remember the tune but it was a simple 3 chord tune). One by one the band members including Bono leave the stage until he is standing alone in the spotlight with all of us in the crowd singing...then the band rejoins him....so cool!!!

Coolest thing at the time: Watching Collective Soul film us in the audience and being able to watch it later that night on the computer......now it's common place but not then.

Biggest attendance: The Who at shea stadium New York with the Clash
John Entwistle's fingers seemed to just dance didn't they? The scary and violent situations make for some interesting experiences and some great stories to tell ... but it ain't all that fun being in the middle of it at the time. That's pretty funny that even Daltry was yelling at him ... he's got braggin' rights to Roger Daltry yelling at him to chill the
[email protected]
out ... lol!
I caught the Unforgetable Fire tour and also the Joshua Tree tour by U2 ... loved both albums. Cool moment in the Unforgetable Fire tour was during the show when Bono sang "Amazing Grace" a capella ... was absolutely magical. Saw the pull-the-guy-on-stage thingy during the Joshua Tree show where, like you saw, all the guys wandered off w/the spotlight on the lucky dude. I'd have f'd it up with all those pairs of peepers (and ears) on me.
Remember seeing several groups back when they used to do the Texas Jam at the Cotton Bowl here in Dallas. I was a big Ozzy fan (actually call it Randy Rhodes and Jake E. Lee) ... Jake E. Lee was tearing it up. Fast forward a decade or so later ... Lee's on his own after Badlands and played a small small venue for hard rock that's since been torn down ... was called The Basement on Greenville Ave. I went and had my elbows on the stage when he did his big solo ... was even on the ground doing the "Curley Shuffle." When he was done after about 10 minutes and stood up, I pointed at him and mouthed the words "you're
[email protected]
awesome" ... he smiled, waltzed over right up to me and held out his pick and stuck it in my hand (and this was the guy I'd seen years ago, one of my fav git-fiddlists, playing the Texas Jam) ... big WOW moment for me!
And another little tid bit ... or claim to fame, lol. I entered a guitar contest when I was 17 where 100+ peeps turned in tapes and 10 were selected to play live at a club solo ... and the winner would get a Randall stack. Well I made the initial cut and showed up at the contest. Good god, I shouldn't have even been there ... all 9 other guys were so far above me and I think I semi-embarrased myself on stage. But the guy who drew #1 out of the hat to go first was some skinny little 16 year old with a big poof of hair named Darrell Abbott. Well, he won, to put it mildly. I was rapping with him a bit afterwards and he gave me his pick that said "Diamond Darrell" on it ... later on he became know as Dimebag Darrell, the guitarist for Pantera. I never really followed their music later on but did see a couple concerts they did while in the glam rock phase just 3 miles from where I lived ... had about 50 people there and I was sitting on one of the bands speakers watching the little maniac play.
Ah, the memories. And here's a pic from last weeks AC/DC concert ... they sounded GREAT!
Click image for original size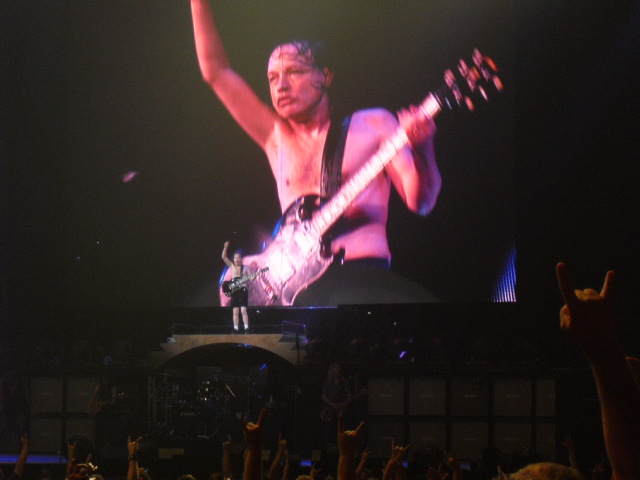 quote:

---

Originally posted by InsideTrader

...I would show my winning trade but that would only be for an ego boost right DayTrading? Lol! mmmmmmmm, what else? Oh yeah, Good Hunting!

P.s And to think, I started this thread with good intentions.

---
I think that my comment was that I don't believe that you're doing this for ego. Why did you start this topic?
BEST SHOW: STONES '76. MOST
FUN
: GOOSE LAKE ROCK FESTIVAL, 1970 (ALICE COOPER, ROD STEWART, JETHRO TULL, ETC.)250,000 MANIACS FOR 3 DAYS! STRANGEST SHOW : IGGY POP, THEN WITH A BAND CALLED THE STOOGES. NAKED FROM HEAD TO FOOT , BUT CAKED IN PEANUT BUTTER!
Great stuff guys.....Iggy Pop seems to always be naked...kinda like Flea from the chilli peppers...hey DT do u want us to start a rockin roll thread ? I'm only glogging this one up because I was ASSuming this wasn't going anywhere with Insider....
Hey
MM
..didn't Dimebag get shot on stage in Ohio at a show and was killed? Name seems familiar...
For those about to rock, we salute you....nice pick...does he still BOB his head up and down...? that can mess ya up....
Peanut butter ? Yikes....long before all this talk of peanut allergies...where is Goose lake?
Best surprise opening act " The Sweet" ( yes of little willy fame)opened up for Foghat in 1976 - 1977..at a 12,00 seat arena on Long Island they where both great...Sweet was still glamming and had a ton of great songs...you'd be surprised how many songs you really know....Like "Fox on the run" Ballroom blitz.....fun stuff...

I saw Foghat again in 1999...22 years later at a small 200 person club in CT.....it was kind of sad....a brutal thankless business but they rocked the night.....both these bands lost members in short periods of time........like that group "Badfinger"..a rough business , they certainly don't live long
Met Iggy Pop backstage when I was in the organization at Texas A&M responsible for bringing in concerts and other entertainment ... was in the subcommitee that took care of the performers backstage. Iggy was about the strangest bird I came across. When he was leaving he looked at me as he was walking by and danced a weird jig ... at least he had his jeans on.

Dimebag started a new band with his bro called Damage Plan. Got shot on stage while playing by a derranged fan back in 2006 I think. But he lived life about 150mph and if you're gonna go ... at least he was ripping on his axe in front of some serious fans.

And it's interesting to see bands, often with the same members mostly, STILL PLAYING but to small room venues. A few months ago I went to the Cheap Trick / Def Leppard / etc. concert. And I remember seeing Cheap Trick over 20 years ago ... singing the same songs. Zander's voice amazingly is still great even on the high notes ... but wild ol' Rick Neilson who I'd hung out with backstage at a concert in college is freakin' 60ish now. It was an intensely surreal moment for me when they took the stage. And there's tons of bands, on the road, giggin' just to pay the bills. Yeah, it's a tough business for most I guess.

I used to have the Angus head bob and leg stomp down. He's a little bit milder with it these days but puts on a high intensity, entertaining as hell, balls out rock performance. You can tell the guys love to play.
And I have a
shameful confession
. I went to see
Milli Vanilli
. The wife made me do it ... maybe that's why we're divorced.
Click image for original size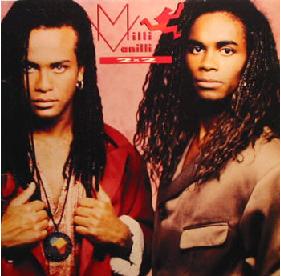 Don't slag me on this one ... was drug kicking and screaming into the arena.
We'll forgive you
MM
..we all make mistakes...and besides I once was forced to see Michael Bolton..I was dating this girl who got tickets and wanted me to go......it was one of those really blazing hot humid August nights and an outdoor concert .....he did this thing where he disappeared onstage and then popped up out in the audience...well anyway he popped up right next to me and I just couldn't take it anymore...It's like that pushed me over the edge and I snapped.....we left...the rest of night didn't go very well....
Cheap Trick..Love those guys...seen em a few times...warmed up Robert Plant once as did SRV......"Tonight it's you" ..great tune.....Do u remember "Up the creek"...it's probably on Youtube..You've had a chance to hang out with Rocks royalty...I'm jealous