ES short term trading 5-13-10
ES short term trading 5-13-10
Impressive rally so far after an even more impressive decline last week! I think i should clarify my views on something. As i have been posting , im of the opinion that new yearly highs lie ahead.Most bloggers have still not quite embraced that view yet(they will!..lol). But i have also said that the decline is not over yet. Remember as it was happening i declared that this is what a capitulation bottom looks like? (refer to posts on crash day 5-6-10) . That would likely be the price low.(most bloggers have now begun to adopt that opinion) . I just feel the 'form' of the decline need one more leg down, likely into the 19th or 24th (refer to Kools calendar). In other words the price was ok, but the market may need more decline in terms of time.Any way , thats my opinion, right or wrong, for purposes of clarification. So the question for me is .. are we ready for that last leg down yet? If its going to happen at all, i mentioned days ago ,it would be most likely from this area,or the .886 retrace zone around 1183(which is a daily projection). Of course i could be completely wrong on all of this , but currently its my overriding bias. Time will tell!
Kool could you pls furnish the setting that you mentioned last nite with the lr bands and the
rsi
you are using on the 1 min TIA
RB
Rburns, the setting on the
RSI
is 5 period as i stated. The
prc bands
are at 2.00 and 2.618.Btw we are very close to a
prc
buy at 1164.25 to 1165.25 currently and
rsi
is low!!! Hope that helps! oh yeah stopped at be. on my last trade... looking to buy 1164.50
Click image for original size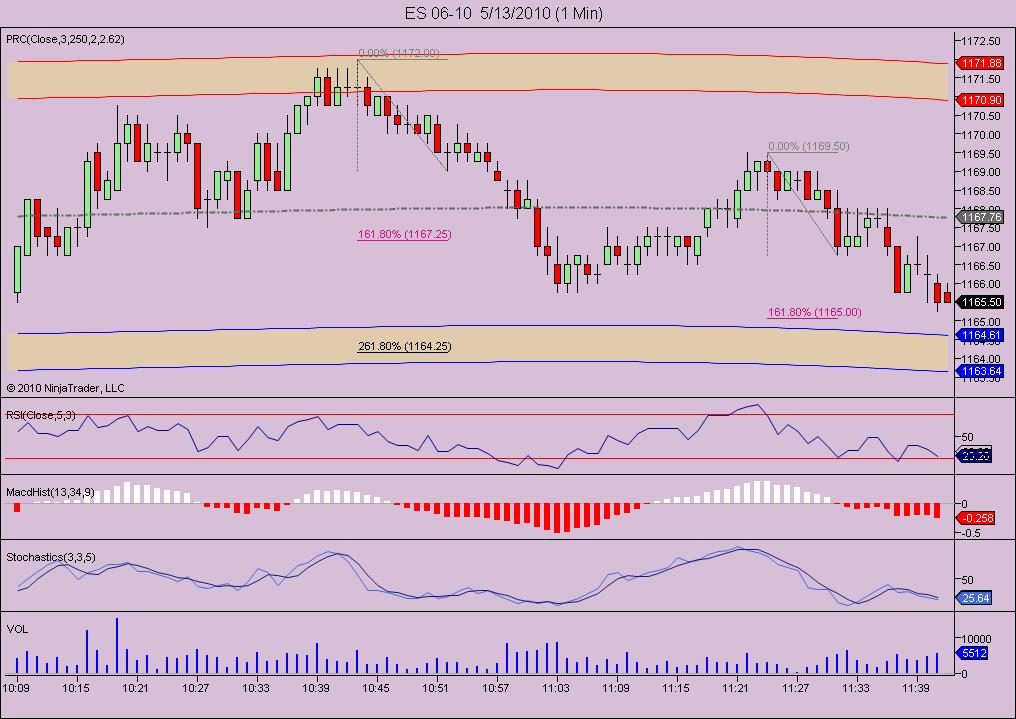 It will be a good test if we get a signal, cause im actually wanting to sell today more than buy , but time will tell!
LONG FROM 1164.50... BUT I WANT TO STRESS THAT THE
PRC BANDS
HAVE LOWERED TO AROUND 1162
SO
THIS IS NOT A
PRC
TRADE...
12:30pm est
USD
Fed Chairman
Bernanke
Speaks
Due to speak about reinventing older communities at the Federal Reserve's Conference, in Philadelphia. Audience questions expected;
Now at b.e. for the day! Yippee!! You can see the
prc
and price projection at 1166 but the dam
rsi
is about 65 and needs to be at 80 for a
prc
sell signal!
short from 1165.75... (NOT an official
prc
trade...
rsi
was close but never got to 80) . The 1.618 off of the one min was 1166 and im just itching to sell this pig so....
Originally posted by prestwickdrive

Using Kools Tools, move from 69.75 to 66.0 projects 60.0

Next projection based on 69.75-65.0 projects 57.25 then 69.75-62.75 projects 51.5. carry over pitsingle
ticks
56.0-59.25 filling.