ES short term trading 7-20-10
ES short term trading 7-20-10
When i projected much lower prices,last weekend, few believed it. Everyone was looking for another 1100 test and higher. You probably wont believe what i feel comes next either! lol.. But enough macro crap, heres a snapshot of the near term ,going into the morning....
Click image for original size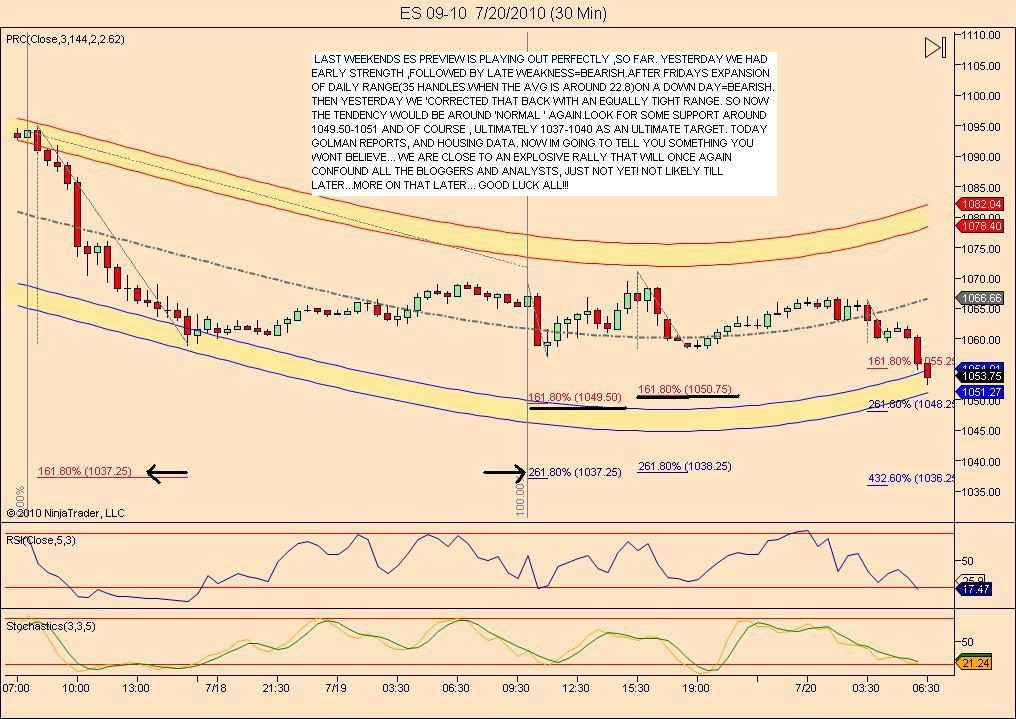 masochist or just overdue?
and came back to haunt near my stop
negative divergences and higher prices but late in the day and GWTW.
AAPL
hod
about 12 1/2 off the low.
GS
hod
8 pts off low
What do you think of this 1085 number?

That is smack on a 2.618 projection up from this mornings move.
Hey Bruce,
Found this little nugget from you back in 2009.
Originally posted by BruceM
A few things I will always keep in mind based on probabilities alone:

1)The markets ability to trade back to the weekly and daily pivot...
2)The markets ability to trade towards the previous days Low or high if we open outside that range
3)The markets attempt to take out the previous days low or high if we open in the range
4) the markets ability to run the overnight low and/or high
5)The markets ability to break last weeks high or low if we open in that range on the first day of the week..

glad you are finding the stuff....

Nice call KOOL blue...your projection and cycle wasn't lost on me...

Thanks for kind words Ian....
I snapped this in the morning so let me post it ...it shows th elow volume on the histogram ..You've seen these before but perhaps we have new folks....that is why that area was a target.....the 58 - 59..this is the overnight and you can also see how volume was building at that 55 number
Click image for original size