ES short term trading 9-23-10
ES short term trading 9-23-10
Key area above is 25.50 - 27.75....that is a ledge and
single prints
from
O/N session
and part of key volume from Mondays breakout trade.....that becomes resitance now
Other area is 20.50 as that is midrange of volume spike from 8:30 report
ON low is also important today...currently at 17.50
we will open outside of YD range most likely so we need to think a bit differently...reports at 10 am.
just noticed 29.5 would be one of Bruce's
air pocket
fills from
globex
session.. lots of other reasons in this area... but fwiw
Broke downtrend line , 1130.50 still 50% level for the move up from 1117 to 1144.
1132.75 former high and top of left shoulder(9/17), if it is one.
Most stocks down today so far. Treasuries are up. When I said stocks strong I'm talking about my watchlists. Assorted leaders.
Gone short with stop at
hod
. Important hourly candle here.
Click image for original size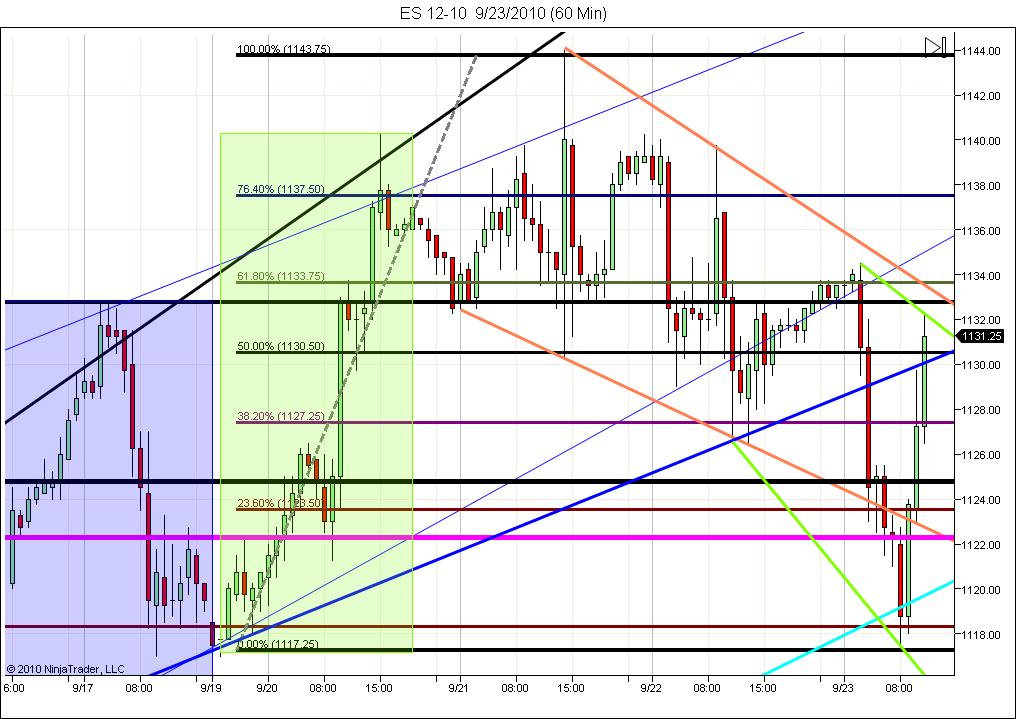 Here we have a 30-min
PRC Band
chart with a projection up from the low this morning. Also we had YD's volume
POC
at 1130 and YD's
VWAP
at 1131.75.
Pretty interesting confluence zone.
Click image for original size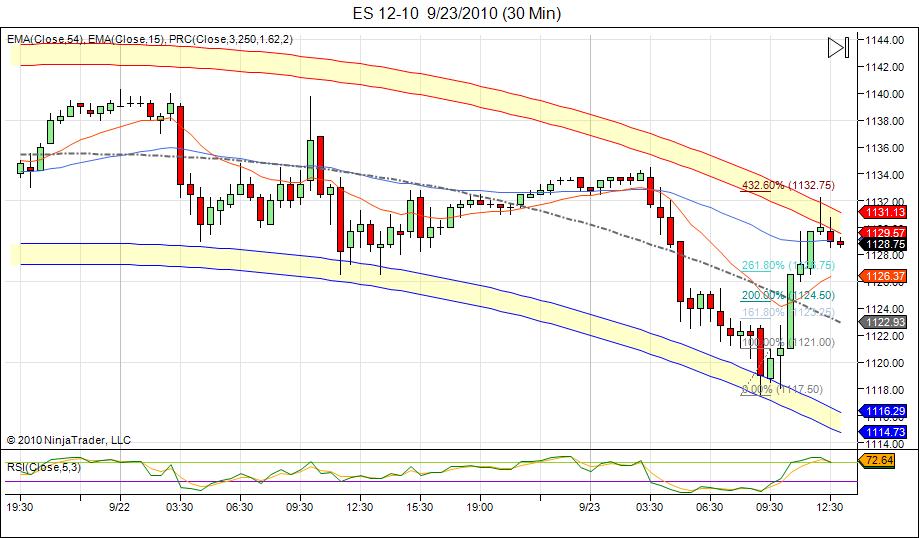 the only thing left over from yesterday that hasn't been cleaned up is that ledge at 32.75... but I see the tail on highs and lows so I'm thinking about shorts to get back into the 25 - 26 area to test Official
single prints
( 30 minute)..If we start trading over 30.75 my short plan will be invalidated.....
The only other short
fade
I will take if this fails is if we take out the 32.75 and the
YM
is not anywhere near it's ledge from YD afternoon....so that would imply some
divergence
I beleive this will be to blame if we don't continue to sell off into my 25 - 26 area. We had big volume this morning and a break of the 60 minute high. We are consolidating so far on light volume above the 60 minute high . So there is a good chance that the smarter money ( not me) may be recharging to drive higher into the close.

There is also a ledge at 29.75 which I will be watching closely starting now! Somedays the structure is a bit tricky to fiqure out. That's why I prefer the morning!
I was short 29.50 and just covered at 28.75...I just don't like this
low volume
stuff.......they can push it anyway and quick so us faders can get run over too quick...standing aside until I see that big volume flush...somewhere!
not sure which seems to "hurt" more...missing a trade that works or exiting only to see it hit your target....
At times like these I always remind myself that it could just have easily resulted in a loss of money too ..
The secondary reason for the 25 - 26 level is the 50% of days range....nice on days when you get the tail on the low and a tail at highs off resistance..( the
POC
from YD trade)....
1123 the 62% retrace
1125 the 50%
BKX near
lod
at 45.85
If it loses 46.5 could be a plunge but I swear a lot of stocks are just stuck(ie;
WMT
,
AAPL
). I keep checking volume to make sure they're being trade and my connection not lost.
deited BKX to 45.85,sorry