ES S/R Map for 11-1-10
Here's what I've got coming into Monday. The Blue lines are potential
S/R
price levels derived from
Price Action
... Magenta lines are potential semi-significant levels. The thinner Light Blue dashed lines are the Weekly Pivots. Drew these in on Saturday after consulting the 5min/Daily/&30min charts ... looking at both
RTH
sessions and also ATH.
Would appreciate any feedback, but more importantly, other folks' charts (or price levels accompanied by analysis) to get a "collective" of a variety of approaches and "eyes" viewing the upcoming trading session.
So far tonight, the
ES
opened and pushed up to, then paused, and finally punched beyond 87.50 from 10/28's high.
Click image for original size
The 92-94 zone is a
PASR
level that also includes a Wkly Pvt ... and also (for fib traders) two price projections of what might be called potential "exhaustion" fall inside that same zone. To the downside, as of price right now, 85 (very minor) and 80-82 zone are potential Support levels as displayed on the chart.
Hope this is helpful to some and look forward to other posts!
The Funky Monkey
Although it didn't register on the mypivots "notes" for the
ES
... the
RTH
of both the
ES
and
SPY
were NR4/ID's on Friday. Something to keep in mind.
So here's another chart that's simply another "look" at the
ES
30min of the past 20 days with Volume at Price plotted on the right vertical axis. Just another "view" from my
TOS
software showing the bulk of volume trading between 76 and 80. I don't have any additional input/analysis that I can pick up from this but would appreciate anyone elses break-down of what it might be showing for anticipating potential price magnet zones and rejection levels.
Click image for original size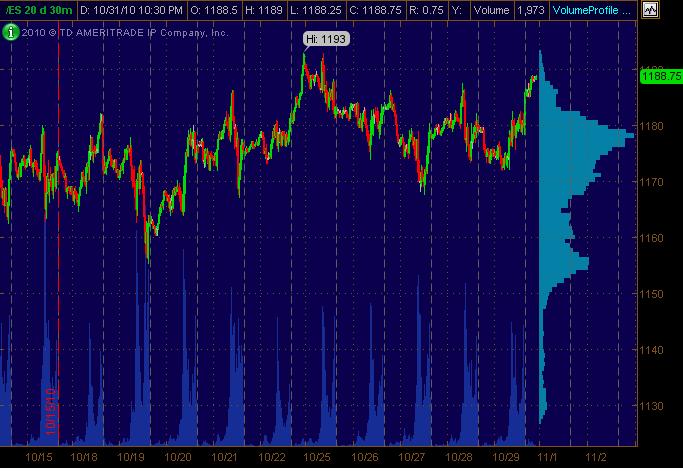 And from
TradeStation
again, here's a Daily chart thru Friday with their "volume distribution" displayed for each
RTH
session for apprx. 3 weeks where I've snapped in the lines for Friday's
VAH
and
VAL
in Blue with
POC
in Yellow.
Just trying to put out a variety of different angles and ways to view and analyse where things are and what it might point towards to characterize the trading day coming into Monday.
Click image for original size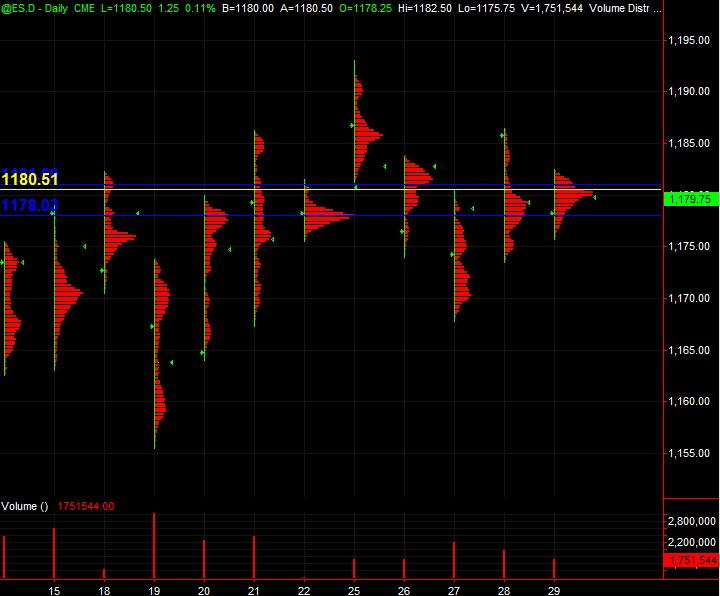 And a back-to-the-basics Daily chart in the spirit of Edwards and Magee ... upward sloping Trendline in Blue ... Yellow consolidating/contraction "Triangle" ... and Yellow line depicting decreasing Volume.
Click image for original size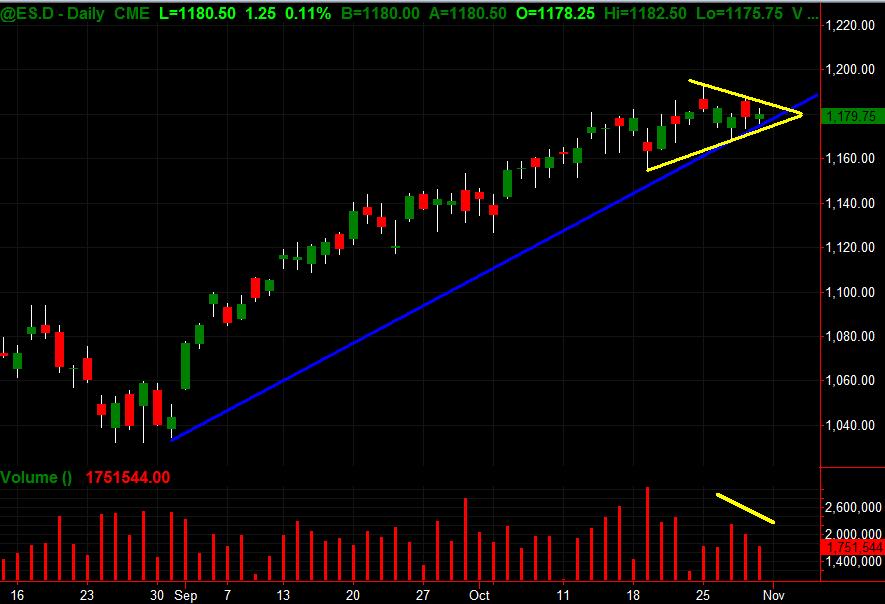 Didn't find any
Wolfe Waves
... but would love to see some
MP
analysis and anything else.
ALL
LURKERS are cordially invited to join in with "first posts" as well. Paul, Lorn etc. ... anyone out there?
The big kahuna as per volume has been the 79.50 area so today we should see mean reversion strategies still being used. I have a
low volume
area up at 89.50 and that is also near
O/N
high so an obvious key hurdle for bulls to take over in the day session.
Shorts are preferred with a
gap
open higher ( if we get a
gap
higher open). Market is up 6.5 points in
O/N
as I type. Nice work on the charts.
15 minutes before
RTH
and here is the footprint chart. Obvious quads there at the 1189.75 top but its in
O/N
so not sure how much weight to give it.
The thing which stands out most to me is the sell off back under
VWAP
into the 8:30 news with multiple challenges of
VWAP
from the underside but no follow through as of yet. Volume overall is light as compared to 5-day average and of course with Elections tomorrow and
FED day
on Wed. I'm on my toes for small range days in waiting mode.
Click image for original size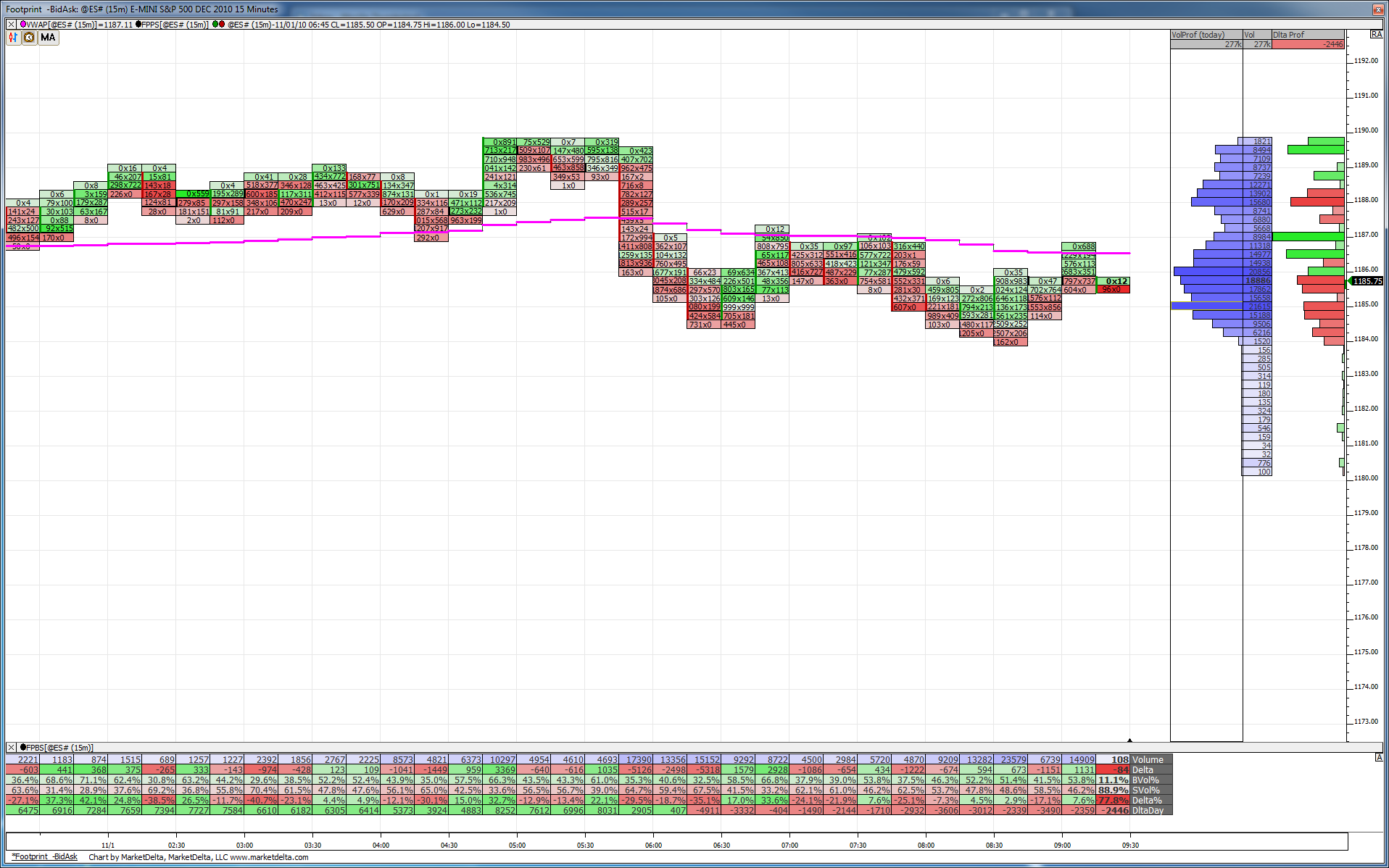 92.50 is secondary extreme of composite....look for 89.75 at least to be retested......lets not get too bullish with a 6 point move off the open...LOL
Good eye Bill. Thanks. I think all the charts I was looking at were eating my brain by the time I surfed for
WW
's. The 1-3 line and 2-4 converge too which was a plus ... dropped down some from point 5 before the
RTH
open ran price up into the 92-94 resistance zone.
Originally posted by BHReach

I see a WW forming on your 30 min chart.

Anyone get a short off in that 92+ zone ... there was also
AIR
a couple of points below on the 5min?
Is anybody trading out there ... or at least sim trading / learning / looking for new ideas etc. ... are any of these posts useful/helpful??? A lot of views (300+) but no new folks with ideas / interaction / feedback. Not bitching - just wondering.
MM
Originally posted by i1hunter

Beautiful calls there guys!
MonkeyM, Lorn, BillHR. BruceM. Great posts and charts, thanks for taking your time and effort.!

I didn't trade today, not always day trade. The info here is very valuable because it comes from real traders. I know what you mean MonkeyM. We should have a "eliite" traders page, if people want to see what's posted there, well, they most pay a monthly fee. End of month, best poster gets a price that comes from the fees. Webmaster should keep some too.

As Bruce also pointed out last time, 1400 hits a day +- and not even a freaking thank you! It takes a lot of effort to post and still keep focus on your trading.

Or, for important info. we can use e-mail between people that are trading,, and just post the basic staff.......

I agree it's tough to post while trading. i am barely able to pop on and read while trading! LOL!
I have been more of a swing trader but have learned a GREAT deal about intraday from the posters here. Thank you very much!
Good luck to all.