ES Short Term Trading 12-8-10
ES Short Term Trading 12-8-10
Just to kick off the topic with what I've got on an
ES
30-minute chart showing
PASR
levels in Blue with the light dashed lines being Wkly Pvt levels. Merely a "map" coming into Wednesday's trading. Also, am posting from
TradeStation
charting, the Weekly Volume at Price
HVN
price areas from
RTH
. Not much changes in price levels from last posting of my charts. Hope some folks find this useful!
Click image for original size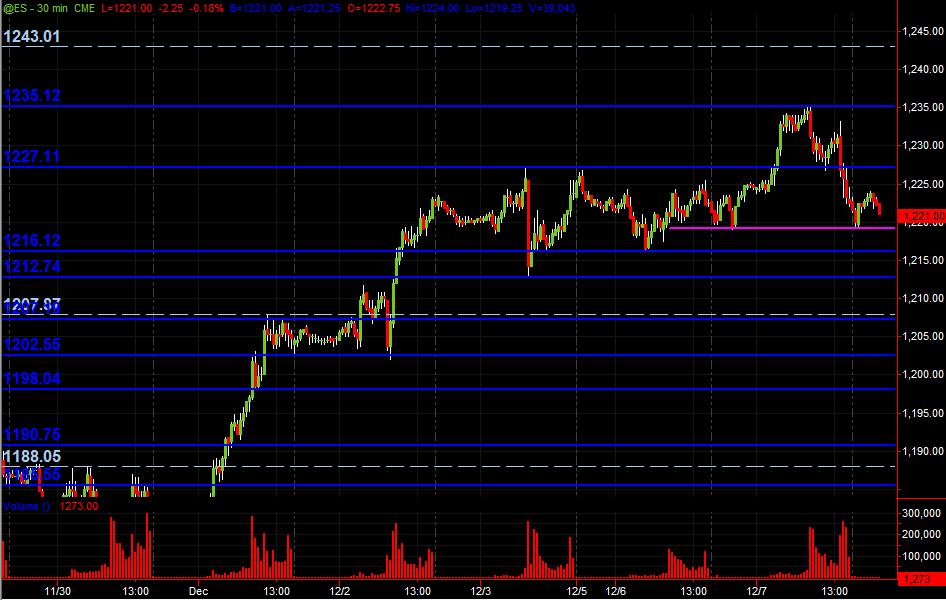 Click image for original size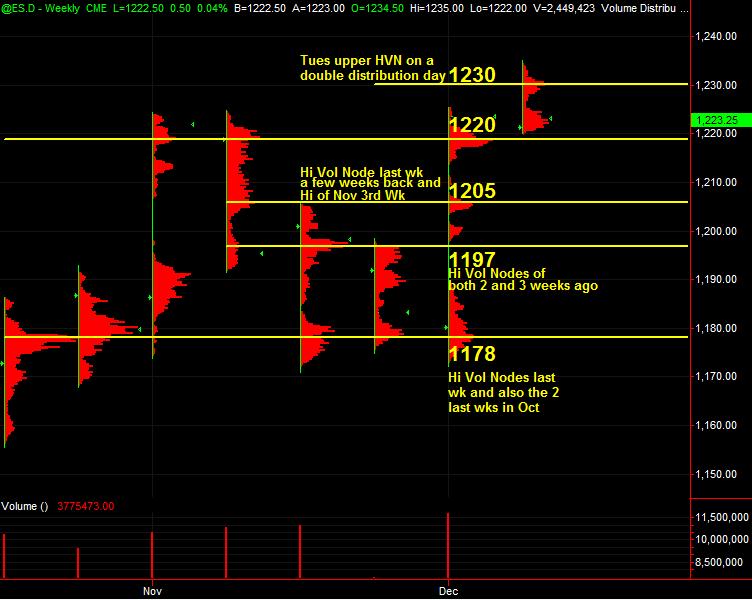 I'll be surprised NOT to see a complete
gap
fill but how much up swing do we need to withstand against our open equity on runners?
runners always tuff!!!
covered all at the 23.50 4 pm close...I just have no good stop placement for those last two...so best to exit....will think of reselling on a push up if they don't get 4:15
gap
now first..
Great work Bruce!
I see no accumulation at all, even with a
gap
up, same was yesterday.
DJ is below prev. day low.
NQ
still above it.
thanks Kool and glad u r here.....always tuff to watch market go further after an exit...I suppose a better trader, a bigger account trader or a trader with bigger Kahunas than I could've held that but I'm always trying to train myself to be satisifed in trading and in life......I won't chase it...and stop placement on runners is one of many trading areas that I haven't mastered.....that one alludes me!.


so ends todays motivational speech....!more babble than usual !!
thanks and one of the things I'm working on is the continued effort of the one minute volume work.....Yesterday according to my
IB
clumped data that big down bar had 43 K in volume...today so far the biggest one is 27 k...the point being that the market each day will be attracted to one or more of these 3 things......
the volume from the previous day or the volume ( one minute bar volume not
VPOC
's exactly)from the
O/N session
...sometimes both....now what happens there is the real trick
or it will create new volume and jerk around that for the day..
Today we got atrracted up to the volume bar from YD
rth
range and then fell back to the volume from the
O/N session
as per the one minute spike and then lorns
VPOC
so I'm just throwing out the concept ....
so the 22.50 - 22.75 continues to be a point of interest..look at volume spike into it ...all a work in progress
BINGO...1125.00 .. NICE DAY OFF TODAY.. Good luck trading to all! (actual exit was 1125.25)