ES key number for 3-10-11
ES key number for 3-10-11
1300 - 1302

1306.75 - 1308.25


1313.50

1321


Watch to see if we are outside yesterdays range and then we get a 30 minute close back above YD lows and the LOWEST 30 minute close of YD
two sets of
triples
near the key 1294 just run out.......that is the chart of the day.......but not the trade of the day because I'm in "watching" mode and have 2 year old patrol now!! so I didn't take the trade....
Here comes 1291.25 apparently!..looks like 99.50 would have been an incredible sell!!.. gotta get some sleep. GOOD TRADING
ALL
!!
Originally posted by koolblue

Well, i passed on the 1299.50 short...

here is my chart of the day...no trade for me.....we never had a 30 minute close back inside the
O/N
low so it was still ok on the short side and we never had trade outside of
IB
high......good context
one minute spike actually happened on March contract while volume was still higher there.....so that equated to the 94.50 on June
Click image for original size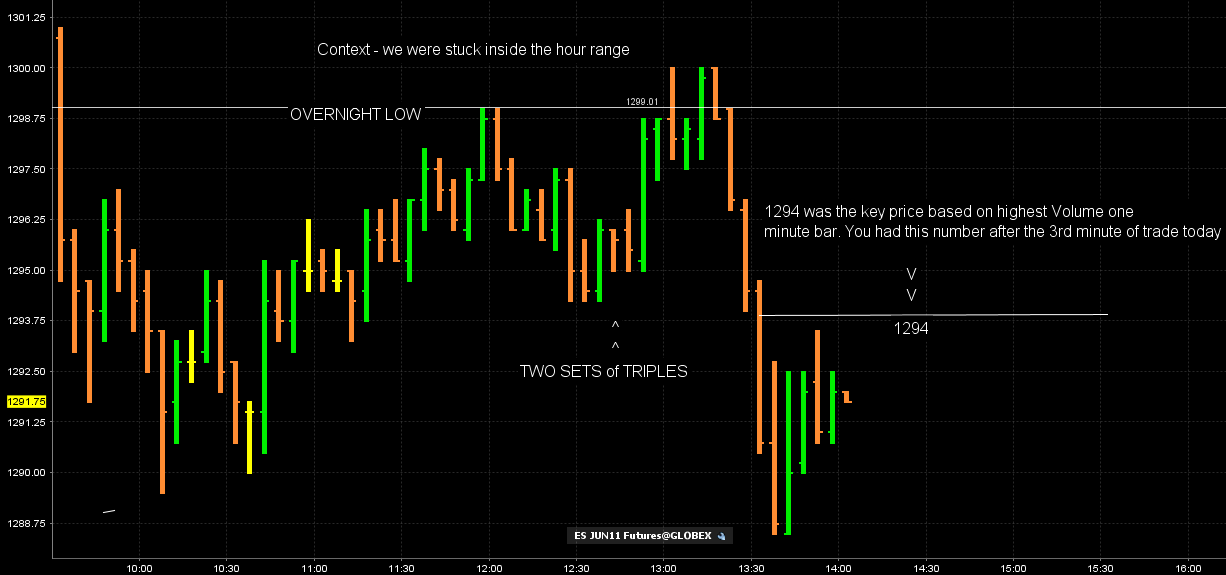 EXITING 1292.00 just to be safe(one only this time)... hope you enjoyed Bob, burned one with him back when i was a kid in the sixties... i am after all a Michigan boy! lol
Interesting stuff, Bruce. Also appears to be a pretty good spike around that 1295.25!
ugh, they got me! had my lowered stop at 1295.50! no more for me today gotta sleep!...Cya!
yes Kool..if you look at June you can see the volume spikes both down in the 88 - 89 area and both times we rallied.....so somebody likes that number

Look at 10:05 and about 1:35........they can't hide from us....LOL!