ES numbers for 3-29-11
Numbers generated from todays trade based on volume


1312.50 volume spikes ****

1310.25 Volume spikes ****

1307 Volume spikes

Old ones you should have on your radar from previous days:

1300 - 1301

1295.50

1291 - minor

1287.50 ****** major number


1282.25 ******
Good morning. Well, on the weekend preview, i promised you a decline into a superb long term (1-3 month) rally and it appears to be taking hold. Though im expecting some rebound today, i dont for a minute expect the decline is finished yet... from sentimentrader: "When the S&P hit a 10-day high but closed in negative territory, on the lowest volume in a month, it managed to rally during the next few days only 33% of the time (5 out of 15 occurrences), averaging a return of -0.4%. Returns were similarly poor when looking out one and two weeks later (though the average return got even worse).
Same goes for times when the
VIX
was stretched more than 15% below its 10-day average for more than three days. We touched on this a few days ago, but the condition existed for three days. There were only five other times this occurred, and all of them led to short-term weakness or a short-term rally that then petered out and led to losses over the next few weeks.".... numbers later after the
globex
session!...
here's the rest of the news coming out today..shold prove to be somewhat important with everyone waiting for the big news on thursday and friday, the unemployment report(Thurs) unemployment situation(FRI)
Consumer Confidence
[Report][Star]10:00
AM
ET
State Street Investor Confidence Index
[Bullet10:00
AM
ET
4-Week Bill Auction
[Bullet11:30
AM
ET
James Bullard
Speaks
12:45
PM
ET
5-Yr Note Auction
[Bullet1:00
PM
ET
by Econoday INc
If someone has time before the open to post a 5 min
TPO
chart that would be great. having trouble with mine today
here's my 60 min chart... shows we are at a crossroads. i would like to see a pullback to the 200
MA
at 1291 before the next push up. only time will tell.
Click image for original size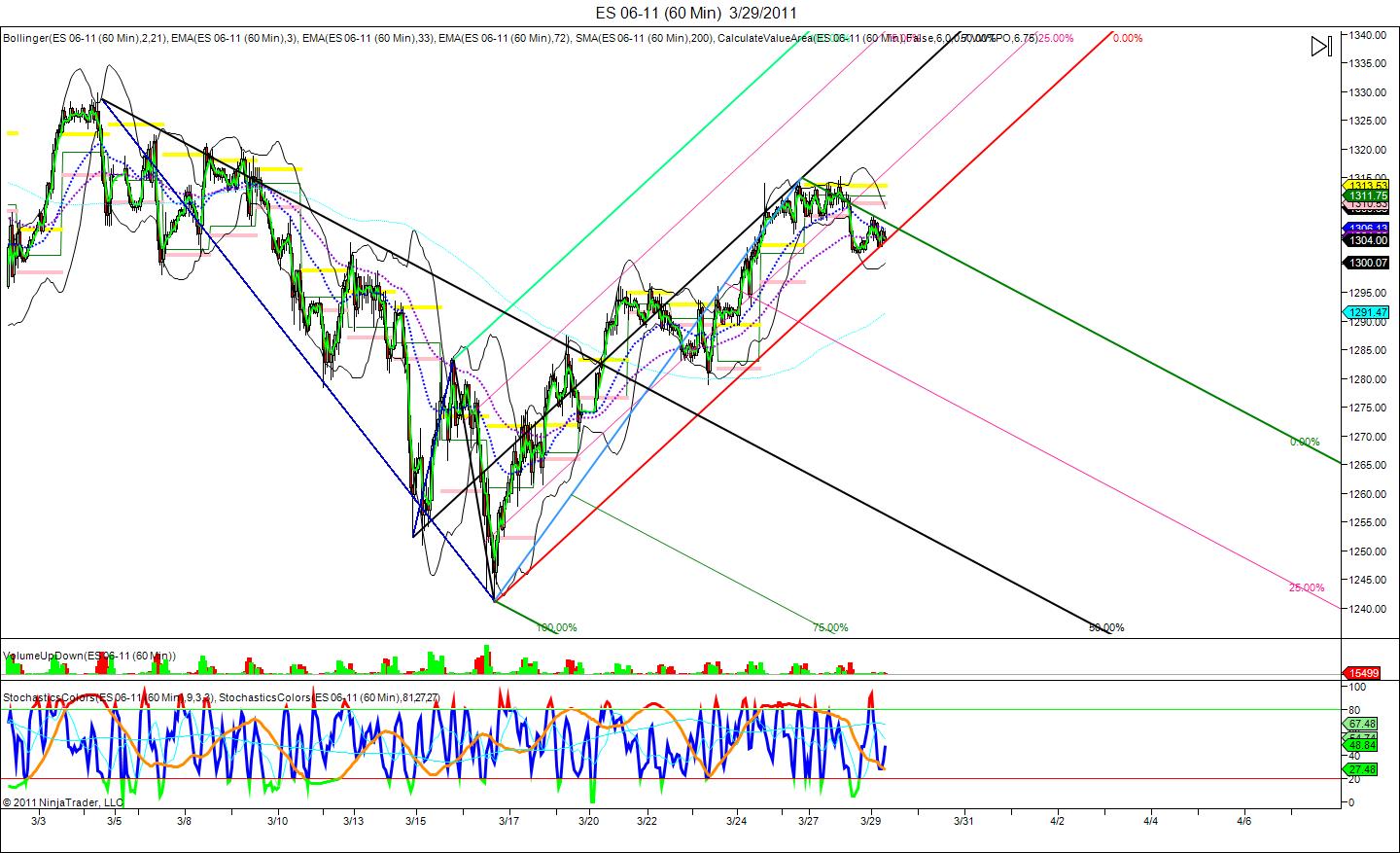 O/N
profile with
value area
(green). I found that mornign traders often test
O/N
VAH
or (and)
VAL
Click image for original size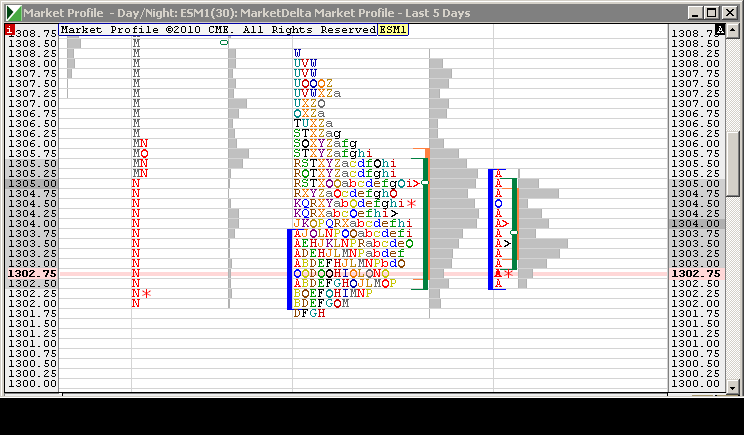 consumer confidence report in 2 minutes @ 10 am est. be cautious here
1301.25 is key price down here for me and it was sellers....but gotta wait for report volume.....I'd like see that hold and go back up to 1307...failure will go for the 95 area..
Re using M-
Delta
. As you can see below, volume dried up at
O/N
low retest - 1303.25. Those who shorted
O/N
low would have their stop now at 1303.50-1303.75 (2
ticks
). Lack of volume above that level confirms short is right. Had volume accumulated, I would have doubts that my short was correct action and exited the trade with 2-3
ticks
loss.
closed my short. took 1 pt loss.