ES 4-4-2011
Getting the week started off here is a look at last weeks
RTH
profile.
Obvious zone on this chart is the
gap
in the middle with virtually zero volume.
Click image for original size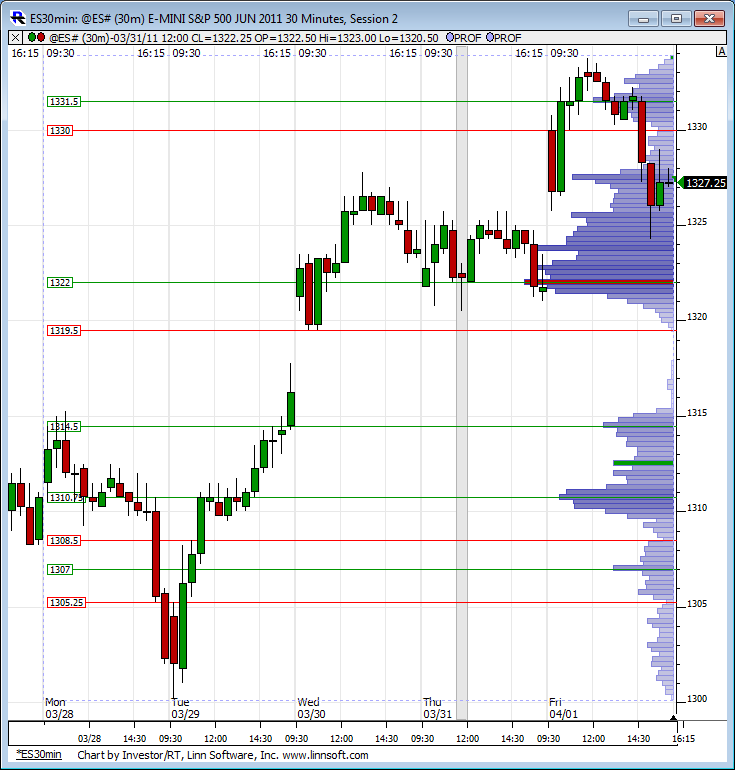 Originally posted by koolblue

chasing from 1328.25, tight stop at 1330.00...

my thinking is that if they brek that red avg it may carry north a while... besides we have positive seasonality today so i need to be very cautious!
of COURSE I COULD BE WRONG... buying could always suddenly pick up?! One thing is certain, VERY tight boll bands on the cash chart show a big move is coming soon!!!
Originally posted by koolblue

full ahead at the speed of nothing!... yawn!

IF IN FACT I GET LUCKY HERE, I'
LL
TAKE ONE OFF
AT
1327.25 AND HOLD THE RUNNER FOR CLOSER TO 1324.50
COVERED ONE
AT
1327.25,PLUS ONE
BIG
HANDLE!..UP 2.75
O/N
THE DAY ..holding the runner , probably exit around 1325.00-1325.50 if lucky.havent changed my stop yet...
just chickened out at 1326.25 because of the huge vol on my dom at 25.50 and 25.75!... plus 2 handles anyway... up 4.75 on the day!
Glad ya nabbed
SOHU
... unfolded well. Considering the market was range bound, most of the stock picks held up well with many also reflecting the
ES
price activity ... but they performed pretty well overall ... with 1 or 2 semi-lemons. Thanks for the feedback; it's nice to hear back that someone's profited from the picks. Good stuff!