ES 5-18-2011
O/N
Volume Profile
.
Click image for original size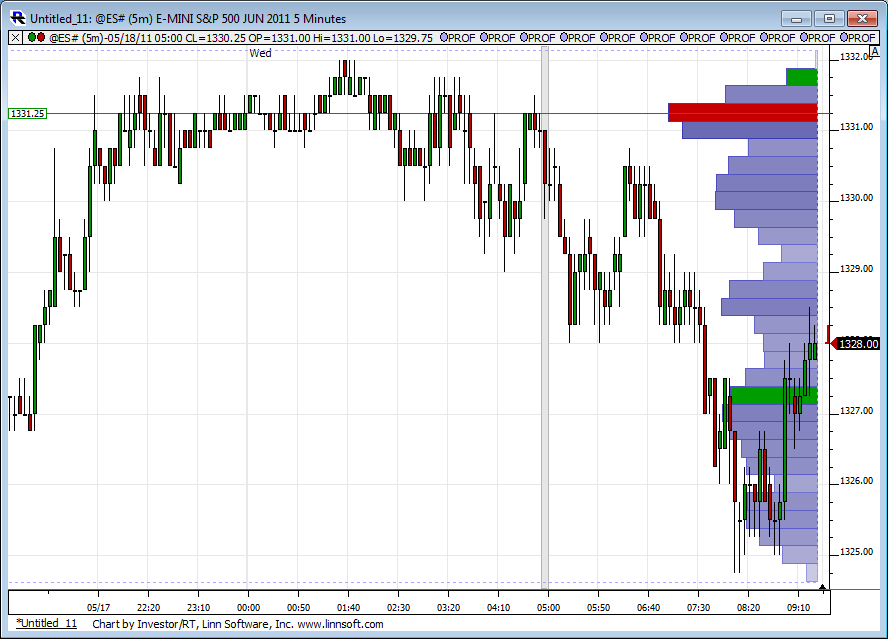 Originally posted by PAUL9

LisaP,
hope all is well, haven't seen you for a couple of days.

Your interpretation of the size at 1333.00? (both columns I noticed)

If price dips below that 33 by a few ticks are you expecting liquidation of longs? Is that the standard interpretation?

thx

Hi Paul9 (and everyone) . I was off for about a week - computer issues,insurance issues...
I watch the action when I see a big number. So bulls are hitting the ask, market should go up, but it stalls. Then I watch a pullback (minnows - 1-min players - exiting). If their number is relatively small, I stay in the long trade with Mr. BigWig. If the pullback numbers are significant, I exit. This pullback was on a very
low volume
, so I am still in the long trade. Hopefully the target is
gap
above closing
Here is the chart I am watching. Bottom of the
gap
is also resistance. We are at it for a while, so may chew through.
NQ
is helping
Click image for original size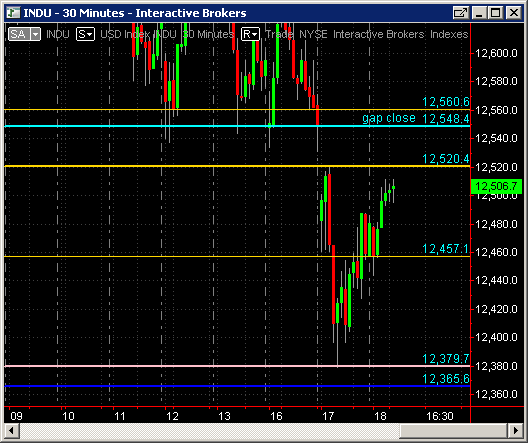 took small profit and got out - not my favorite trade (buying into Resistance), especially after 10-handle run up on the
FOMC
day , at lunch...lol.
no reason yet why we won't revist 32.50 ....gonna take a boat load of volume......to break away....like a 2 pm report...oh yeah, that could do it......till then we should mean revert..
shorting into 36.50 now...watching trade above 37 with volume as that is far end of upper range and
VA high
from that day...
52.8% from R1 to R2 at 1337. May off resistance.
34.50 - 34.75 is target...that would be SECOND set of
single prints
today ...unusual !!
I'm posting more today, because it's slow. Hope it's ok.
Calculated this against my numbers and got 1336.83... or, 1337. Thanks for your post!
Originally posted by neoikon

52.8% from R1 to R2 at 1337. May off resistance.

Originally posted by BruceM

it seems to me that the real key to all this footprint stuff is figuring out when heavy ask volume is REALLY buying and when heavy bid volume is REALLY selling.....

It seems to lack a filter to really help us figure that crucial question out..

I see heavy Bid volume at 34.75 but it is not selling off...but by the time you figure that out the market is 1.75 - 2 points higher...

Bruce, it is a bitch! Tha is what trading long at resistance is like.
But I am not going to write another long answer. Skype me...lol.