3 Hrs of Analysis on a Post-it-Note
3 Hrs of Analysis on a Post-it-Note
Spent more than 3 hours going through equity charts for overall market components, sectors and lots o' daily/intraday stocks. The final list I distilled down to roughly 10 decent LONG picks, if memory serves, because I stuck the damn post-it in the left pocket of the shorts I just washed (and dried) ... poof - gone. So, went back thru charts for an hour and came up with these potential LONG stock picks for Monday ... as long as the overall market (
SP
-500) holds up or moves up. Either way, these are some key stocks with upward potential to keep an eye on for a day trade or two coming into Monday and Tuesday. I've got 4 that look good and 3 that I'd put one or two question marks beside ... and watch how things unfold.
LULU
DECK
NFLX
ILMN
(secondary)
FOSL
BIDU
APKT
There were about 3 or 4 others that disappeared into Tide-laden wash inside of a Whirlpool brand evil stock pick killer. The dryer cooked the rest beyond the salvage abilities of packs of scientists that noodled around with the "shroud of ... " Enough of that. Hope this might be helpful to some other crazy hillbillies out there like me!
Click image for original size

MM
;
I told a trader, when I want to remember something I call my phone and leave myself a message .. he said "LOL" ... BUT, it works for me .
Will do the best I can when I get a chance ... am under the weather currently, bleh.
Originally posted by day trading

Interested to know your logic/rationale behind NFLX?

Hey Red ... not a bad idea ... maybe I'll start texting myself. Will have to up the meds to prevent a psychotic break.
Originally posted by redsixspeed

MM;

I told a trader, when I want to remember something I call my phone and leave myself a message .. he said "LOL" ... BUT, it works for me .

If you answer your
own
message, you may want to talk to Dr. Phil or
Oprah
Originally posted by day trading

Interested to know your logic/rationale behind NFLX?

NFLX
My best pick of the year. Def a must buy I mean just look at the crazy amount of aggressive marketing this stock pulls off.
I'm looking for long stocks only. I consider "technicals" mostly but also would prefer some good fundamentals behind a pick (earnings growth). For fundamentals, I'll use IBD lists and scans with TC2000 and finviz.com to do the heavy lifting for me. I'm looking for consolidation type patterns or slight pullbacks in what are usually momentum stocks. I also heavily weigh Relative Strength by comparing a stock's daily chart with a chart of the overall market (
SP
-500). I'm looking at price activity in a stock to hold up better (or pull back less) than the
SP
in its recent price swings when comparing charts. I especially love a pullback day in the
SP
and to see a stock that held up well or moved up that same day. I'll then drill down to a multi-day 5-minute chart to again compare
price action
between the stock and the
SP
index for the past few days, and especially today. Again, I'm looking for strength in the stock ... higher highs, closes up stronger than
SP
, doesn't participate in a late day selloff in the
SP
etc. I'm wanting a stock that's displaying a good chance to have a decent magnitude move up tomorrow or in the next few days. This is often "allowed" by the
SP
moving up the next day ... or at least not moving down. Anyway, I also have a basic minimum price and minimum avg. volume scan I run on
NYSE
and NAZ and sort by % gain at the end of the day and scroll through most or all of the charts, visually evaluating them. While I do look at daily volume activity, I don't really give it much weight other than the stock not be too illiquid.
There's really nothing too exotic about it all I guess. But that's the process that brought
NFLX
up into my "short list."
NFLX
has been a consistent performer, making new high after new high and screened with good fundamentals. Just overlay a 5-minute chart of the
SP
(or
SPY
etc.) with
NFLX
and look at Thursday and ESPECIALLY Friday's
price action
. Then go back to its daily chart and see how it had pushes for the past few months up into the $250 area with pullbacks from that zone becoming shallower and shallower ... espec. on 5/16-5/17, creating an overall good looking bullish pattern on its own (also the 50 day
sma
was holding recent pullbacks - that's a plus too).
NFLX
had/has some serious buyers that want to pick up more shares. The market (and
NFLX
) gapped down Monday ... but the market didn't really sell off ... just kind of "held up" where it was. That gave an opportunity for buyers to go ahead and pick up shares of
NFLX
... which they obviously did - aggressively too. It's always better if the
SP
starts a rally too after a
gap
down. This is a description and I know it'd make more sense and I could point out more specific details of what I was seeing that put it on my "short list" of I put up a chart or two. I'll try to get that posted here too. It just takes time to do it right since there's a lot of info (data points) being processed in the evaluation of any stock at any particular time, and some of it may be even harder to explain since it comes from just doing this for years. There's that subconscious thing at work that also pokes its head up and says "Hey, this 'un looks really good for tomorrow" when I'm flying through the stock charts. Hope this at least partly answers y'all's question as to "why
NFLX
." Will get some charts up when I can.
Here's the best I can do with the charts. Have
NFLX
and comparing it to the
SPY
on both a daily and also an intraday 5 minute chart ... annotated and the initial description in the prior 2-paragraph GIANT tome of explanation as best I could provide.
First the Daily charts:
Click image for original size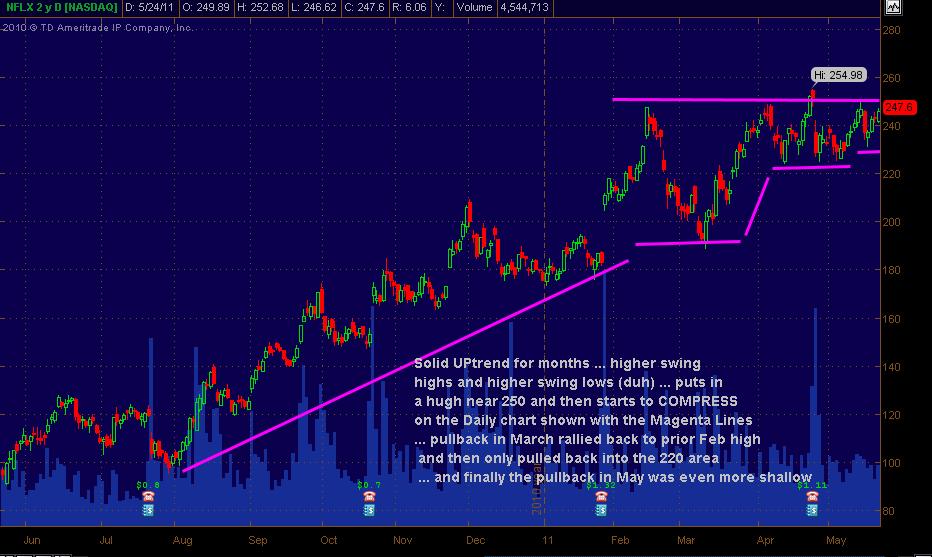 Click image for original size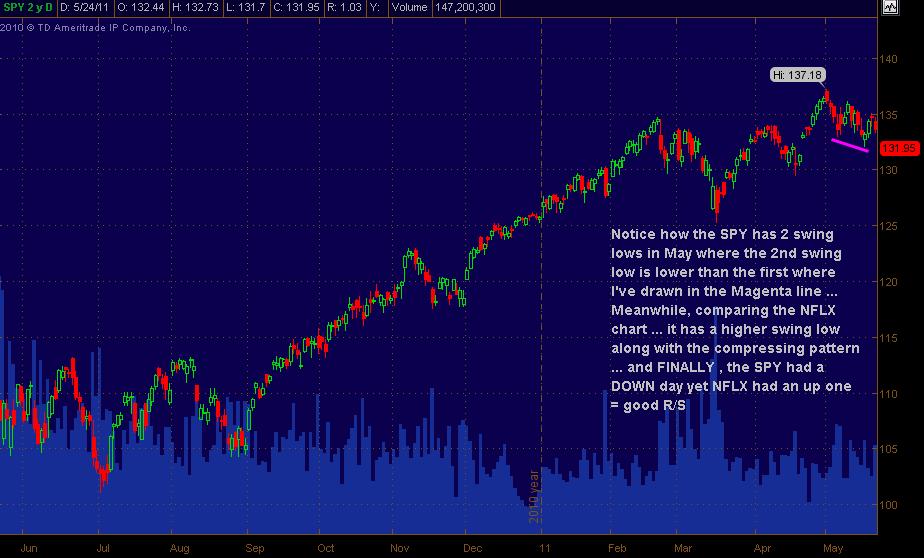 The intraday 5-minute charts for
NFLX
and the
SPY
:
Click image for original size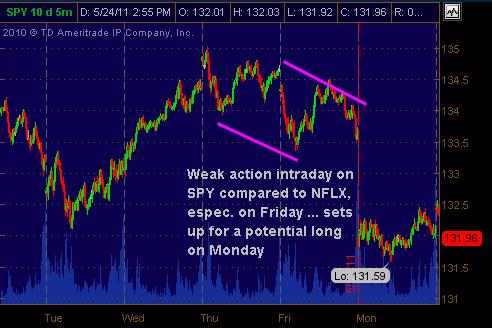 Click image for original size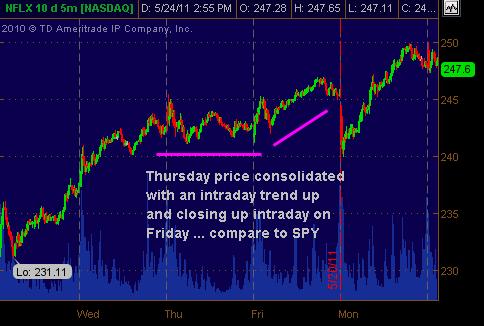 Hope I've described this in a way that makes sense and can be understood and replicated by others!! If anyone's interested, I'll interrogate Bruce as to what worked for his video and can really do a full walk-through of everything I'm looking at and how I'll rule out or in stocks that are probably "ready" for a pop long the following session.
Peace Love and Wild Monkey Flips to All!
MM
Btw, look at the other long picks in the same way ... on the daily and intraday ... you'll see the same type of price patterns and R/S compared to the
SP
-500 for most of 'em. And most of the picks, not to forget, also have good fundamentals as described in the big description above. Again, use the the IBD 50 (was IBD 100) and IBD 200 Composite and a few other lists in their paper or online. And you can also create some IBD online screens that are similar ... and do the same with TC2000 ... and
www.finviz.com
has the same capabilities as well where you can move your mouse across the screened stocks and see the chart and get a good "visual" as to how it looks from a technical analysis and pattern (and R/S) perspective.
And always look to play 'em long if the
SP
holds up or moves up the next day ... even with a
gap
down ... that's what happened with
NFLX
.
The other picks didn't do much ... and
NFLX
went long trending intraday after the opening whipsawing (typical) ... but NO ... had no idea it'd run as far up as it did. It's about the probability of the patterns and R/S and the unfolding of the
ES
the following day as to how/when/where a trader might enter a stock pick long ... and also where/how the exit is planned. I'm all about scaling in and out sometimes too.
MM
Awesome writeup about
NFLX
and your strategy
MM
! Thanks so much for taking the time to do that and do such a thorough job of it. Really appreciated that!
I recently read that 20% of peak time evening internet traffic is being used by
NFLX
customers:
http://news.cnet.com/8301-13506_3-20020434-17.html