ES Monday 9-19-11
Here's my
ES
30min Monkey Map of
PASR
levels as Red with White dashed lines as Wkly Pivots ... and
Volume Profile
of the past 20 days on the right vertical axis. The Gray background areas show overnight (non
RTH
) areas. Have a Fib cluster in and around 1183 as well (though not drawn in). Hope this is helpful.
Click image for original size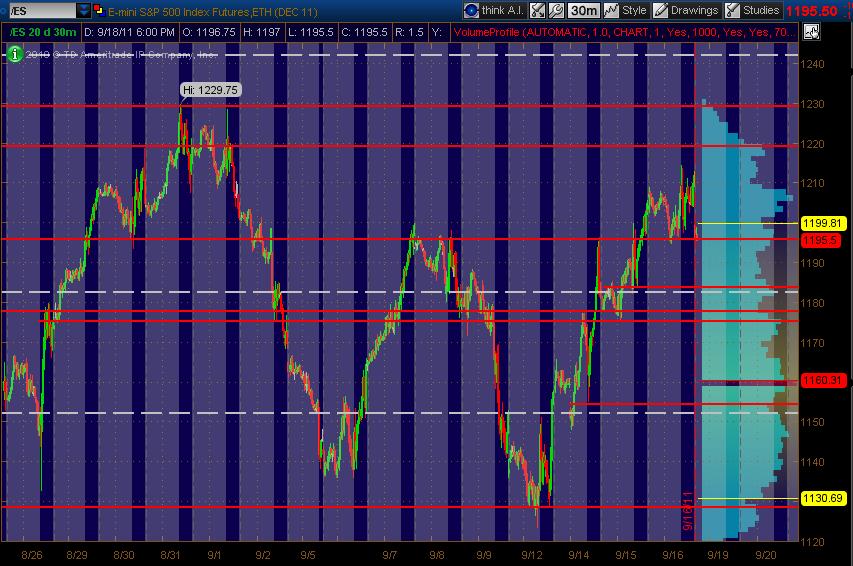 Thx
MM
.
Here are the numbers I will have in mind during my trading on Monday.
For Sep. 19, Mon.
Buy above 1215.25
with 1219 / 1225.75 / 1229 / 1233 (extreme 1243.33)
as outside objectives.
Sell below 1210
with 1197 /1193 / 1188.75 (extreme 1177.75)
as downside objectives.
The above numbers work best if they are at
support/resistance
.--- Always follow your system first.
I notice that in
MM
's chart we have resistance congruency at 1229 (My numbers are derived mathematically) and a support
cluster at 1199.81 - 1197 and 1195 - 1193
Will see what the market has for us tomorrow. In due time will show us the way.
I see for you the same I see for my self: Having the best of luck and a very profitable, fun trading day!
I'm already short @2.75.. I meant to get 94 but missed it.. I think the longs are trapped here and if we break down here, 1184 should be the next target..
My stop is 1195 which is further than I liked but if I get 2 pts, I'll sell 1 and let 2 ride with a 1184 target
My numbers for Monday is as follows:
Short below 1194.50
Targets = 1184, 1181, 1176, 1173, 1170.50, 1168.50 respectively
Under 1166.50, very bearish
Longs above 1202, confirmation above
VAL
Target = 1206.50&
VAH
Above
VAH
, very bullish with confirmation above 1212.75&1214.50 and away we go
I need to resist the urge to cover my short
[email protected]
Originally posted by tradezilla

I need to resist the urge to cover my short [email protected]

This is a common problem for many, had you left your trade alone it would have good 6 points on all 3 contracts.
I would like to hear some of the "old hands" opinion on
price action
or time based decisions on cutting a trade short.
Good luck to all.
for me support will come at 90.75 ( peak volume in
O/N session
) with 87.50 as secondary support...biggest support down near 83.75...so these numbers are all close by
resistance is up at 96.50 - 97.50
I'd just like to remind everyone that in these threads we are looking for the reasons for trades...not just posting raw trades...we can go to paltalk for that...thanks for understanding
Id go broke trying to read todays posts and trade. In the morning I look for Bruces levels and see how they mesh with mine. Reading any more here will probably cause a brain fart {for me anyway}. A 1.5 stop in 35 pts ranges which we have been having is suicidal in my opinion. You can get an execution and stop at the same time. Best wishes and good trading
RB