ES Thursday 11-27-2011
The objective for today is at 1265.00 possible spike to 1279.00 but not necessary .
An interesting day for the market in general!
ES
now trading 1251.25 @ 22:55 E.T.
As always, the market has the last word and in due time ill show us the way.
Right now, next hours, next days, next weeks, next months and next years to come,
I
see for you
the same I see for my self:
Having the very best of luck, fun, awesome, incredibly profitable trading experience!!
hey big mike is that time or
tpo
's and is it the Decemeber contract or is it continuous data?
any shorts in general will need to get and hold under the 59 - 62 area in the day session....that is also a possible critical support zone I'm using this morning...may the force be with us today!!
as usual the zones will be played based on where we open in the day session....it seems that we will open above the 59 - 62..so that will be the first buy zone for me. The closer we can buy to 59 then the better off we will be as the Overnight did the classic resistance to support movethere....it is part of our day session
TPO
low volume
area..!!!
Originally posted by BruceM

hey big mike is that time or tpo's and is it the Decemeber contract or is it continuous data?

TPO
of continuous data YTD
Here are some words of wisdom from our friend Dr. Brett and what he sees in winning traders. I think these are very poignant in today's environment.


1) A creative way of looking at markets, and a way of creatively resolving conflicting market views;

2) The emotional resilience to re-enter a trade idea after being stopped out, when subsequent action confirms the initial view;

3) The courage to bet large when there is high conviction in an idea; the prudence to control risk when that conviction is lacking;

4) An insatiable desire for self-improvement that builds a deep, internal sense of confidence.
that rocks Lorn !!! my revised plan is to sell in the 74 - 75 area in day session or buy in the 66 - 67 area and/or the 59 - 62 area..


we will open above our key 66 - 67 zo that becomes a buy zone
me thinks they will want to test 66 - 67 and hopefully soon...more reports coming soon!!
If this is just an extended 5th wave as suggested yesterday, with levels and actions to note,
it is topping here,and straight down on tap
the basing off 1255 is last S level, 1250 under it,1263 before
I use prudent targets and a continuation means this is a wave 3 and 1290-1300 on tap if extends
out of the box area and 1223.75 the top
measuring the box and an equidistant move is approx 1389 for reference
but the box needs to HOLD
Wow, that was a fun day!!! In my last trade, I got my 3 points back and some.
Below is the "After the fact chart" following up the one posted last night.
Click image for original size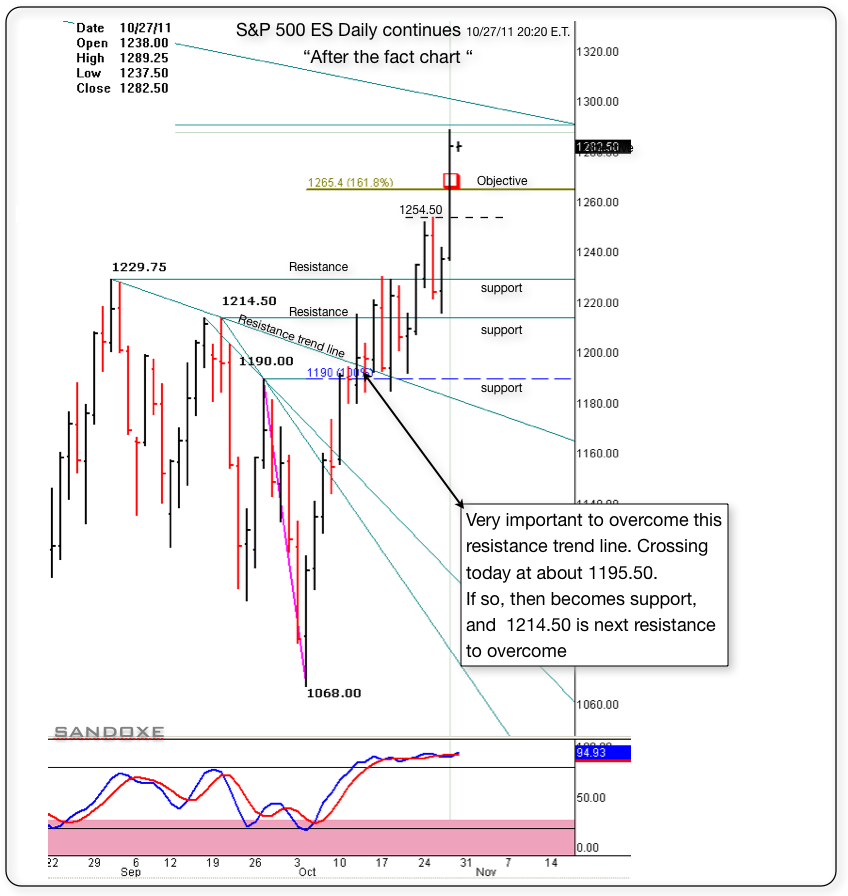 Originally posted by sandoxe

I got stop out, giving 3 points back. It's not going to go up forever.--- It does looks like a capitulation day. WIll see. I will give it an other shot soon.

ES now trading 1287.00 @ 15:30




Originally posted by sandoxe

In your paper trading, if you were looking for shorts, or reversing, this will be a great area to try it out.
Stop above today's high 1282.75,

ES now trading 1279.00 @ 14:11 E.T.



Originally posted by sandoxe



Originally posted by sandoxe

The objective for today is at 1265.00 possible spike to 1279.00 but not necessary .
An interesting day for the market in general!

ES now trading 1251.25 @ 22:55 E.T.

As always, the market has the last word and in due time ill show us the way.



Right now, next hours, next days, next weeks, next months and next years to come,

I

see for you

the same I see for my self:

Having the very best of luck, fun, awesome, incredibly profitable trading experience!!






Here's the same daily chart posted back on 10/12. But today, I have the objective at 1.618% 1265.00 due in today's session.
1254.50 is currently a small S/R, overcoming it, will become support.

ES now trading 1252.25 @ 23:43



Click image for original size