ES Thursday 11-27-2011
The objective for today is at 1265.00 possible spike to 1279.00 but not necessary .
An interesting day for the market in general!
ES
now trading 1251.25 @ 22:55 E.T.
As always, the market has the last word and in due time ill show us the way.
Right now, next hours, next days, next weeks, next months and next years to come,
I
see for you
the same I see for my self:
Having the very best of luck, fun, awesome, incredibly profitable trading experience!!
Lisa's 72.40 held there and 73.25 on deck.
Hold those and up to the 1280 of PWD
If broken,72.40 becomes R
I am stumped today - big. My M-
Delta
still shows shorts. But they may be tragets. I am confused today.
Click image for original size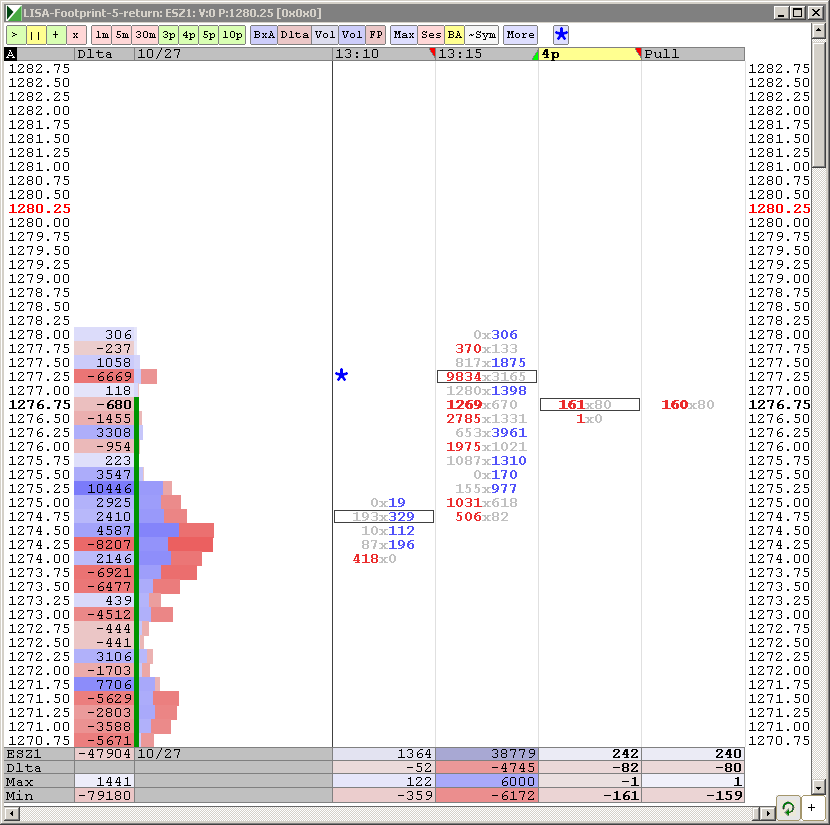 Originally posted by prestwickdrive

Thanks Lorn and Bruce, especially for all of your and other's contributions here which have infinitely increased my knowledge.

Re that move off of 75.75, we got to 72.75. That gives an initial of 71.0 that should bring at least a tradable buy scalp unless the rally for the day is spent. If we go throgh that the full projection is 68.0 which again should be a good place to poke long. If those fail it would tell me that we may have run out of upward steam for a while.

No guarantees - just probabilities.

The failure of 71 (75.75 exceeded) gives me more reason to believe 80.5 is in play until 60.75 is taken out.
the
single print
/
low volume
area from 8-1-11 starts at 79.25....ideal sells above there to target the 76 area....we'll see what we get..that is not a traditional bell curve trade...so I'm not planning to be very aggressive up there as there is no good bell curve below from that day to use as a target
the reversal is the top of the spike with a return to baseline
blah day except for the fib trades
I think the 80.50 is the 1.62 also from Lisa's range
higher would be an extended extension
I think that would be a new
rth
high
I received a message from Lorne pointing out that his and mine Footprint charts are vastly different. This points out of problems with either data or setup. I am going to stop posting my Footprint charts until this matter is resolved
For even more info the 4.236 projection of the initial move off the Oct. 4th low from 1068.00-1119.75 gives us 1287.25.
Originally posted by prestwickdrive

The failure of 71 (75.75 exceeded) gives me more reason to believe 80.5 is in play until 60.75 is taken out.

Wow, that was a fun day!!! In my last trade, I got my 3 points back and some.
Below is the "After the fact chart" following up the one posted last night.
Click image for original size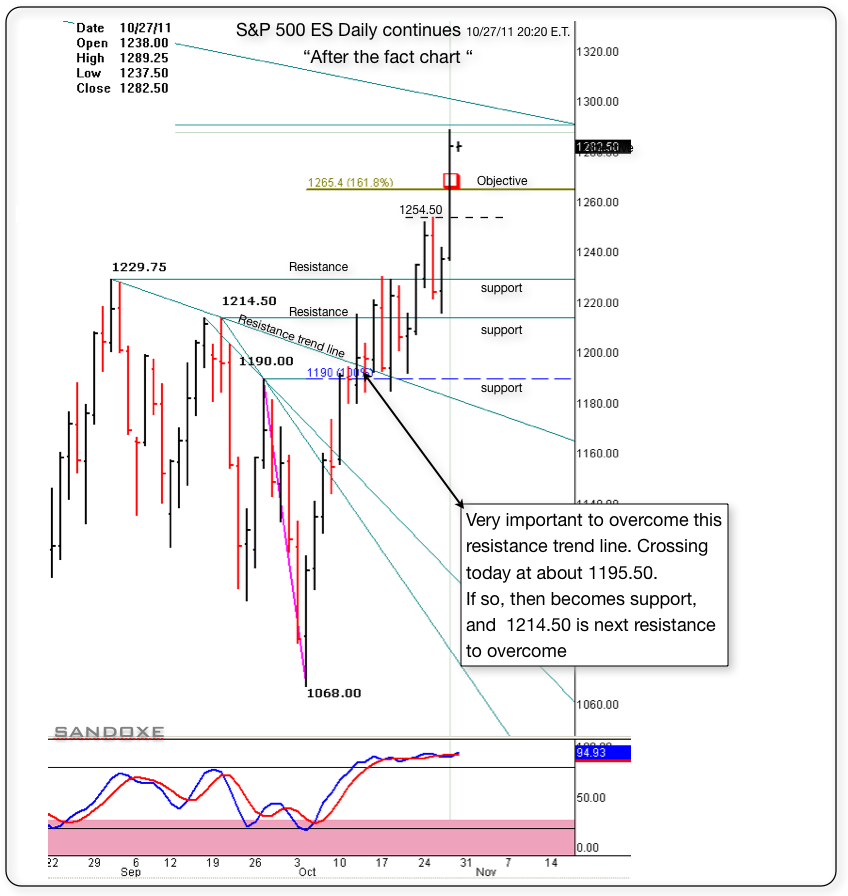 Originally posted by sandoxe

I got stop out, giving 3 points back. It's not going to go up forever.--- It does looks like a capitulation day. WIll see. I will give it an other shot soon.

ES now trading 1287.00 @ 15:30




Originally posted by sandoxe

In your paper trading, if you were looking for shorts, or reversing, this will be a great area to try it out.
Stop above today's high 1282.75,

ES now trading 1279.00 @ 14:11 E.T.



Originally posted by sandoxe



Originally posted by sandoxe

The objective for today is at 1265.00 possible spike to 1279.00 but not necessary .
An interesting day for the market in general!

ES now trading 1251.25 @ 22:55 E.T.

As always, the market has the last word and in due time ill show us the way.



Right now, next hours, next days, next weeks, next months and next years to come,

I

see for you

the same I see for my self:

Having the very best of luck, fun, awesome, incredibly profitable trading experience!!






Here's the same daily chart posted back on 10/12. But today, I have the objective at 1.618% 1265.00 due in today's session.
1254.50 is currently a small S/R, overcoming it, will become support.

ES now trading 1252.25 @ 23:43



Click image for original size