ES Thursday 11-27-2011
The objective for today is at 1265.00 possible spike to 1279.00 but not necessary .
An interesting day for the market in general!
ES
now trading 1251.25 @ 22:55 E.T.
As always, the market has the last word and in due time ill show us the way.
Right now, next hours, next days, next weeks, next months and next years to come,
I
see for you
the same I see for my self:
Having the very best of luck, fun, awesome, incredibly profitable trading experience!!
hey this is October...not November...hey Sand.. ur as bad as me...LOL


remember that 66 - 67 is the upper edge of the 66 - 62 bell curve.....
thanks phar...I want to get some air into 66 - 67 so we can take a stab at the long side...they are trying toget some air
sure wish we could get some good low
$ticks
...making it tough down here...but will try to hold to target
interesting
10:04
AM
Sal Arnuk of Themis Trading notes since January 1, 2000, the
S&P
has opened 2% higher 254 times. The market has closed lower than the open on 224 of those occasions. [Quick Ideas] Comment!
thanks della...that 66 - 67 is holding this brief rally up....I closed all up there...that upper edge becoming resistance is bad for additional longs now...so we will need to be more selective in our 59 - 62 buys if they come....
Wow, that was a fun day!!! In my last trade, I got my 3 points back and some.
Below is the "After the fact chart" following up the one posted last night.
Click image for original size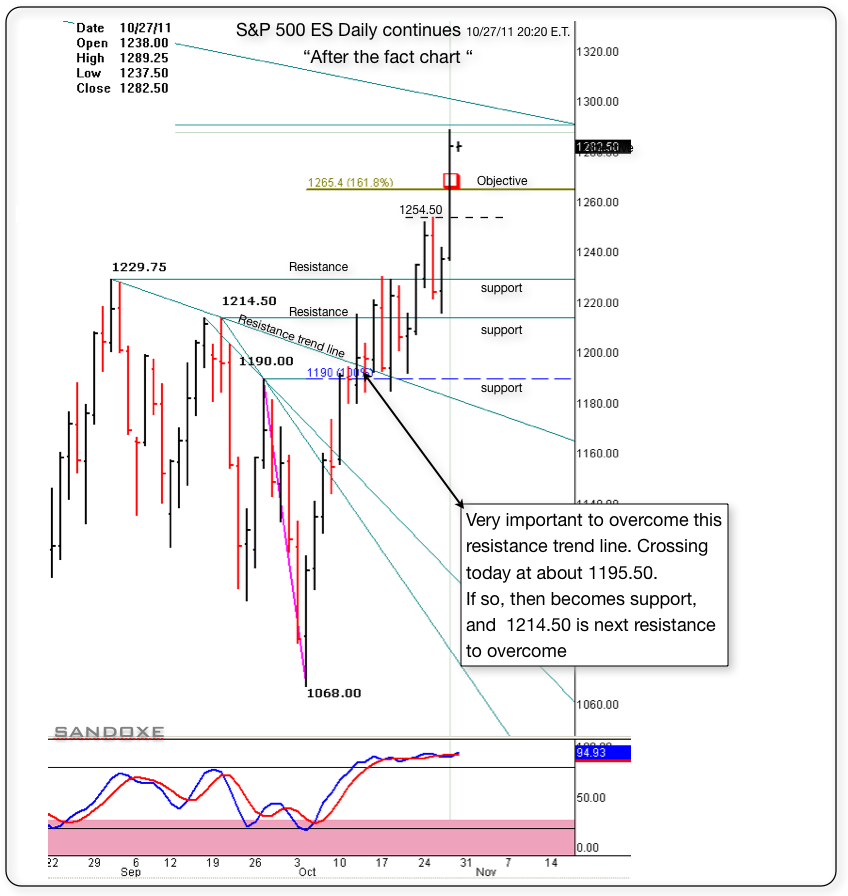 Originally posted by sandoxe

I got stop out, giving 3 points back. It's not going to go up forever.--- It does looks like a capitulation day. WIll see. I will give it an other shot soon.

ES now trading 1287.00 @ 15:30




Originally posted by sandoxe

In your paper trading, if you were looking for shorts, or reversing, this will be a great area to try it out.
Stop above today's high 1282.75,

ES now trading 1279.00 @ 14:11 E.T.



Originally posted by sandoxe



Originally posted by sandoxe

The objective for today is at 1265.00 possible spike to 1279.00 but not necessary .
An interesting day for the market in general!

ES now trading 1251.25 @ 22:55 E.T.

As always, the market has the last word and in due time ill show us the way.



Right now, next hours, next days, next weeks, next months and next years to come,

I

see for you

the same I see for my self:

Having the very best of luck, fun, awesome, incredibly profitable trading experience!!






Here's the same daily chart posted back on 10/12. But today, I have the objective at 1.618% 1265.00 due in today's session.
1254.50 is currently a small S/R, overcoming it, will become support.

ES now trading 1252.25 @ 23:43



Click image for original size