ES Thursday 11-27-2011
The objective for today is at 1265.00 possible spike to 1279.00 but not necessary .
An interesting day for the market in general!
ES
now trading 1251.25 @ 22:55 E.T.
As always, the market has the last word and in due time ill show us the way.
Right now, next hours, next days, next weeks, next months and next years to come,
I
see for you
the same I see for my self:
Having the very best of luck, fun, awesome, incredibly profitable trading experience!!
A lot of info today.
Just to
add
one more piece to your puzzle, the 67 is the retrace to the baseline of that
H&S
top of 1st half of the year.
I had 1263 target from daily chart. It's at the line on my 6 hr chart.
So it'll be all the
gap
players and
TA
shorts of that line vs. the momentum players=volume at that level.
stopped at 65.75...seems like they may want to test the down...right now I am assuming this last try above 66 - 67 was the fake out of the upper bell edge...always hard inside hour range...no question our 66 - 67 is causing some trouble
Hey Prestwick...u have a projection of 75 too so how are you
specifically
trading what seems as two conflicting pieces of information? Thanks
Originally posted by prestwickdrive

Based on the 73.25-68 move watching for full KT proj of 1259.5

NQ
5-min. Those traders shorted at 50% retracement.
My thoughts: If those shorts fail, we will test
HOD
. Otherwise the downtrend will continue. I am short with a small stop
Click image for original size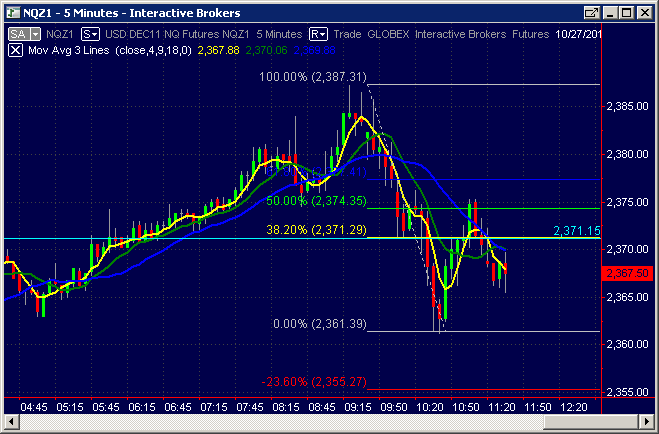 Most times the Overnight just confirms my day session areas...I had 59 - 62 from the day session...so the
low volume
there in the Overnight just helped give me confidence in the zone...
So the overnight doesn't have that much for me....Some like highs, lows and peak volume...I did too at one time but I'm drifting back to my roots...sometimes I get sidetracked too so not pointing fingers here....most times those overnight numbers line up with something else.....check it out over time
I think there are too many encouraging people to trade the overnight " Look at those overnight ranges" etc, etc...probably brokerage houses wanting people to trade more...we need to trade less...not more...unless you can hold for big moves and most can't except vendors and paper traders on forums then forget about it for the most part.......stay where the volume is in the day session..just take pieces out of the ranges..even if they are small...
Originally posted by della

bruce you reall y donot look at overnight vol after market opens??

I doubt it Lisa...didn't see anybody getting short here..perhaps other forums...we can always find fibs to line up if we pick the right points.....the best fib traders have lines that are consistent and not random as many fib traders seem to be...
If we take all the points on a chart and then try to find fibs and extensions then we can always make it work after the fact...
Originally posted by Lisa P

Fib traders shorted between 50-62%.



Click image for original size



looks like they are accepting the 66 - 67 now..tricky stuff when key zones become peak volume...do we need to become break out traders?? I don't think so....just wait for the areas

If we take all the points on a chart and then try to find fibs and extensions then we can always make it work after the fact
Bruce, true...lol.
Wow, that was a fun day!!! In my last trade, I got my 3 points back and some.
Below is the "After the fact chart" following up the one posted last night.
Click image for original size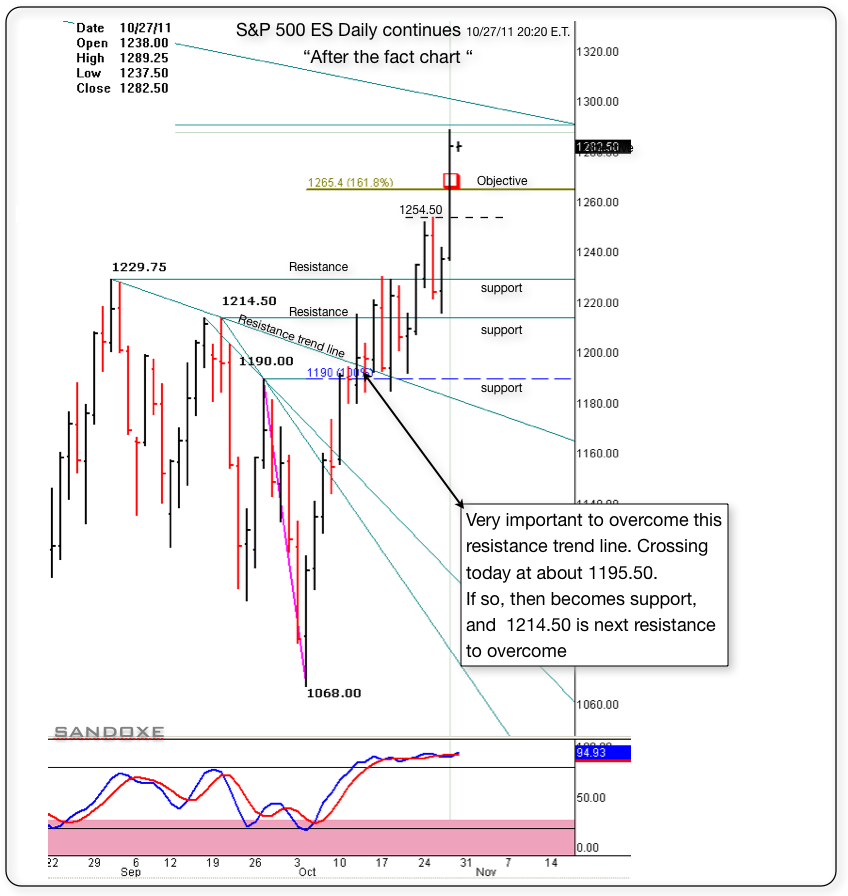 Originally posted by sandoxe

I got stop out, giving 3 points back. It's not going to go up forever.--- It does looks like a capitulation day. WIll see. I will give it an other shot soon.

ES now trading 1287.00 @ 15:30




Originally posted by sandoxe

In your paper trading, if you were looking for shorts, or reversing, this will be a great area to try it out.
Stop above today's high 1282.75,

ES now trading 1279.00 @ 14:11 E.T.



Originally posted by sandoxe



Originally posted by sandoxe

The objective for today is at 1265.00 possible spike to 1279.00 but not necessary .
An interesting day for the market in general!

ES now trading 1251.25 @ 22:55 E.T.

As always, the market has the last word and in due time ill show us the way.



Right now, next hours, next days, next weeks, next months and next years to come,

I

see for you

the same I see for my self:

Having the very best of luck, fun, awesome, incredibly profitable trading experience!!






Here's the same daily chart posted back on 10/12. But today, I have the objective at 1.618% 1265.00 due in today's session.
1254.50 is currently a small S/R, overcoming it, will become support.

ES now trading 1252.25 @ 23:43



Click image for original size