ES 12-19-08
GM
traders
Daily
PP
: 892.50
R1: 911.50
S1: 873.50
POC
: 901.75
60m: 924.50 / 814.75
Globex
gap
@ 84.25
First 4 points of the day. 2 long and 2 short.
Same indicators for a scalper like me. NooB indicators for NooBs.
EMA3 on top of EMA9 long. EMA3 below EMA9 short.
MACD
pointing in the same direction and increase in volume helps.
2 to 3 candles to confirm move.
May not always work in a highly volatile situation. Use at your own risk.
I am not as technical as
VO
or Kool. Still learning.
Click image for original size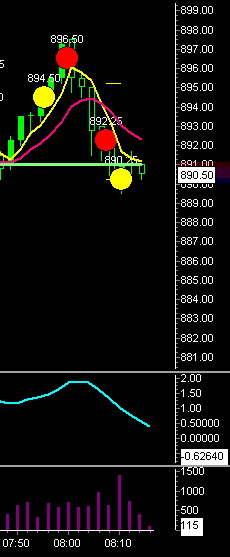 good job lordalfa...everybody has their own style and technique and
ALL
are welcome to share