notes 5516
i am at loose ends. i am no longer a member at any private forums and my handful of students that i have taught at no charge have learned all i have to show and are able to show me my trades.they all saw with great clarity the turn at the january high and they all saw how the geometry forced them to cover at the february low.at a private forum here i wrote on jan 10th''my work suggests a tradeable turn is near.what is remarkable is that those stocks that must rush to the dance must really rush to the dance, suggesting that if a turn is to occur a few stocks must be very strong while most languish. if there is broad strength across the board, a turn will be suspect''
at the moment i wrote that, the spx was at long term resistance and just over 50% of the stocks i follow were on the geometry of sell... on the morning of the 11th on the opening pop i had almost 70% of my stocks on the geometry of sell...price was at long term resistance;70% of my charted stocks were on a sell... what was missing was for the spx to set up a classic test and retest sell signal while i waited for the stragglers( e.g.
COF
,
IBM
,
QCOM
) to complete their geometry of sell. those conditions were met on the close jan19th.at that moment in time, based on the geometry that i trade 95% of my stocks were on sell signals with a classic setup in the spx.at that moment in time there was a technical vacuum below the market that needed resolution... and so i wrote''an exhaustive look at hundreds of stocks suggests to me we are near the years high. i am done now with target trades... i am looking for an all in''
in showing the geometry of the markets.. charts are essential.here is a portion of my charts...note carefully how at the high there was no geometry to push the market higher... and note at the low how the downside targets had been hit across the board... especially note the chart of
DIG
... it is the essence of a bigger turn that those ''late to the dance'' must ''rush'' to their geometric target so that the whole market can turn..all of this is a lot of work.. for me it is essential.
after the turn, the market began to trade on the shorter term signals... there were tons of .886 on the
gap
trades... the computers hit it 3 of 4 days last week in the
TNA
..at this moment in time in my work there is no swing edge, only the short term tools
note how
TM
gave a classic sell signal BEFORE THE NEWS...price was way late so it ''rushed to the dance'' at the intersection of the 1.27 and line from existing set...but something bigger was also happening a confluent sell on the weeklies....
Click image for original size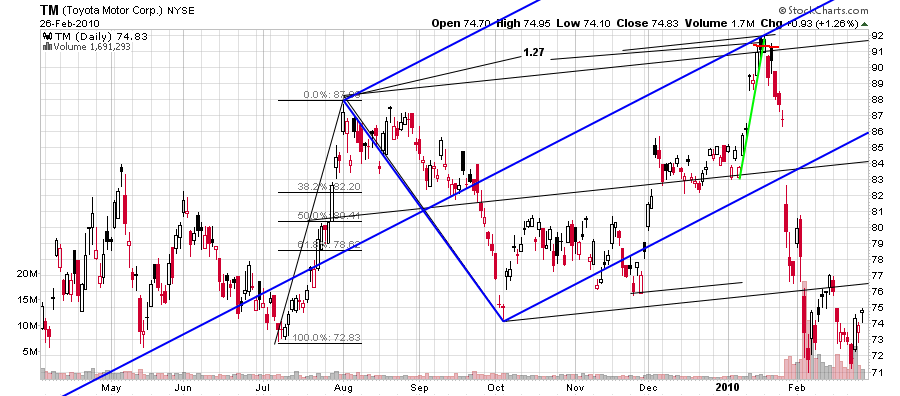 Click image for original size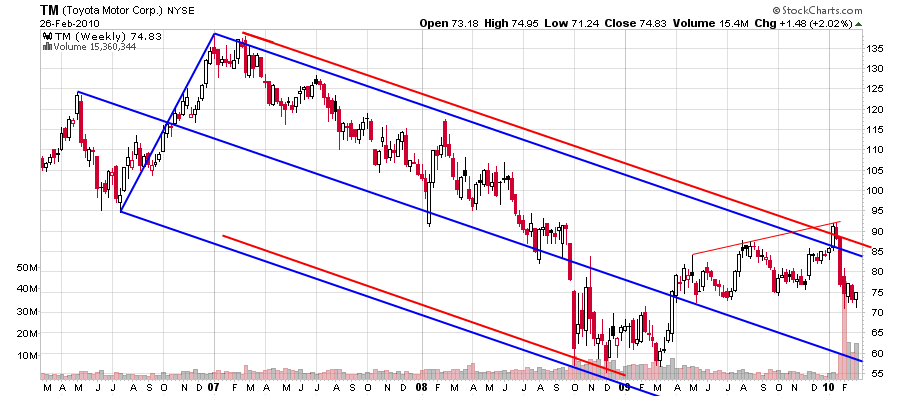 i want to clear something up...my work is based on trading to targets and then seeing the percentage of time a minimum target is hit.if over time and after a few thousand examples the percentage remains a constant, then i say that a target will be hit a certain percentage of the time...for example, on an abcd that corrects to a .382, months ago i stopped collecting at 2800 examples. price in that specific sampling hit the minimum target 87% of the time... and i was putting that on my charts as in the
MSFT
.BUT TECHNICALLY THAT IS INCORRECT.because there is no optimal sampling size, i can not say that as a projection into the future...however that does not prevent me from trading the setup and risking my financial well being on it... as in the setup on friday
Click image for original size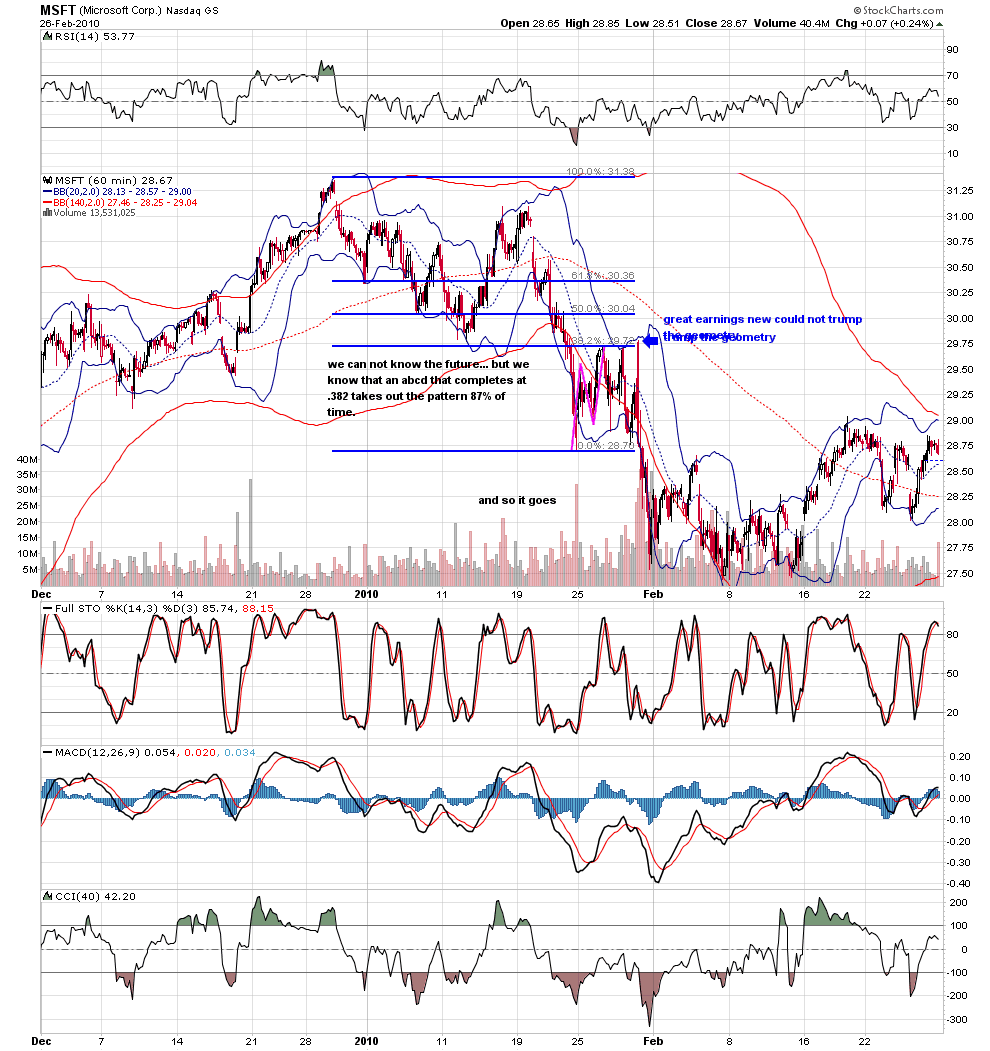 Click image for original size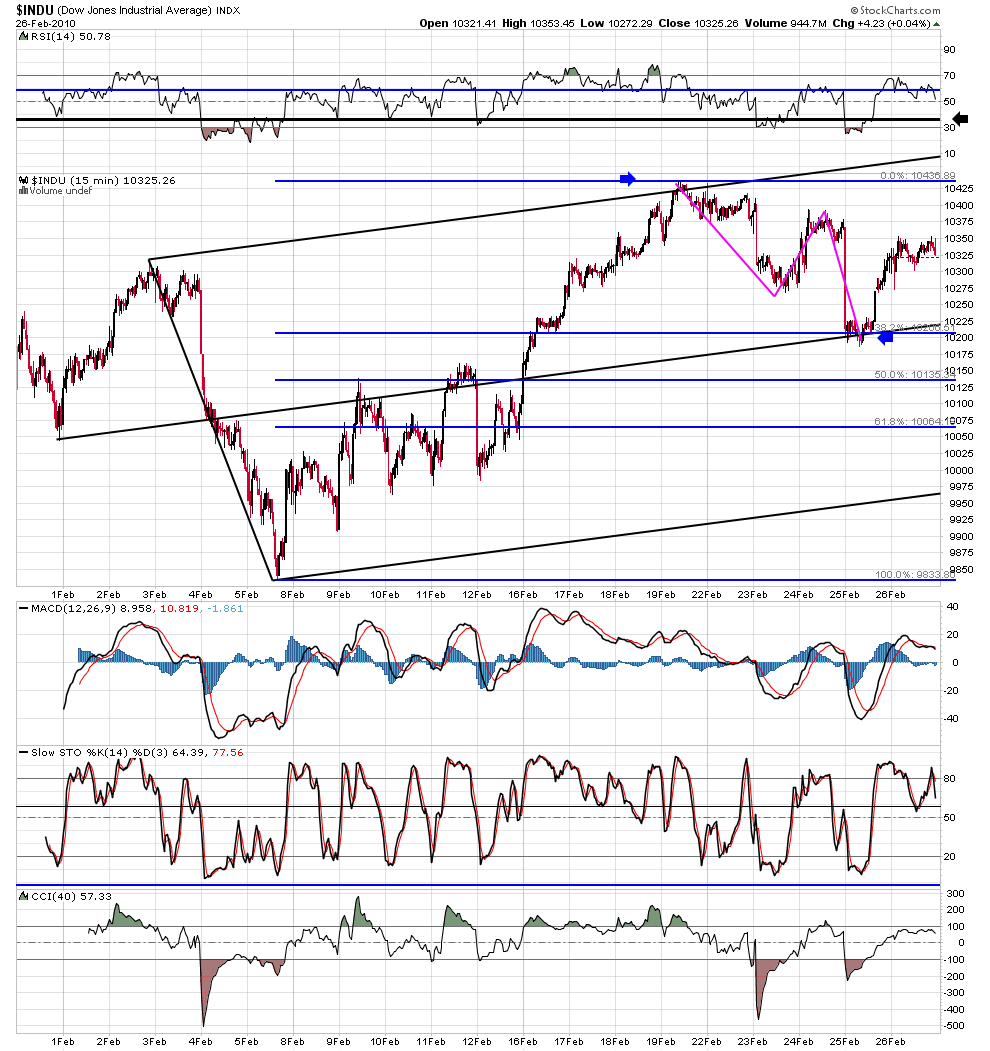 Great series of charts, roofer. I will say that before roofer left my private forum, this kind of stuff was posted all the time. He did mention the above concepts before the market turned down, in great detail, as he has done here. The key factor is the teaching of the concepts, not how much he gives away in advance on a per stock basis, like he's running a free picking service. Study the concepts, if you like them, integrate them into your 'Trading Plan'. If you don't, just ignore them. After all, he's showing all this for free, and doesn't have any paid services of any kind.

Why am I bothering to mention all this? Because, in the past, roofer has gotten a very cold review here. Many people jumped up and wanted him to 'prove' his techniques. If he were selling a service I can see that. He's doing a lot of work to post all the above for free, asking nothing in return, just like Monkey does, Bruce does, and others. I just wish he could get the reception here others get who give so much.

I have no financial (or other) 'interest' in roofer or 'roofer, Inc.' (yes, the latter is a joke). He has participated in my forum on and off over the years, and has made an immense contribution, all for free, without asking anything for his efforts. He has taught me a lot. Just because he no longer participates in my forum doesn't mean I'm not a big fan, or that I don't study every post he makes.

If you find value in my contributions here, then you should find value in my statement that his material is of the utmost value to me. Yes, his style is much like mine, based on geometry, median lines, Fibs, ABCD patterns, and such, and that is not a popular style here (although kool has done a lot to increase the interest level on Fibs), but if you like that style, his work is a treasure trove.

All this is being said without him having any products for sale, or without him communicating with me at all about what I just wrote. In fact, he's probably quite surprised I even did any kind of post here at all since I haven't communicated with him since he left my forum. I just want everyone to understand how valuable I find his work, and considering my reputation here, you can understand that opinion is based solely on the true value I see in it, and not any desire to pump any products for anyone, or do anyone any 'favors'.
a few notes on jim's work. jim has fib that is available to all for free at his archived posts. each of my students had to agree to accept the limitations that any fib used was only his public fib...particularly with my red line sorting the fib technique to project turning points, that imposed quite a restriction because there are two fibs that i have seen explained nowhere else but in jim's private work.the restriction was on me... the students had plenty of trades to work with and never noticed. as to jim's abcd's... jim has many... the students were resticted to the ones publicly shown...please note that in all but one of the above charts, those restrictions were honored. on the one that involved a non public fib, the fib was left off.
if you grasped the work above, then you would have seen this trade in the
spy
at this mornings high... this is my trading chart with notations....all i knew in advance was that the computers hit this trade over and over and the high probability of price trading into the green box...
Click image for original size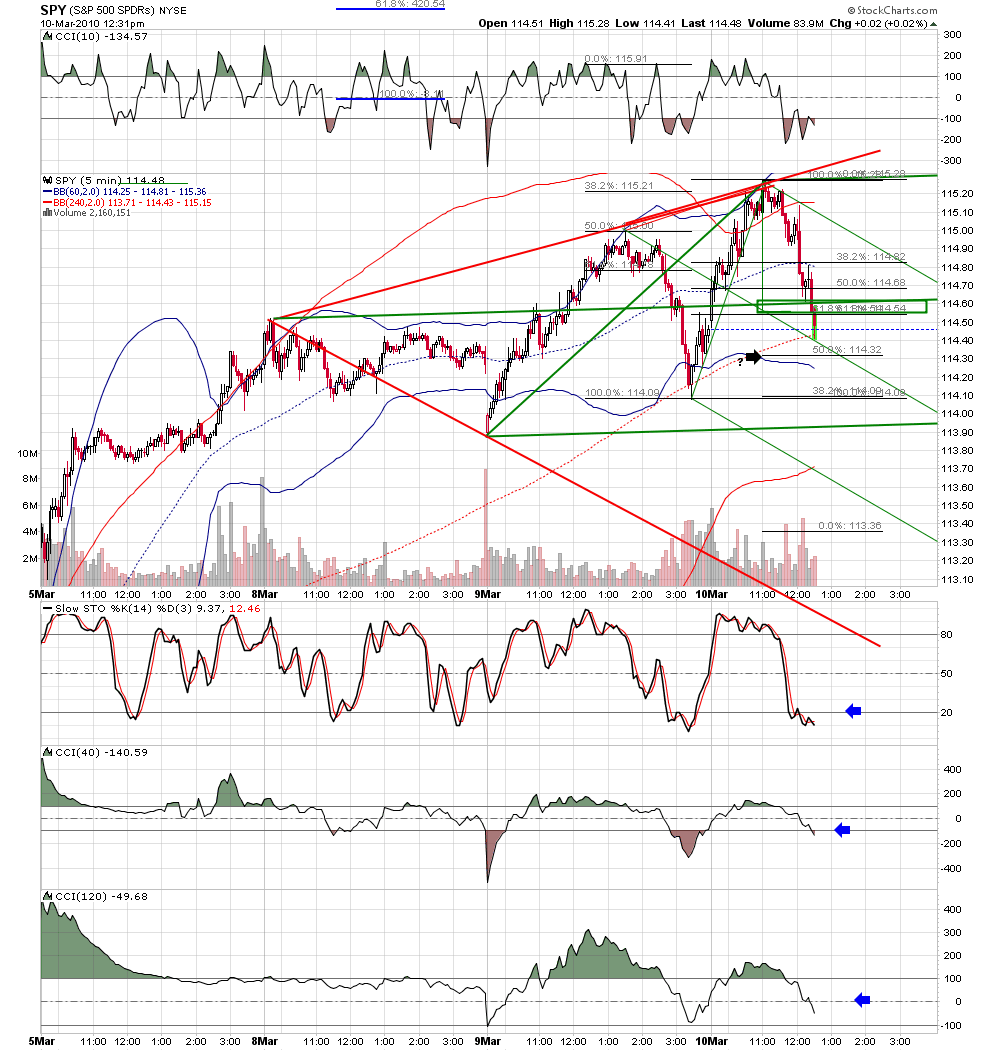 last thursday i awoke from a nap and flipped on the tube... there was a 5 min. discussion as to how high C would go... 5 different experts expressed their opinion... i chuckled... not one of them said what the computers were already programmed to do.... sell at the upper line from medianline set...chart
Click image for original size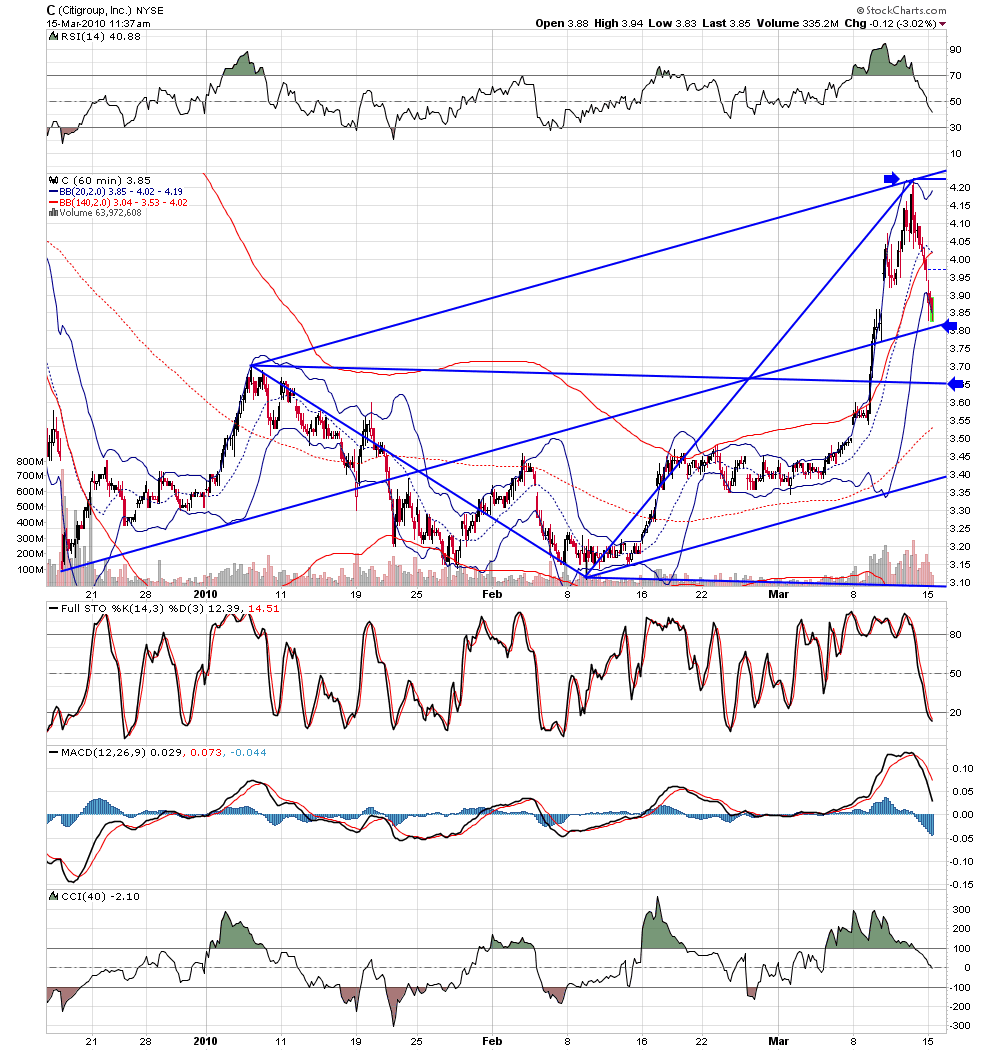 thank you roofer

I will study your answers and come back with more questions

is your lists of setups a topic you are willing to disclose?