ES 3-16-2011
Thought I'd post profile for Monday/Tuesday along side last weeks profile. These are
RTH
only profiles. Quite a few unfilled
gaps
over the last several trading days. Have we found an important bottom here or more downside to come?
Click image for original size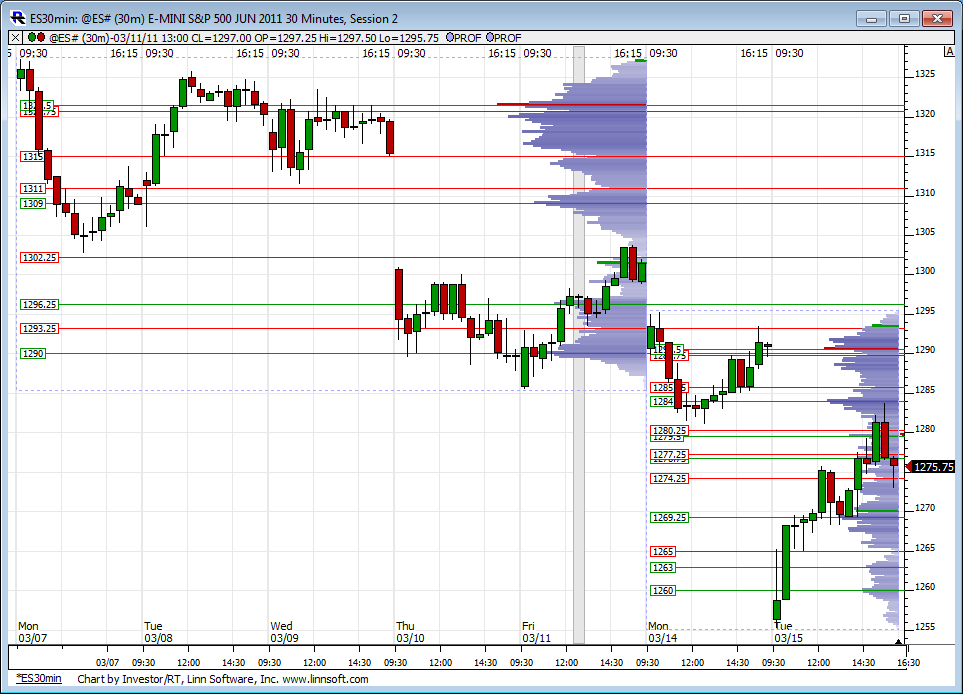 best for me is 71.75...trying hold final 3 for 75 even...just ahead of that 75.50 area and
gap
close
trade back to 70.50 will stop this out...data still messed up for me today
Your pointing out some critical info for those folks out there......we have the 68 - 70 zone pre defined and then you are showing big buyers on the
delta
......in that zone!!
How perfect is that?
Originally posted by Lisa P

I think that the "big wig" who bought the first 13.5K contracts came back to finish the "'fill" with the other 5K. My crystal ball says we will close the gap - those guys are determined....lol

i'm there with ya Bruce.. 75 is the goal and i,m out until i can get a better handle on what is going on today
took one more off at 73.50 in case the run of the highs is a fake...risk to reward gets so far out of whack when you are so close to target...

holding final two and will watch OR low closely now
flat at 74.25....just too close
some beleive in an OR close which would be the closing minute of trade. IF you beleive that the opening range is defined by the one minute high and low like I do then it may pay to not get greedy and look at the closing range lows and highs on
gap
fills...
good little reactions there sometimes
Bruce, great patience through a very choppy trade !
I was in and out 3 times in all this chop...
Floor seems focused on the
gap
fill at 75.30 in the bigs.
the closing range low was 74.50 !!!
fwiw... if new lows for today, I am looking for supp at 63.5 , 61.8 from
globex
low, and key breakout point yest
RTH
, might give supp for nice short cover rally,,,,
look at that right down into that 47.50 in the
O/N session
......perfect magnet