ES 3-16-2011
Thought I'd post profile for Monday/Tuesday along side last weeks profile. These are
RTH
only profiles. Quite a few unfilled
gaps
over the last several trading days. Have we found an important bottom here or more downside to come?
Click image for original size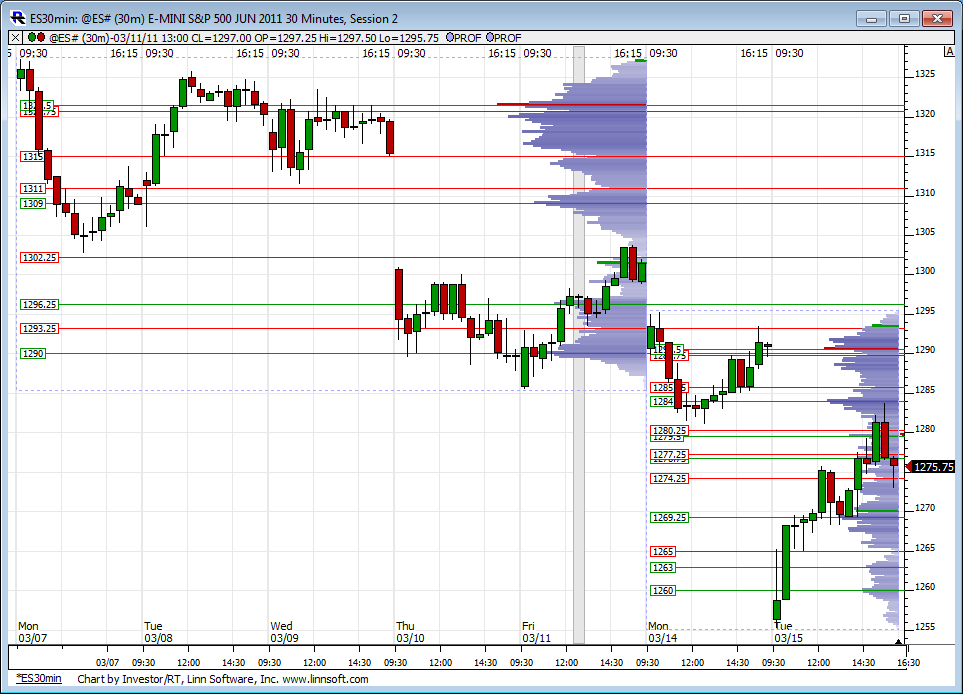 my 3 minute trade set up.
i have noticed if price bounces off the 38.20 fib line it will trace back up to the 88.6 level or close to it. i have a 4 point max profit but i am usually out in 2( my demons.. i get scared out of my own trades sometimes) If i think the trend or bias is up as i saw this morning, i take a long.. if i can see it is bearish.. i take a short. i use a 60 minute and 240 chart to hone in on trend and where i think price is heading. i thank lorn, bruce and KOOL for posing here so much if it wasn't for your guys, i would never even try to come up with my own strategy. i just wish i had the knowledge of volume and and
s/r levels
you guys do.
Click image for original size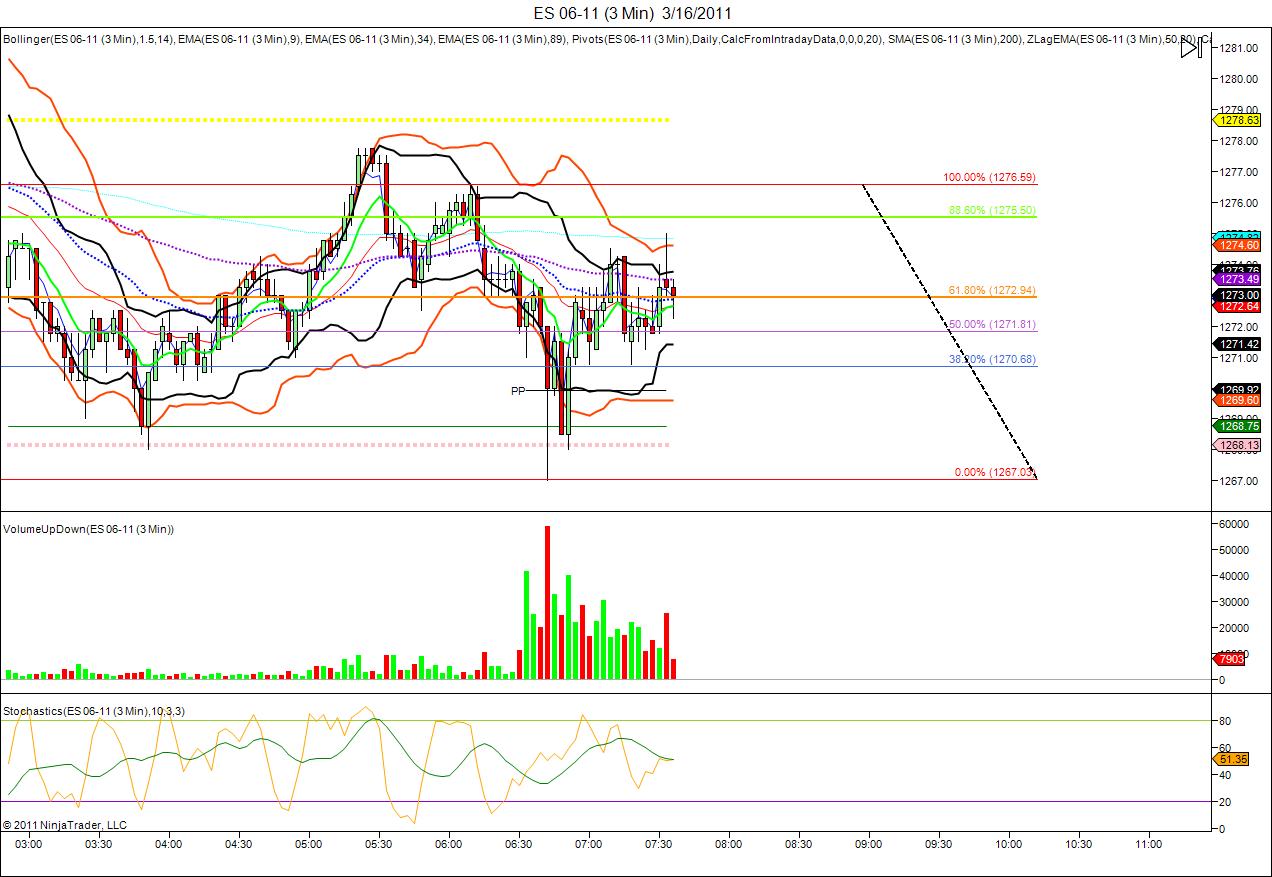 Good morning! looking for much lower prices in time, but thinking that todays strong seasonals may 'prop' the market up causing a sideways type environment... im keying in on the 1280.25 level for short scalps and the 1254.50 level for buys.. Avg range 25 handles ..(1280-1255?..that would be sweet!)
Originally posted by chrisp



Originally posted by BruceM

some beleive in an OR close which would be the closing minute of trade. IF you beleive that the opening range is defined by the one minute high and low like I do then it may pay to not get greedy and look at the closing range lows and highs on gap fills...

good little reactions there sometimes


good point Bruce, going by opening print I have 72, and the first 3 - 15 min candles have closed below

I missed getting in, but looks like 15 min close above 72 was good signal, with good supp on test...
Here is a visual with regards to
VWAP
and
CD
. Definitely playing around it.
Click image for original size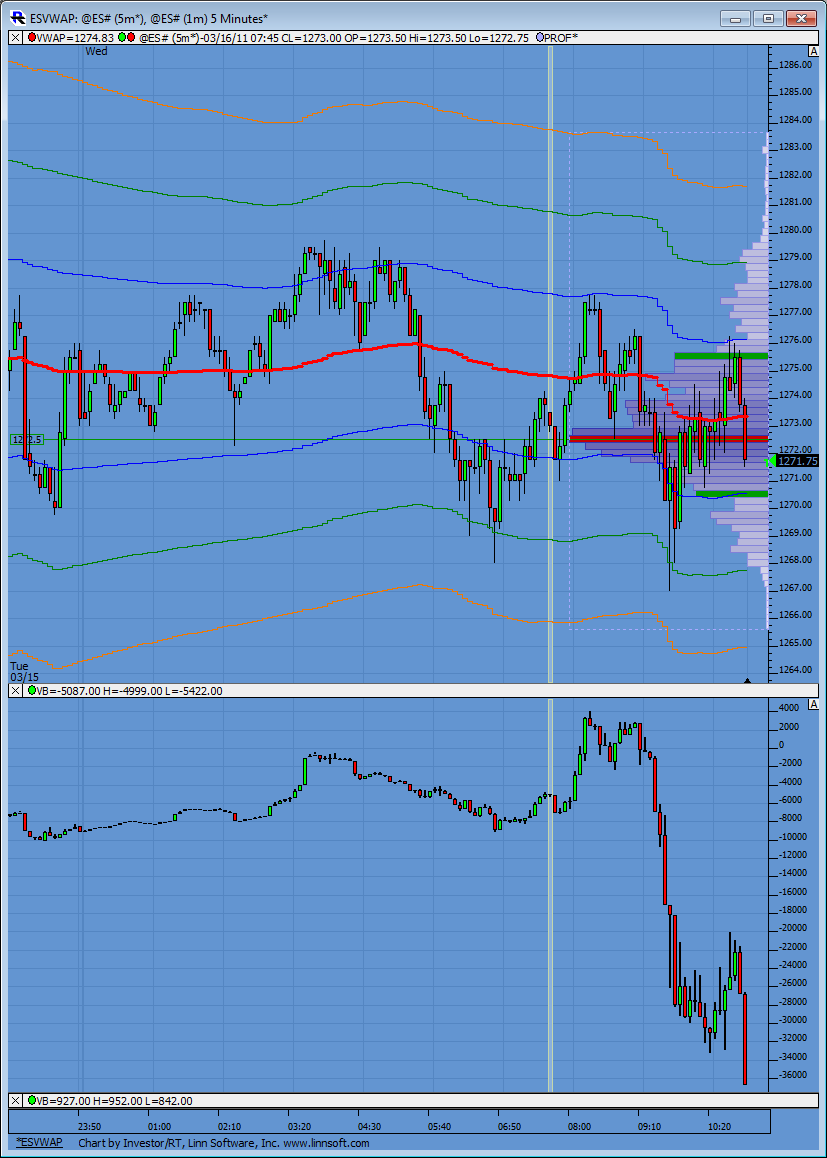 WOW!!!!! anyone have a clue on this drop??
DJ EU ENERGY CHIEF: SITUATION
AT
JAPAN NUCLEAR PLANT OUT OF CONTROL
DJ EU ENERGY CHIEF: POSSIBLE CATASTROPHIC EVENTS IN NEXT HOURS
look at that right down into that 47.50 in the
O/N session
......perfect magnet