ES 3-16-2011
Thought I'd post profile for Monday/Tuesday along side last weeks profile. These are
RTH
only profiles. Quite a few unfilled
gaps
over the last several trading days. Have we found an important bottom here or more downside to come?
Click image for original size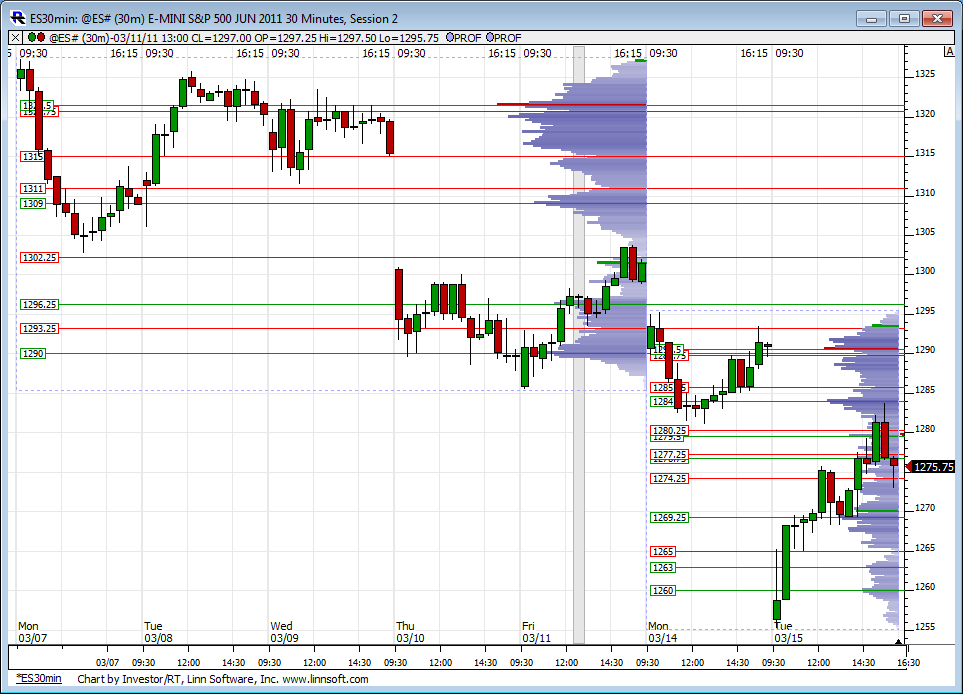 Originally posted by apk781

yes, you were targetting 54.5-55.5 so i assume you bought at 55.5 or so...what was the initial target ?

no , i missed buying there! the monster trade i alluded to was
selling key a seventy five right before the bottom fell out! my first posted trade was selling 68 looking for 63.50 with an exit at 64. But to answer your question , had i bought 55.50, i would have been looking for the bare bones objective on the one min initial move (the 1.618) at 1262... sorry for the delay... keyboard problems here!
oh, i thought you had nailed it...in any case great trade on the previous sell and, as usual, thanks for you help !!!
I didnt comment or post the sale at 75 cause it would have been after the fact by the time i could have managed it! covered at 68!.. but i had also dropped 4 handles on an ill advised trade on the overnite session which i also didnt post of course!
runner stopped at breakeven.. sheese!
btw, my charts keep pointing to the 54.5 area still...so we might revisit that...could even see it overshooting a bit to 52.5-53 fwiw....will get long at both those levels if i can
well they hit the other number i had mentioned (and shown) the 1254.50, but i havent bought... still watching as this new low this late in the day, frankly is a surprise to me, given my outlook(see early posts). I would deem it very negative!.. remember the 1.618 at 1256.75 (on the initial move from the daily charts 1337.75 to 1287.75) got surpassed yesterday putting the 2.618(1206.75) in play basis my work! remember also that after todays hoped for seasonal peak(which i thought would have been much closer to 1280) the bottom could drop out! Dont forget its expiration week... going to fun to see how this plays out over the next few days!
i can tell you right now ,numbers to watch for tomorrow include... 1250.25,1241.75 and 1236.25!
You know as a man who has been in love with an Asian girl(vietnamese)for 15 years now (my roommate,ex-wife), this stuff going on in Japan really tugs at the heartstrings. I may actually pray for them tonite!(first time in a LONG time!)
going long 1241.50 if this 'crash' continues!!!
UN
call emergency meeting as Japan crisis deepens, Bloomberg reports
The United Nations' nuclear agency will call an emergency meeting as the
containment vessel of Dai-Ichi's No.2 reactor may have been breached, reports
Bloomberg Businessweek
needless to say, i was stopped on my long from 53.25 avg (bot 54.5 and 52)
look at that right down into that 47.50 in the
O/N session
......perfect magnet