ES 3-16-2011
Thought I'd post profile for Monday/Tuesday along side last weeks profile. These are
RTH
only profiles. Quite a few unfilled
gaps
over the last several trading days. Have we found an important bottom here or more downside to come?
Click image for original size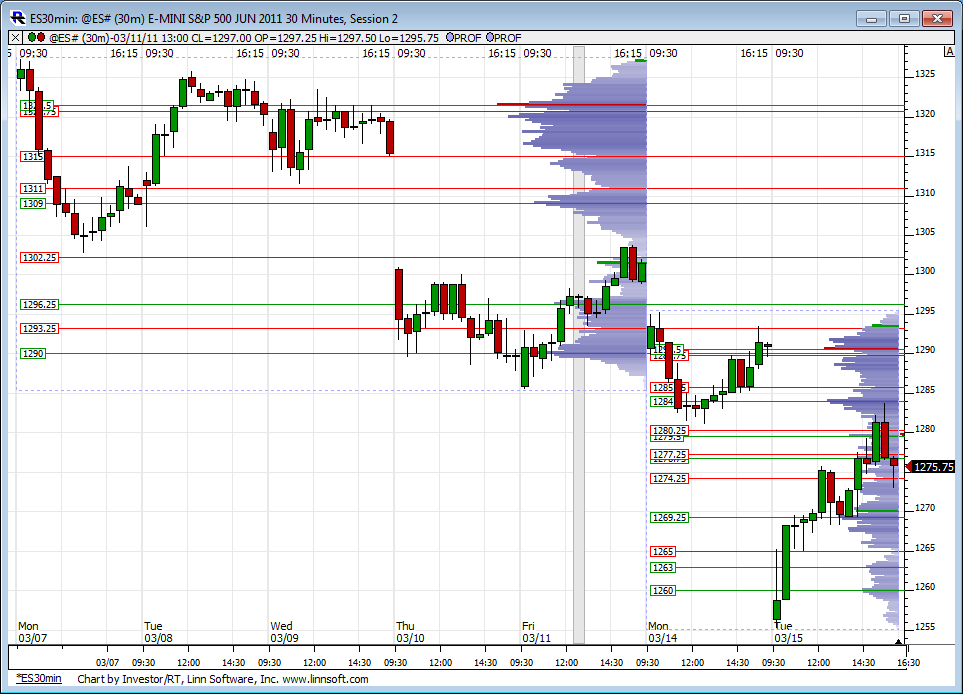 CNN: radiation spike at Japan's nuke plant
and a spike in KOOLS bank account! wow! Just had the best trade ive had in a few months!!!.. now short from 1268.00, targeting 1263 area... usual stop!
target is the 1.618 from the one min at 1263.50, but will exit 64 if they let me! (1269.00 to 1265.50 initial move?)
Kool has excellent numbers and big kahunas...lol
Originally posted by Lisa P

Kool has excellent numbers and big kahunas...lol

.. and sometimes just dumb luck!.. gotta trust your work,Lisa , and as i posted i was looking for 1254.50 to 1255.50 as the possible low of the day.. but we'll have to wait and see on that.Hopefully everyone clicked on the charts to see the whole thing.. that shows (right or wrong) how i get those numbers.. also once again the nas was lagging the s&p cash on the rebound (yesterday it lead on the way down)..
for instance currently, nas down .82%, s%p down .74... when we hit a bottom of real significance( lasting days or weeks) you will see that trend reverse!
1258-1259 could be at least some short term support
look at that right down into that 47.50 in the
O/N session
......perfect magnet