ES 03-22-2011
here is the cumulative
tick
on a daily basis to show the validity of its signals..
Click image for original size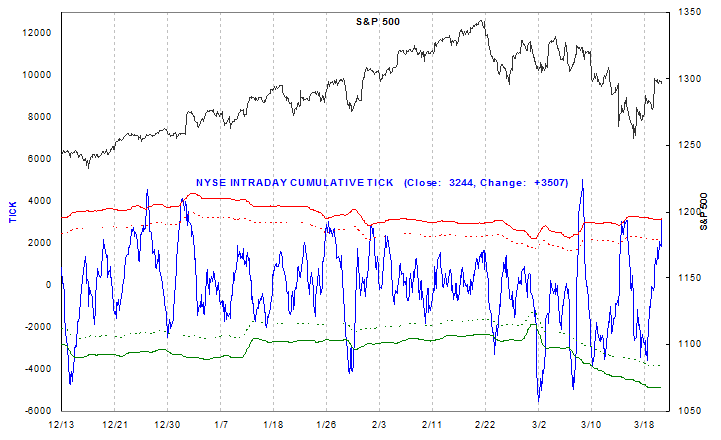 sure is looking better for you shorts after that last test of 93.75..at least internals are breaking down a lot more than before...I hope you both get your targets and soon
just an FYI that 89.50 is open print for the week...
moved my stop to cost.
adjusted target 6 points
nice trade guys and good hold
big volume on that very last push...careful down here..air above
Originally posted by apk781

gm all....looking to buy down at 87.75-88 area or so, lots of confluence for me down there and looking to sell in the 97.5 area (might stop at 95-95.5 before getting up to 97.5, which coincides with a big volume area bruce has been looking at)...nothing to do in between for me going fed...i did take a long at 90.75 (the 2.618 projection on my 1m chart up from 94.75-93.25) and unloaded it at 92.75...i am not gonna test my luck by trading again in this range we are in...good luck all

missed the buy by a
tick
, had a limit order at 88...oh well...good trading guys
Originally posted by koolblue

once again caution is the watchword! as the charts are mildly negative,but we just had nice pos. divergencies at the last low!...


Click image for original size



bingo!(within one
tick
... this is the important dividing line imho!... if 1283 doesnt hold then down we go, otherwise bulls still have hope here!