ES 03-22-2011
1299.50 remains a important number for me ,should we continue rallying this afternoon (1288.25 to 1292.50 gives 2.618=1299.50). I point this out because that number keeps appearing on intraday moves!
koolblue
13290 Posts
2
Posted - 03/22/2011 : 11:51:58
"i guess i'll try a short at 1292.75 if it gets there, but one only!.." Missed my entry by one
tick
... a little too conservative i guess ,buts thats ok... watching now!
well, since the original proj was 1289.25 and now im looking for 1289.50 i'll try a long at 1289.50(if we get there)
The last day and todays somewhat boring trading indicate to me that this market REALLY wants to go much higher!... BUT ITS JUST NOT READY YET! Theres still plenty of 'news' ie:Japan, and Libya so some kind of retrenchment first is kind of what im looking for. The overall picture from sentimentrader seems to support that view ,imho!...
Click image for original size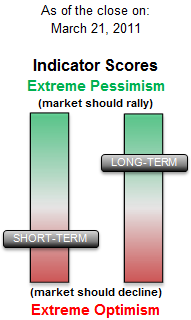 ...and yes , im aware i was just one ticked again!
If they are rejected here, the covering of somany contracts with a "thin book" may cause closing one or two
gaps
above. Of course they may prevail. All I see that they entered.
long from 1289.50, but this will be a real quickie!
Originally posted by koolblue

once again caution is the watchword! as the charts are mildly negative,but we just had nice pos. divergencies at the last low!...


Click image for original size



bingo!(within one
tick
... this is the important dividing line imho!... if 1283 doesnt hold then down we go, otherwise bulls still have hope here!