ES numbers for 3-25-11
These are the zones that I'm working from and the reasons why:
1314 - 1315 - Spike high in current
O/N
1310 - R1 and current consolidation in ON
1304.75 - 1306.75 =
VA high
,
RTH
high and volume spikes
1301.50 ****** big key area number = closing
VWAP
, Pivot ( standard),
VPOC
before it shifted and volume spikes
1295.75 - 1296.50 = S1, Volume spikes,
VPOC
before it shifted
1291.25 - 1292.50 = Old Vol spike from Wednesday and Thursdays low
1287.50 = Key volume area from Wednesday*******
Ranges are tight so numbers are a bit close together but will re -adjust in the morning
Nice chart ,
Optimus
!..heres an update on my earlier one...
Click image for original size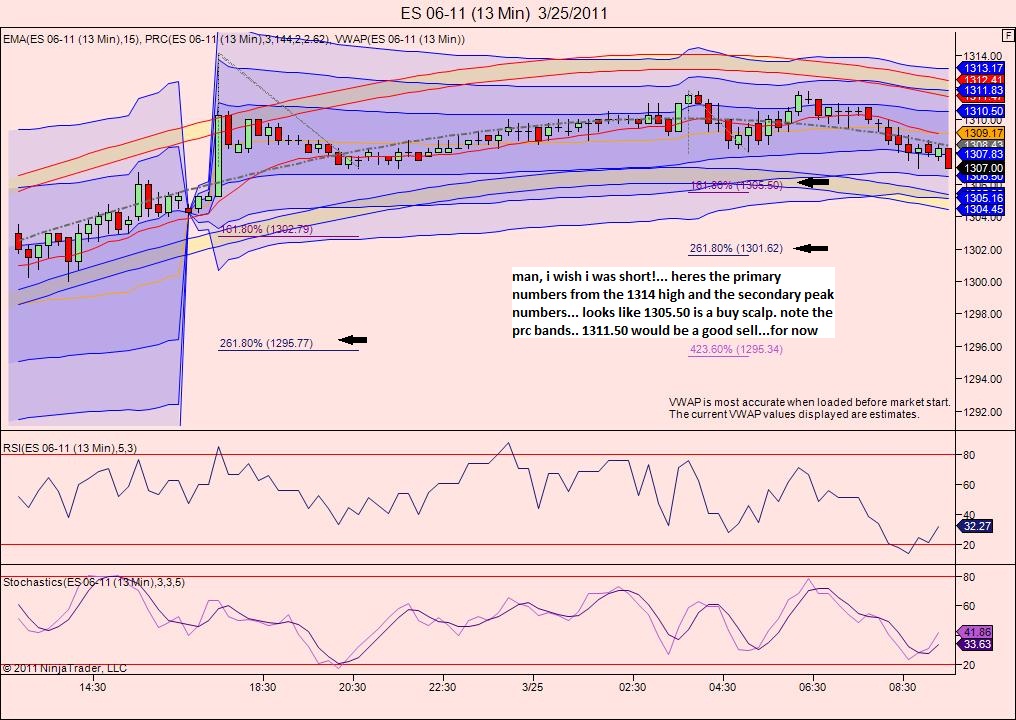 waiting to buy today 1302.50 to 1303 but looks like we are struggling with yesterday's high
LONG A COUPLE, JUST FOR A QUICKIE! HAVE TO RUN MOMMA TO WORK!LOOKING FOR 1307-1307.50 TO EXIT
Originally posted by optimusprime

that's gap fill is that 1305.25.. hope we are going a bit lower

OF THAT, I HAVE NO DOUBT!!!
out at 1306.75.. had to cause i gotta run... plus 2.5 on the day(beats the hell outta yesterday!) c ya soon!
Click image for original size

Thanks for all the posters here and for going to the trouble of annotating and posting charts. I have learned some things I have never looked at.

I will begin posting some charts in the future as well. I have some extensive travel over the next few months, but I'll try and contribute some decent info when I can.

Have a great weekend everyone!