Lookin' Mixed to Even Nasty
Lookin' Mixed to Even Nasty
Went thru the Daily charts of the
SP
-500 ... and ain't much to write home to mom about. In fact, many that have been "performing" are individually showing toppy chart activity and appearance. Also, ran my other scans and just didn't see much that looked good as potential LONG equity picks.
Obviously, there's the Double Toppy looking thing going on with the
ES
fwiw ... as we pushed up into that resistance and hit a brick wall for now. Anyway, here are the stocks that I plucked out of about a 1000 I viewed on both their Daily as well as their 5min intraday chart "look" and
price action
... as it relates to long type setups/patterns and with heavy emphasis on R/S (strong) compared to the
ES
activity yday and the past few days/weeks:
PCLN
OPEN
APKT
CEVA
JAZZ
HUM
TZOO
(this one's a mut! Focher)
Tossing these out as potential equity LONG plays if the market holds up and/or moves UP. But to revisit what I've continued to try and hammer out here ... is that this long pick group can function collectively as an INDICATOR for what the overall market is gonna do intraday ... at least for the first few hours ... and often the session. If they don't show any strength, show erratic bobble-head up/down
price action
... or just fall off a cliff. Well, that's telling. Even with just 7 to work off of for Wednesday ... if the majority act like a bipolar etch-a-sketch jonesing for a vat of lithium ... then it's usually (not always, but usually) worth paying attention to. I'd encourage all to do the same with your own set of good long setups too. It really can be a read of MARKET INTERNALS.
And of course, we're coming into option expiration this week (which others have alluded to) that usually creates weird and unexpected cross-currents of noise on the
ES
and in stocks.
Hope these long picks and INDICATOR approach/idea is helpful to some folks out there!
Blathered so much that my Crown and Coke needs a straw for me to suck up the last nectar of the god's fumes at this point. Means a REFILL! Btw, if all of the "observers" out there that aren't comfortable posting yet, well POST in the
ES
daily room. Bruce, Paul, Lorn,
PT
, BeyondMP etc. and some new great poster inputs offer some seriously incredible calls and detailed education that I've not seen anywhere else on the internet free or for-fee!
I'm MonkeyMeat and I approve this message
thanks bruce...all sorts of dvgs down there and i love it when that happens at places i have a lot of things going on (fib projections, ym established sup/res)...to me those are very high prob trades, and more often than not they tend to occur around areas you are looking at as well...trying to incorporate your volume trading concepts/areas and lorn's
cum delta
to filter my setups even further...
Originally posted by BruceM

I'm with ya but from 05.75...nice little divergence on the lows of Yesterday..with volume and $tick...my first target is the 07.75...not convinced this is the last test though...volume is poor on the rally up

Originally posted by apk781

long from 5.25...will take half off at 7.25 and the other half at 8.25...stop 2 pts (will move to b/e if first target is hit)




here is that nice little
divergence
on the lows
Click image for original size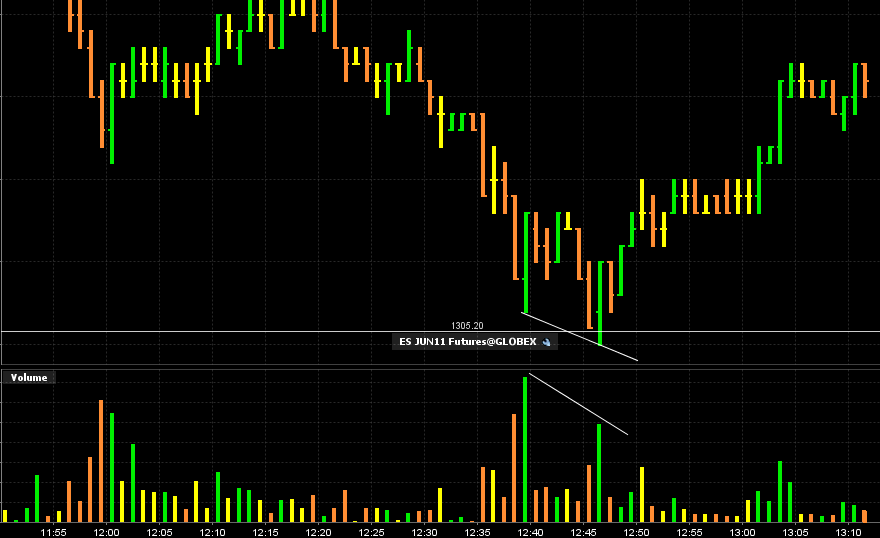 Most of the 7 equity picks did decently (although erratically on a few) from the LONG side. And the
ES
ended up selling down. I know I've talked about the LONG PICKS as an "indicator." Some days they don't necessarily show as "internals" what the market's propensity for direction on the session is. But that's more uncommon than not. If anyone nabbed a decent one for a semi-decent stock trade ... then that's a good thang. But ... well, HELL! To get into the nuances of when and where to get into a stock isn't the place here. I can only trust that the group of 7 long picks didn't jig anyone out of a decent
ES
trade. At the same time, almost all of those Motor Scooters are still showing some great Daily AND 5min intraday action long. BUT ... as I've always alluded to when it comes to probabilities, the
SP
should "behave" ... in other words, not sell off like it did today. The fact that these stocks held up well in a weak market (expiry week factored in) ... may be xome serious great trades long if the overall market (
ES
) decides to bounce/rally.
Just a Monkey following up on the prior posts and explanations.
Hooot!
Originally posted by MonkeyMeat

Went thru the Daily charts of the SP-500 ... and ain't much to write home to mom about. In fact, many that have been "performing" are individually showing toppy chart activity and appearance. Also, ran my other scans and just didn't see much that looked good as potential LONG equity picks.

Obviously, there's the Double Toppy looking thing going on with the ES fwiw ... as we pushed up into that resistance and hit a brick wall for now. Anyway, here are the stocks that I plucked out of about a 1000 I viewed on both their Daily as well as their 5min intraday chart "look" and price action ... as it relates to long type setups/patterns and with heavy emphasis on R/S (strong) compared to the ES activity yday and the past few days/weeks:

PCLN
OPEN
APKT
CEVA
JAZZ
HUM
TZOO (this one's a mut! Focher)

Tossing these out as potential equity LONG plays if the market holds up and/or moves UP. But to revisit what I've continued to try and hammer out here ... is that this long pick group can function collectively as an INDICATOR for what the overall market is gonna do intraday ... at least for the first few hours ... and often the session. If they don't show any strength, show erratic bobble-head up/down price action ... or just fall off a cliff. Well, that's telling. Even with just 7 to work off of for Wednesday ... if the majority act like a bipolar etch-a-sketch jonesing for a vat of lithium ... then it's usually (not always, but usually) worth paying attention to. I'd encourage all to do the same with your own set of good long setups too. It really can be a read of MARKET INTERNALS.

And of course, we're coming into option expiration this week (which others have alluded to) that usually creates weird and unexpected cross-currents of noise on the ES and in stocks.

Hope these long picks and INDICATOR approach/idea is helpful to some folks out there!

Blathered so much that my Crown and Coke needs a straw for me to suck up the last nectar of the god's fumes at this point. Means a REFILL! Btw, if all of the "observers" out there that aren't comfortable posting yet, well POST in the ES daily room. Bruce, Paul, Lorn, PT, BeyondMP etc. and some new great poster inputs offer some seriously incredible calls and detailed education that I've not seen anywhere else on the internet free or for-fee!

I'm MonkeyMeat and I approve this message