ES Thursday 1-26-12
Looking at 29 - 31 as a potential resitance zone as we approach the 9 a.m time frame...then I have the 21- 22 area as first real support ..below there is the 16 - 17.50..
biggest support zone will be the high and
low volume
combination down in the 1311 - 1313.50 area from yesterday
as usual we will see what the
O/N
ranges finalize at and where our
pitbull
numbers fall
Paul...I run the weekly
pivot points
based on
RTH
only....this week had
1329, 1320 and 1303 that came into play.....
then I look at all session data...then the daily pivots...then old highs and lows and of course the
volume profile
work.
I usually put more effort into alternate forms of analysis when we are making new contract highs as I donot have great past reference points due to the spotty data......still on the cme website they show a weekly swing high up there too....
37 - 39 would also be important...
so basically new contract highs makes me work harder to find good numbers...then I look at the
pitbull
and recent ranges
bear with me, Bruce. I'm an old man.
Thanks for the url, I didn't even know
CME
produced
volume profile
charts.
but when I went to the weekly price chart, the only 1330 area I could see took place ALLLLLL the way back in late July.
Is that weekly swing failure what you are referring to?
Paul,
You can see it on the daily chart as well.. July21/22
Yes paul...these are long term reference points......Jdedi is correct ...we can treat any weekly high or low as critcial..same with monthly...too ofetn we assume that most use dailies but there are those out there who think that dailies are way too small......
two sets of
single prints
on the charts just in case anyone finds a good long signal down here
Not sure what this volume shows, perhaps quiet buying. Previous high volume (blue) was at 1321 and did not result in upward move. For
WTW
, here is my chart.
Click image for original size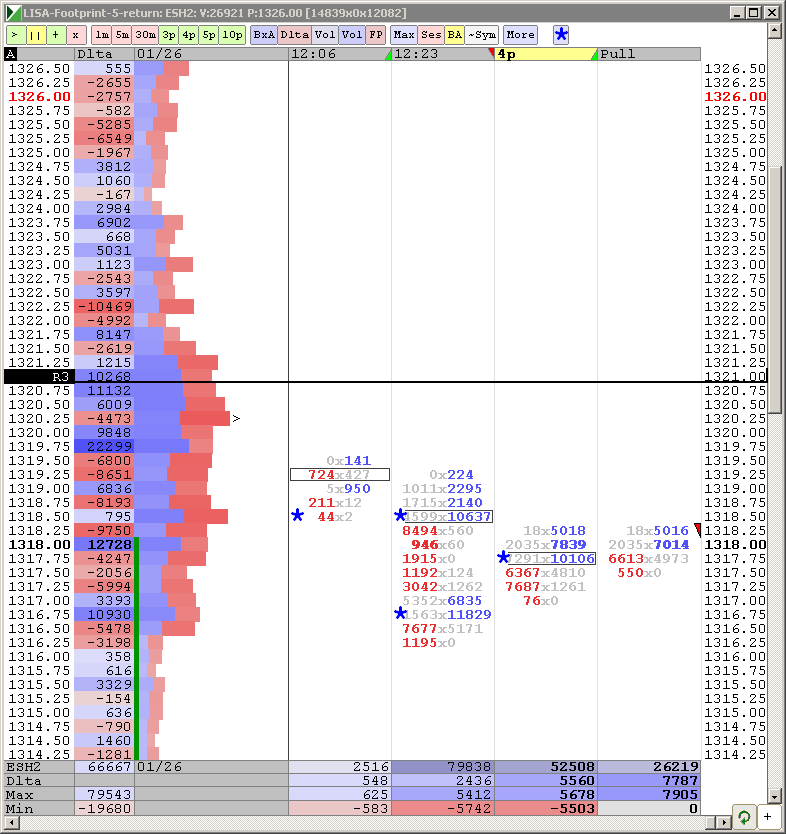 Bruce . I'm not sure if I completely understand the "
AIR
" trade. is there an air between 1325.25 and 1323.25 today between 10:20
AM
and 10:30
AM
?
I greatly appreciate your answer
yes..that and just the plain old bar charts that you can get from the site...I don't use this site specifically but I will look at it to confirm my data when needed