ES Thursday 9-12-13
the lines and zones I have for thursday and wednesday overnight.....will confirm in the morning
Click image for original size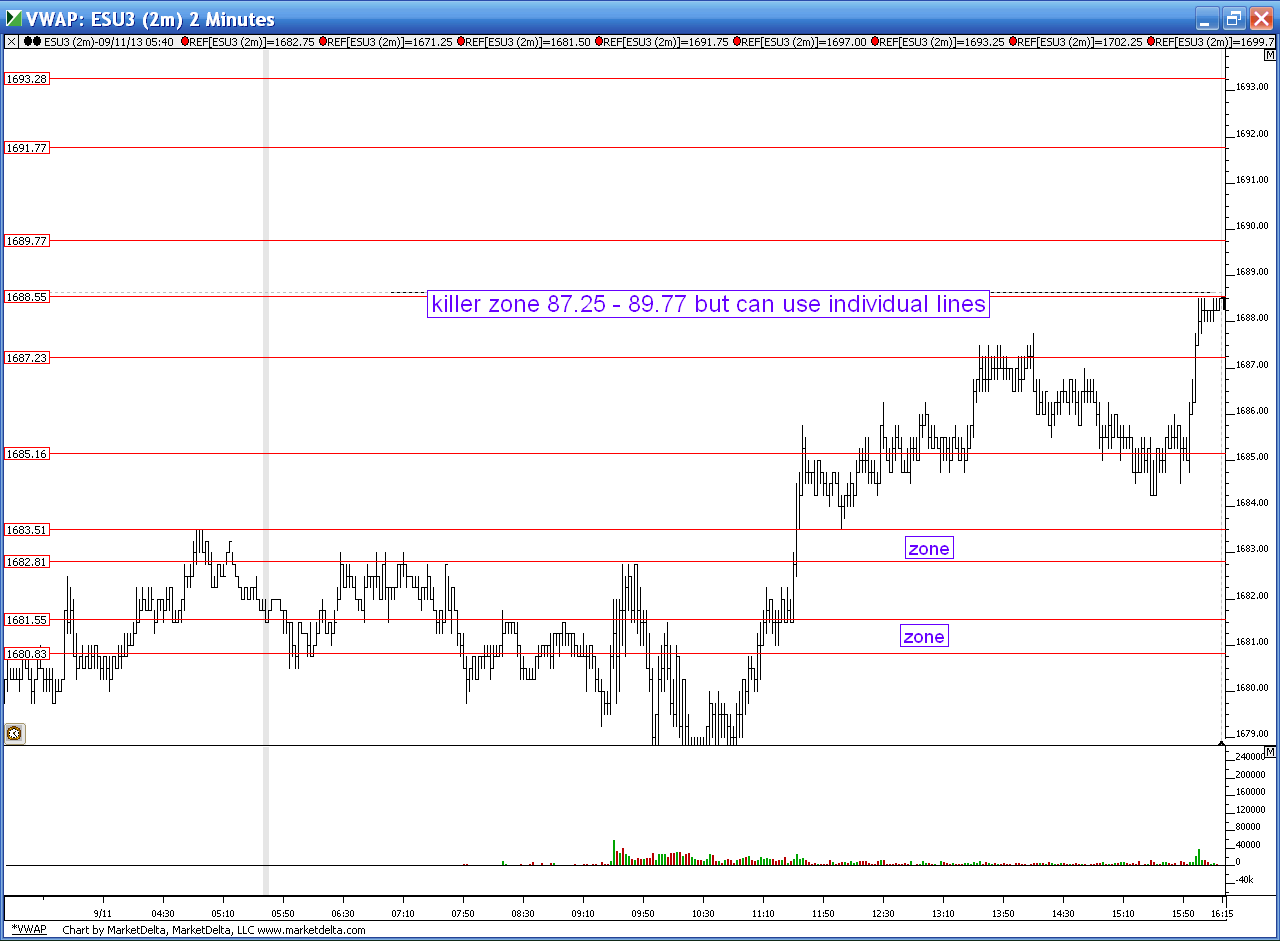 I'm not sure if my voting abilities are working here....for example I tried to vote up bkays charts and yet it doesn't show any votes
Looks like you guys are trying to get the band back together, I'm humbled to be in your presence.
thx bruce for the videos, could only watch the first one but will watch the rest at lunchtime
from what i see, holding above the onl points to the 84.5-86.5 area (using dec contract already so
add
6.5 pts to my numbers)...
o/n
high at 83.25 is on the way...89-91 is strong resistance imo and will try shorts there (in the 84.5-86.5 as well)....
below the
o/n
low i have 75-77 and then 70-72...given the trend is still bullish i still like buying dips (
bernanke
has my back for now) but be aware this is becoming too stretched in a very short period of time so there is risk to it
we failed at the onl so that means we are going to the onh ?
Originally posted by BruceM

I'm not sure if my voting abilities are working here....for example I tried to vote up bkays charts and yet it doesn't show any votes

It's the thought that counts, thanks
hey guys .good to see the old gang is still here. had health issues 2 years ago...just quit my job of 13 years..and retiring...plan to begin trading again as im already bored to death..just too young to retire i guess.lol
kool welcome back ! very nice to see u around....

quick question, did u change your methodology slightly? your current 161.8% extension seems to be what you had as 261.8% back in the day...

thanks
no...same as before.. for instance on the 15 min chart i posted low of 1671.50 to 1676.00 initial move (yesterday around 10:15) is a difference of 4.5 handles times 1.618=7.28, then added to the 1671.50= 1678.75 and 2.618 becomes 1683.25. on the chart shown you are exactly correct in that i added the extention to the 1676 instead of the 1671.50 to get a wider range....i do that once in a while during more volital environments..mostly i have it the original way. still trying to set up every thing as ive been out of action for 2 years!