ES Thursday 10-9-14
lots of strength YD ...key downside areas are 53.50 - 55 and use 61 ( close as a ultimate target)....above I like the 69 area then 73....video explains the rest...will post an
MP
chart of
O/N
against YD soon
i added more ramble...just a different way of looking at the same stuff but I watch later if interested...nothing new here
Bruce, very insightful indeed. Also you can never ramble too much. Everything you say helps a lot! :)
i know I said no more video but this is an option trade that I took and bungled in front of that report at 2 p.m yesterday.......I should have just bought a put and a call instead of bracketing that market the way I did.....don't watch if you aren't interested in options...so this was made yesterday when the market was at about 1954

thanks for the support newkid...!
Originally posted by NewKid

Bruce, very insightful indeed. Also you can never ramble too much. Everything you say helps a lot! :)

the one
SD
band is down here at 45 - 46 so it is worth taking a try at longs to see if u can get
IB
low retest... also a key
poc
from a previous day...a failure here will run to 43 and below there is 37.50 - 38.50...the target would need to be at about 48.50 just in case they don't go get that
IB
low completely..I'm gonna take two small stabs down here
developing weekly
poc
is now 45.50...just an FYI to those who may be trying this one...c'mon now...we know that leaving
single prints
at an
IB
low is a low probability...so lets get em filled
NOW
...!
that's me now done for the day at 48.50...this is also the pivot and
VA high
from YD........so they may still get that
IB
low but they may not make it easy...always best to come out sooner with $$$$ then hoping for that extra point or so
sometimes when you have a big set of singles you can't see the key volume so well...so it can be a good idea to dial it down...so here is a 5 minute chart and pay attention to those two 5 minute volume bars ( the blue lines) at the 46 - 46.50 level......note where the current low is today and if we fail at this low then the will try for that volume at 43.25
Click image for original size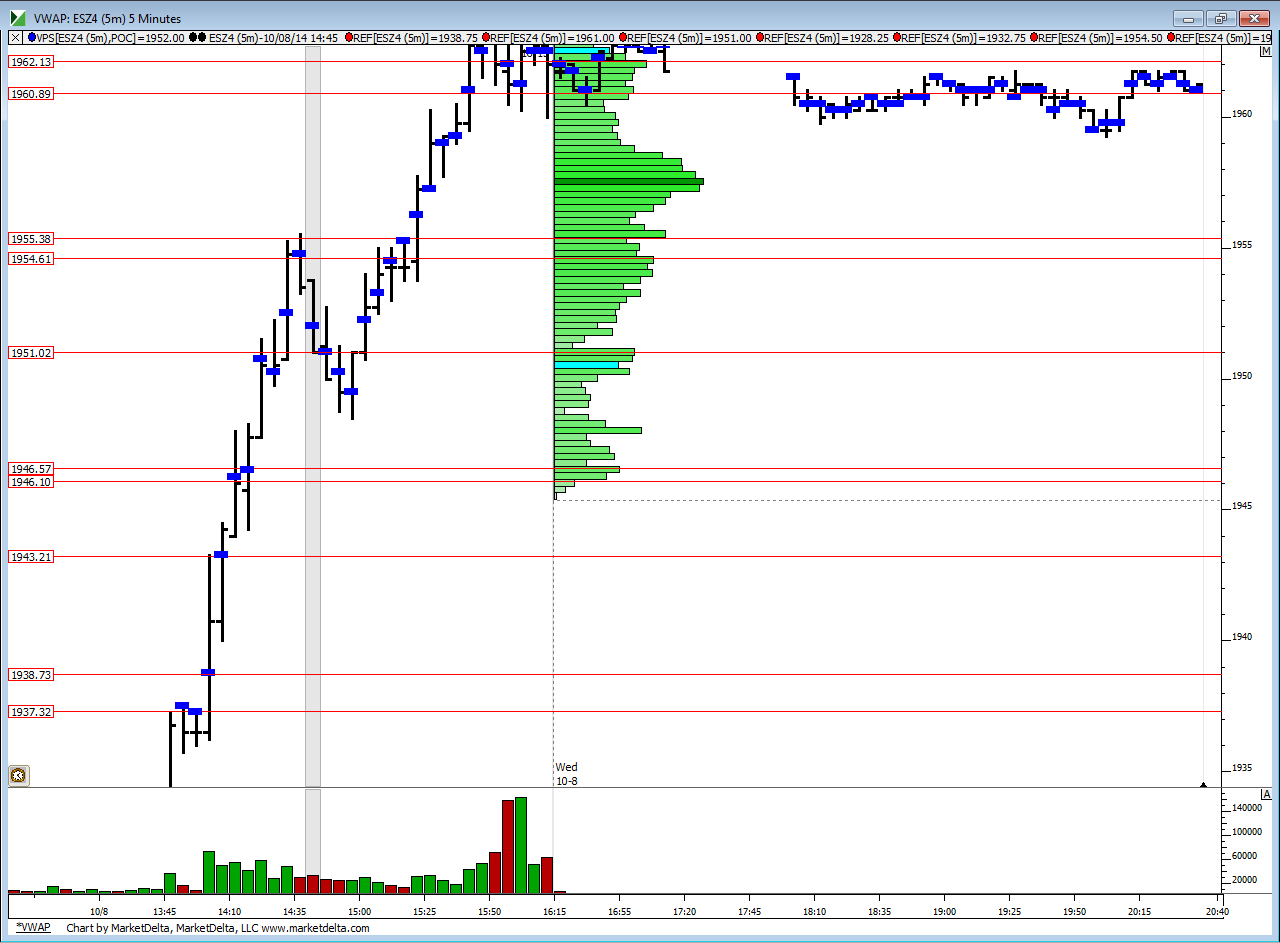 I think as long as they don't come back for that 48 they have a good chance of eventually getting that first 30 minute
vpoc
.......not trading this and wish all well who stay in to play...so u basically want price to stay out of the
VA high
of YD and also keep getting 30 minute closes above that
VA high
..the last two developing 30 minute bars have vpocs at 47.75 and 48.25....so somebody is trying to buy it from that level...
great info and trading today Bruce ! thanks

now if we go break the 90 mi low, then there is high odds we will come back to test taht break right (as per our discussion a few days back) since the 3rd 30 min bar is not inside the first two...

have u ever calulated those odss? or read abt someone taht has calculated them ?

thanks again
I have done them myself for a two year period and the 90 minute comes in slightly under 5% of the time that they leave valid singles there.....but like anything else that is a statistic. it doesn't give us "WHEN" that retest will happen......us good
price action
and
s/r
traders would use key areas to take trades to get back to those....but once again this will also be outside the 90 minute window.......so not a great place for
fades
in general.....
today there is only a 12% chance of closing under 37.50 and only a 5 % we close under 29.50.......but we can lose big money trading for all these probabilities so we always have to have some signal or support/ resistance area to use....33- 34 is one of them and 28.50 - 30 is another down here.....the best idea if you were thinking about that 90 minute low is to wait for price to get back over the 38 - 39 area as that is where volume is and it held back this last 30 minute bars high....it is also the point where the volume came in from the 2 pm reports.........
some other ideas for trades would be to use 33- 34 to trade back for the 38 ( actually that idea already happened ) or also use the 28.50 - 30 to trade back to the 33 - 34....just some ideas here.....I'm working on some options education today and I have a long way to go !!.
Originally posted by apk781

great info and trading today Bruce ! thanks

now if we go break the 90 mi low, then there is high odds we will come back to test taht break right (as per our discussion a few days back) since the 3rd 30 min bar is not inside the first two...

have u ever calulated those odss? or read abt someone taht has calculated them ?

thanks again

here is that volume line........look to the histogram on the right at 1936
Click image for original size