Looking for shorts..
Thanks DT. I want to post a chart which will hopefully describe what I was looking at....I think the things to bring away from these posts are not so much the successful ( which always helps )trade but the concepts..which for me where the :
Triples
- there where actually two sets but only one marked on my chart....
Futures closing at a discount
Gap
higher in overnight
the mini
single prints
on 5 minute overnight denoted by the double horizontal lines.
I have revised this for overnight data using 5 minute as I have noticed the 5 minute bars tend to overlap a great amount in the
low volume
pre-market trade and something else that is new is that each unique push up or down can create singles on the 5 minute...I'll work harder on that explanation
Bruce
I'll have to write more when I can but here is the initial chart. I'll post follow up later. I think I need a better chart two with some prices...
Click image for original size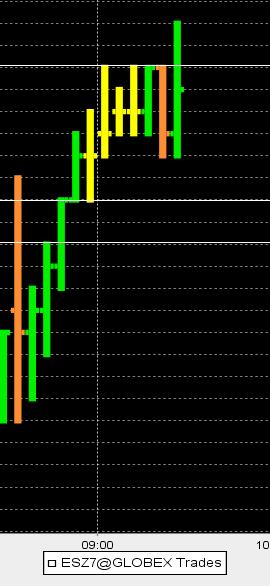 here is the second part of the chart after they ran out the
triples
to the upside...
Click image for original size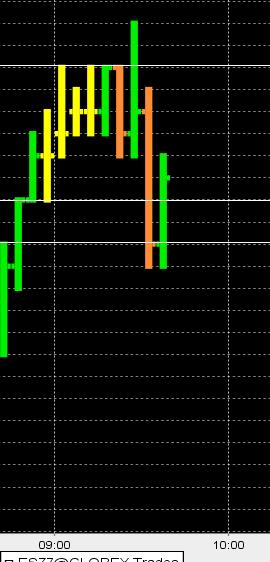 I shorted 41.50 looking for the 39.50 retest..here is the screen shot.for the real point of this....why am I short..?.note the
gap
on this overnight data at 8:30....and the mini singles....going lite here .had to edit this to get a chart that shows prices..concern is previous days close as magnet above and
Value area
and
point of control
in the 38-39 area may keep the support.....not a great feeling about this trade...will
add
on a push out of 44 if they run it up in first 30 minutes or so..then target becomes 41.50
Click image for original size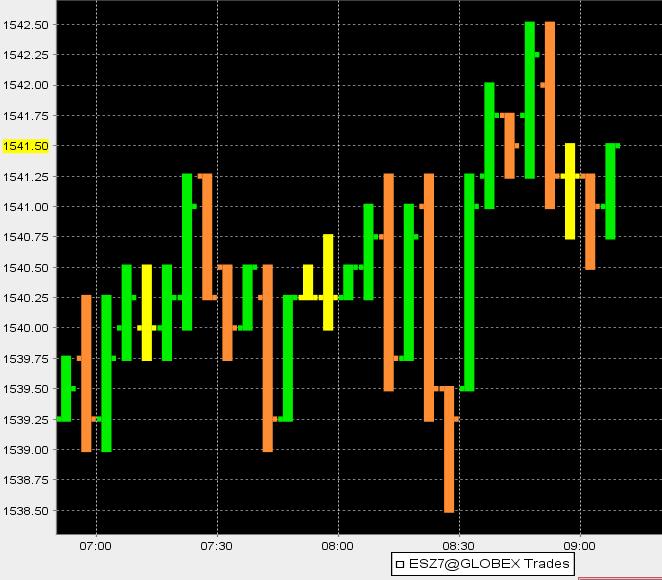 I got the
add
on at 44.25 and covered at 41.25, 39.75 and 37.25....here is the chart...the key points : I tried to front run the overnight high, breakout traders so that is why I was adding to short side at the 44 area....this was also in the 2.5 to 4 point window off the opening price of 1542 even
they brought it back down to "Fill in" that overnight session
gap
at the 39.50 area..at 8:30 .the chart shows the over night high and the double horizontal line is the
gap
area... there where also mini singles off the 5 minute overnight at the 40 - 39 area so I had a good reason they might bring it back down....I used value areas and
POC
's as some of the targets and the minus 2.5 and minus 4 numbers...lots of goodies in todays trade
Anyway I hope some can integrate these concepts into their own trades..
I believe there are many out there who have become wise to the fact that traders like to keep stops 1.5 to 3 points outside the
value area
highs and lows so I think it is better to use
price action
to confirm entries and exits if you use these areas...
Bruce
Click image for original size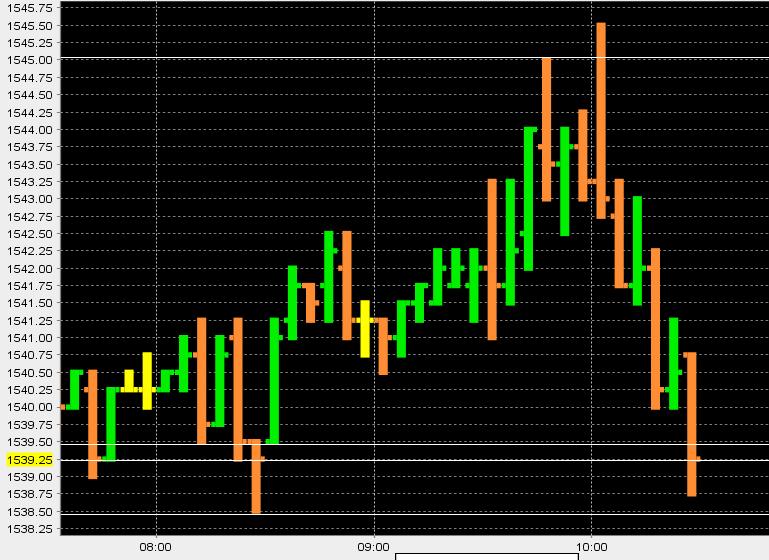 shorted 56 even..will
add
to short up at 63 level if needed..target is 51.50...I consider this high risk..charts to follow
question for me is are they going to run out the overnight high first or the low.....
over 95 % of the time it will get the high or low by noon time....
I'm reshorting at 57.75...targeting
triples
and current days low at 55 even..
then overnight low and then 51.50
52.75... filled at 53 even and I am out on this campaign..
single prints
from yesterday and don't want
drawdown