Looking for shorts..
Another view of what Bruce is looking at. The blue bars are Friday's action and the white bars are the overnight action on Thursday/Friday overnight and now on Sunday evening up to 10:15
PM
ET
. Each bar represents the range in 10,000 contracts.
Click image for original size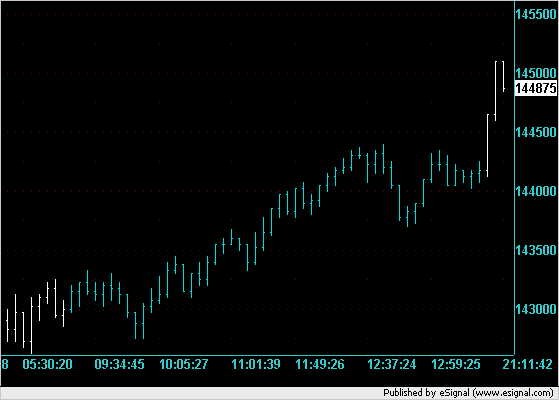 I had to jump in at 54 even as I happen to be up watching this..target is now 51.25 and then stop will get adjusted...This could be interesting...actually it always is with this
low volume
overnight stuff..I would prefer to "play" around this 1450 ( key number ) in day session but we'll see...weekly pivot at 1442..so that's how I'm thinking about this
best fill on runners was just exited at 45.25...this was cool as they kept it less than 5 points above the key number of 1450....chart will follow
Very nice trading Bruce! Good risk control and assessment of the market. The probabilities were definitely there.
Here's another chart (30 minute bars) showing Friday's action (first set of blue bars), Sunday night and Monday morning (white bars) and Monday's
RTH
market (last 2 blue bars).
Click image for original size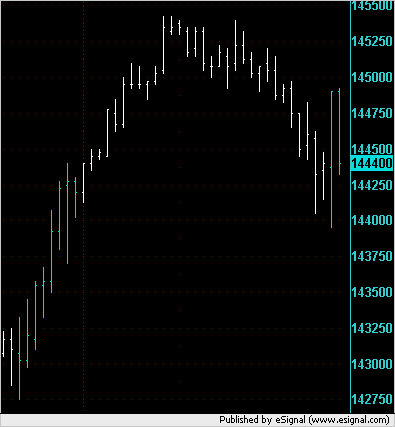 Thanks Guy and thanks for the chart. you will notice on your chart the
single prints
that existed on the OVERNIGHT at the 46 area...the ever changing colors of the
S&P
has me examining the overnight in more detail. I'll look for high volume pushes out of the 5 minute in overnight and then confirm with the 30 minute.
In the past I ignored the overnight but as time goes by I have to realize that there is more to this market then just the
RTH
.
They played this out nicely...
quote:

---

Originally posted by day trading

Could well be. I think a higher gap would be a better probability gap play than your average gap play from that position under normal trading.


---
They certainly did. Excellent trading!! I've never looked at
single prints
outside of
RTH
but considering how powerful they are during
RTH
there's no reason not to believe that they'll have significance overnight.
going at this at 1442.50.in overnight at 8:53 est.will
add
at 1447.50.... target is down at 1437.50 area..35 to 31 zone is concern for support