ES Key numbers for 3-14-11
ES Key numbers for 3-14-11
Here are the key numbers from Fridays trade and a chart with the volume showing why they are key. On your own charts you can compare where your high volume is with price.
1300
1295
1288 - 1289
Click image for original size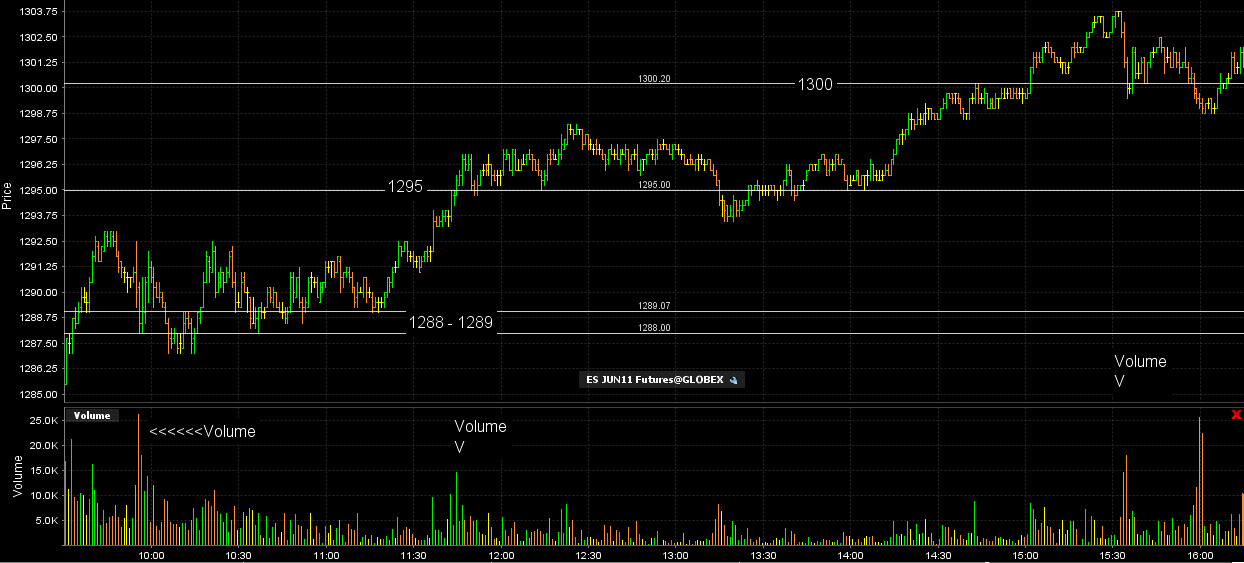 The upper zone not shown on the chart is up near 1308 just in case we rally in the
O/N session
on Sunday
i'll take one off at 1285.25... and raise my stop. Being cautious here because of that darn 30 min chart....
took my 2 @ 1284.75 and running with them. time to get into the office. have a great day everyone. see ya tomorrow. :)
have good confluence from my 5min and 13 min charts still down at 82-82.25...but the 78 munber looms large right below, so longs have to be quite quick imho
I have new hV at 84 even......typo in my other post that zone was 81 - 82.50 from Fridays ON
i agree kool, the 78 level shows up on my 161 extention, i would be very leary of that level especially with all the Chaos going around in Japan,Libya and jordan..any flare-ups and you could slammed. have a great day. AHH i'm late
ideal for me would be to have new lows and
divergence
in Volume to set the long for the 84 retest
at least thats what seasonals hint at