ES 03-23-2011
Good morning all. Just a few thoughts I wanted to share. We have a unique situation here with at least two of the best traders you will find anywhere Kool and Bruce along with a number of others ( sorry for not mentioning all} sharing their thoughts thru out the day. They give price levels and reasons prior to making a trade. This is the most valuable assist a trader like myself can have. No I do not attempt to blindly piggyback their trades but knowing what price level they are interested in and why sure helps me. So that makes up the proticall here. Pls feel free to post but do it before the trade and say why.

[Admin edit - removed off-topic material]
just took one off at 1282.00.plus 3.75 there and holding the runner for 1279.50, but will exit early as always ,probably 1280.50..stop to breakeven (1285.75)
wow, that was quick!..out at 1280.50,plus 5 .25 on the runner! total today..9 handles...
10
AM
large order. I would be cautious on the short side. OF course there is a report - may change everythihg
Click image for original size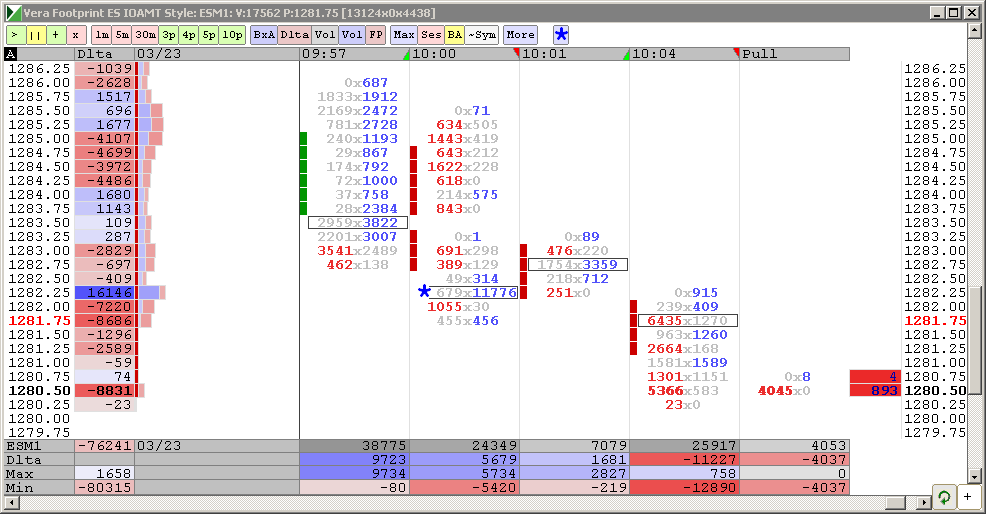 just in case anyone took the Goldman sucks trade i showed on the weekend preview ,time to take at least patial profits as the proj down is 157 andchange and we just hit 158.40!
one min proj fullfilled as expected... but i didnt buy! Im waiting for 1274.75-1275 before considering a long today!
Large number of contracts could not push mkt down, waiting for a re-test
Click image for original size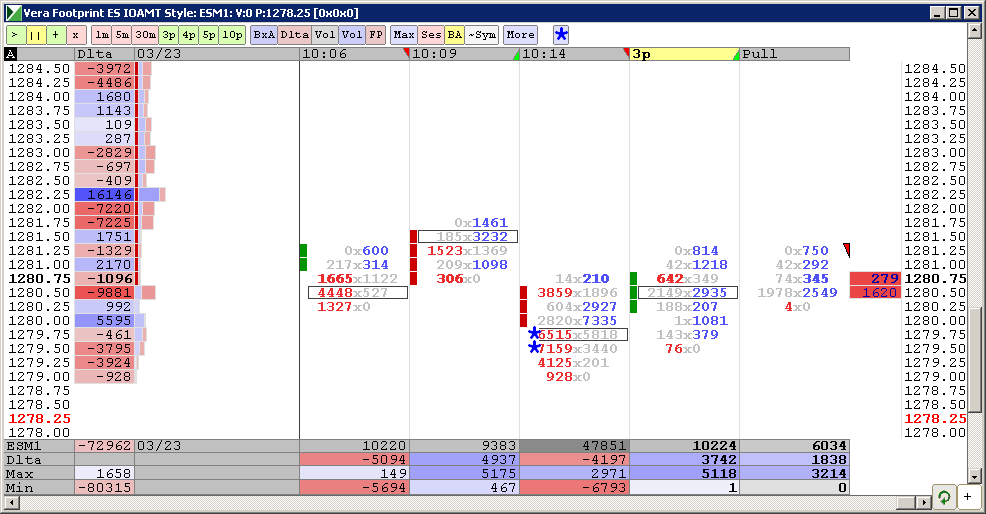 well, as expected the short term projection at 1279.25-50 is providing a nice little bounce, but im still reeling from that monster short and it happenned too quick for me to take advantage of it!
Originally posted by Lisa P

Great trade, Kool. WTG

Thx Lisa, all the signs were there... small range yesterday, the lagging Nasdaq, and overbought nature of the markets(cumulative
ticks
), also all the small speculators unloading their shorts (from th cot reports)
A quick off-topic note: Please stop the personal attacks against each other on the forum. It breeds disharmony and hurt feelings. If you have a problem with anyone then please come to me with it or approach them directly with a
PM
. I have also created a topic here:
http://www.mypivots.com/board/topic/6547/1/trade-post-types-in-the-forum
that I hope will guide traders in the types of trade posts that we find useful. Please don't reply to this, if you think that it requires further public discussion then that can be done here:
http://www.mypivots.com/board/forum/13/1/mypivots
Let's pull together and focus our energy on being positive and profitable.
Hey
MM
,
I traded
FOSL
,
PLCM
&
BIDU
, great trades!
Looking foward to your posts
Diana
Originally posted by MonkeyMeat

That's GREAT Nigel! Even though the ES gapped down and sold down early, most of the stocks held up with most moving up pretty quickly and steadily when looking at their 5min charts. Of course there's always gonna be a lemon or few that don't behave as anticipated.

NFLX (which can be a mean bastard sometimes), FOSL,OPEN,DVA,SINA and BIDU were all good pretty much from the start ... looking at their 5min charts. Then again, it's where you get in and out that makes a good long trade work (or not).

PLCM was the skanky lemmon and AH kinda all over the map ... woulda been a psychic to pull any money outta those other than the late day rally in AH.

I'd invite others to take a peek at the daily and today's 5min charts on these to see what some good setups in equities can do. Anyway, no horn tootin' for me ... been doing this too long to have ego involved. Just glad someone made some coin with 'em!

Also, as I've mentioned before about equity picks I've posted ... they can act as an INDICATOR for ES trading. If the majority of good long picks just fall apart ... tends to signal more weakness in the market (ES). If they are holding up strong, then it can signal strength in the market with potential intraday upside asserting itself in the ES.

Btw, what stocks were you in NIGEL?



Originally posted by NIGEL68

Thank you MM for those stocks, took 3 of your stocks and made more than $400 today.

Keep posting




Originally posted by MonkeyMeat

For any equity traders out there, if the market moves up, here are some stocks that may offer some potential good long plays for a day trade (or more) today and perhaps the next couple of days.

NFLX, FOSL, AH, OPEN, PLCM, DVA, SINA, BIDU

Some look better than others ... but I'll be watching these. If the mkt sells down, then best to avoid 'em for now.

MM