ES TUES 7-12-11
The overnight Low was 1295.25
50% of last month's
RTH
range = 1294.00
50% of last month's 24hr range = 1297.25
IMHO, Low for the 24hour is probably already in
This is
OpEx
week. specialists have already sucked the premium out of the calls. Maybe it's time for them to sell the premium inflated Puts before they come in with fists-o-cash to push prices higher for a premium wipeout of the puts.
50% of the current week is 1317.25, Pivot (
RTH
) for today is 1319, this zone should be tagged.
Nice levels and I also think weak sub 1320
also wanted to
add
the other retrace levels
38.2-1318
23.6-1309.25
1318.50 is also par for those on the wrong side at eod Monday
thanked their deity and exited, see if selling ends?
1317.25
Originally posted by Lisa P

ES tested and held O/N value area high. I went long, first target INDU 12500 (pivot point), second O/N high

khamore1, it is hard to trade and post. INDU does not have overnight values, as it is a cash index.
What I meant was, I went long on successful test of the
ES
O/N
VAH
, took my first half off when INDU reached 12,500 (as I expected sellers at that level,
POC
of the pennant) and took second part off near
ES
O/N
high, which was extended to
ES
"
gap
close".
Sorry, I am not as good as BruceM at trading and posting. He is GREAT at that.
NQ
30-min chart.
NQ
never got out of its congestion and is drooping now. If we have a similar fakeout as INDU had before, it may take
ES
above 1320. I will wait for bears to make a mistake.
I have to leave soon. be back later.
Click image for original size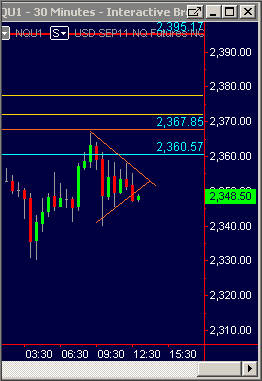 DT NEVER
MIND
ABOUT THIS QESTION
DT will you please explain the meaning of the intials on the
market profile
you just posted for example what is
DF
. DEFG.
EF
.......
YOUR POSTING CAME IN A DIFFERENT FORM I THOUGHT FOR A MOMENT THE LETTERS HAD A DIFFERENT MEANING SORRY I
AM
STILL NEWLY LEARNING
MARKET PROFILE
hope you took advantage of the 23 area i highlighted earlier today...to the
tick
!
taking profits here at 20.5...would have kept it longer if there was a
single print
to target much below the one that is currently forming it will be 19.75 if the current 30m bar closes above that level)
will re sell at 25 if they push it higher once again
Originally posted by apk781

i like selling the 23 area if they can get it up there; a bunch of things going on there including 30m 1.618 projection (o/n lows to 12.5 move), daily pivot, and the 1.618 stretch number (for those who look at them); single prints from yesterday slightly below at 22 even....will add up in the 25-25.5 area if needed (and if it is not too late)..hopefully there will be some single prints lying below to play with/target

they filled that print pretty quickly and now filling the air on 5min at 18.5...

in any case, i doubt there will be time for some action on my side, so good luck all
First set of
single prints
is taken out, just like Ark said
Click image for original size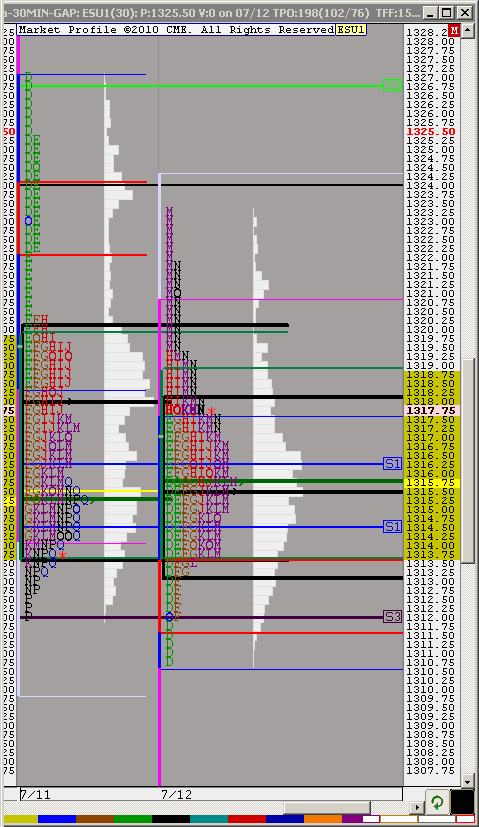 Apk 781..I was with ya and it took me two tries...The weekly open ! Folks gotta know that !! More important for me is I am making some great progress with my Footprint/
market delta
understanding. I will never again be caught in a bad
fade
that I keep adding to and here is why:
This is a one minute range chart ( thank you
PT
). With
cumulative delta
in the center and volume in the lower pane...I went short at the close of the 14:19 bar and exited on the close of the next bar for a small loser. WE had good volume but
delta
closed up on the 14:19 bar ( see center pane). I reshorted at the 14:23 bar...a perfect test of the 1323 weekly open and then look at the
delta
....a great close down ( not up)and higher volume then the previous bar once again....look at the huge wick for you candle folks on the
delta
!!
Naturally this has got to be put in context at key areas....I'm too dumb to take trades all over the place with Footprints..but we had
air pockets
below as u have said....so this is my focus now...busting my ass to figure this out....I think most have the levels figured out....for me it's figuring out what happens at the levels...
This
SH
-T is FINALLY starting to make sense..so now my obsessive nature will take over. I'm dropping out for a while to concentrate on this effort. Here is the chart..!
Click image for original size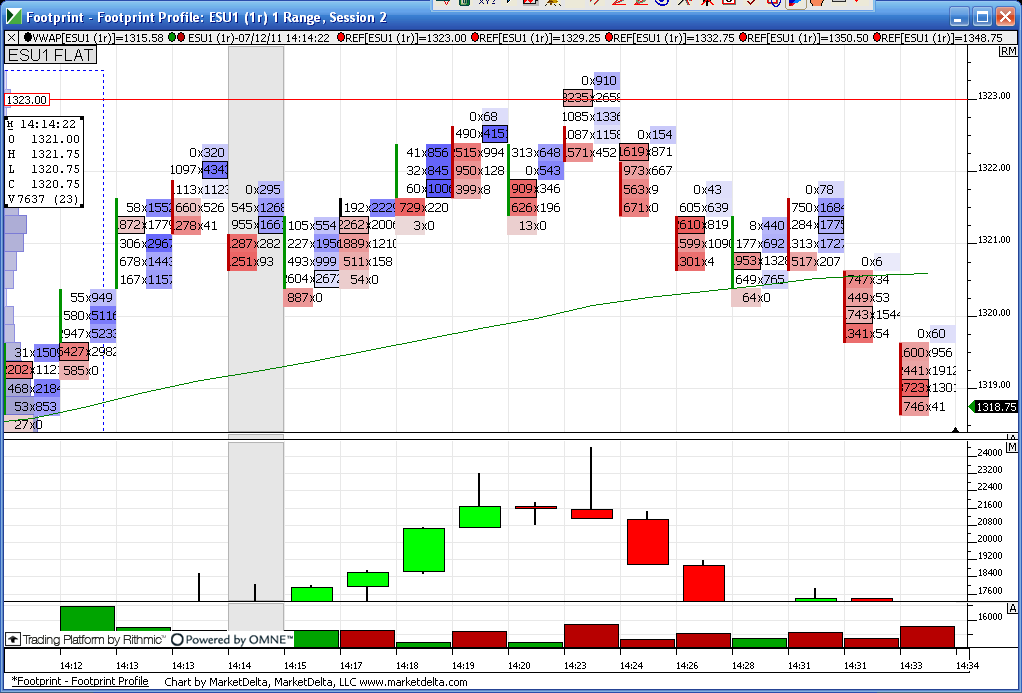 very interesting bruce, thanks for sharing that
i usually don't look at the weekly open, but it obviously has its effect, so will
add
it to my list of things to watch (very long as it is !)
i now feel i could have stayed a bit longer on the trade...i usually have runners but did not use any this time for the reason stated in my previous post...against my case, a/d was not in trend mode by any means so should have expected them to bring it back inside the
va
/5min air fill...oh well, profits are profits so i am not complaining, just giving lecturing myself out loud
Originally posted by khamore1

DT will you please explain the meaning of the intials on the market profile you just posted for example what is DF. DEFG. EF.......

They are
TPO
's - follow that link for the dictionary definition.
Just a
single print
recap from today. The
single print
left on the chart at 1322 even yesterday would have suffered a 1.25 point
draw down
if used as a short entry location.
Click image for original size