Longer term view
This is why im cautious here , but still bullish longer term (at least for now)...
Click image for original size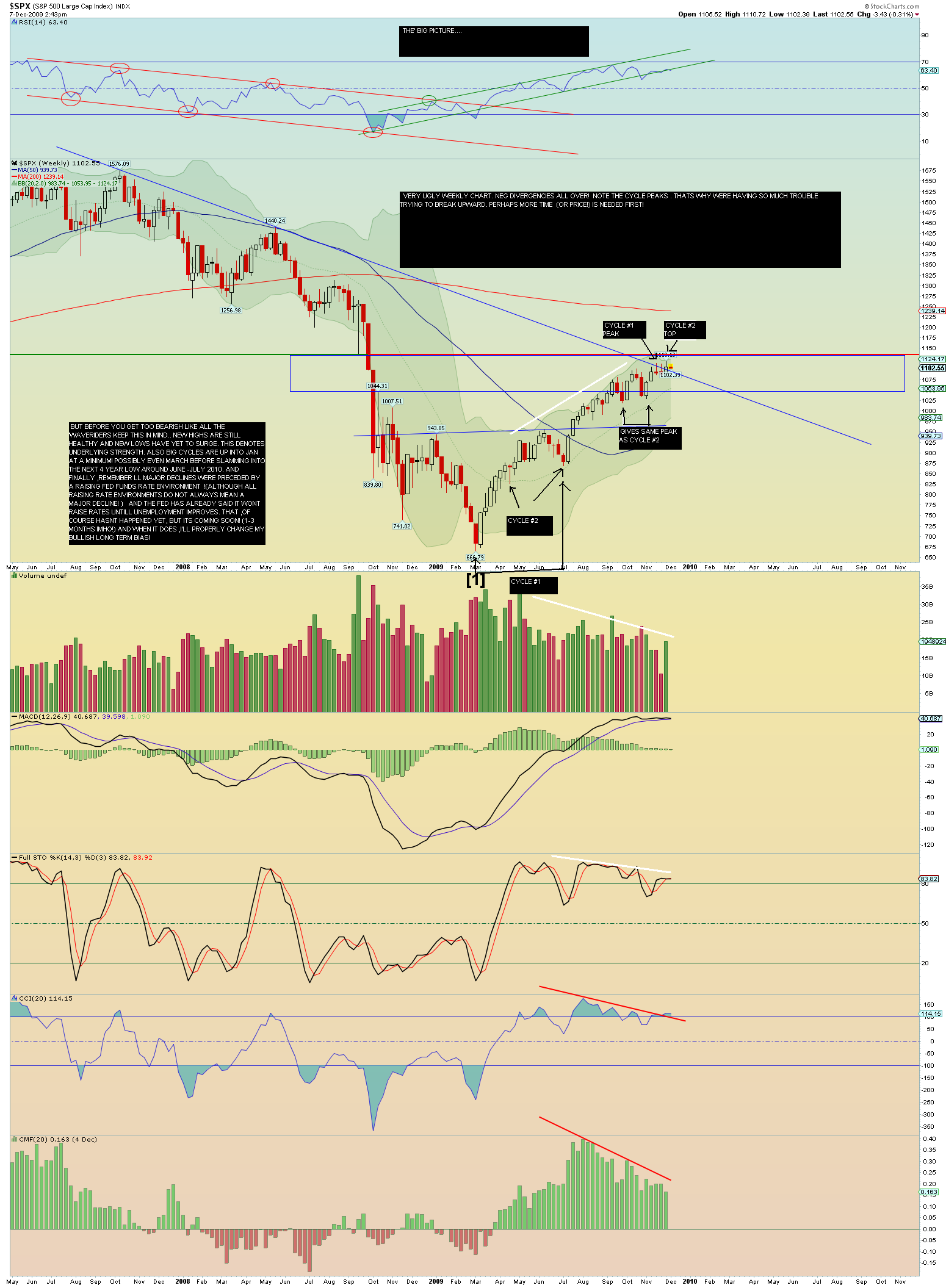 ....thoughts? opinions? critisizems? all are welcome!
nice call on the selloff KOOL...I thought they would take one more stab at the highs but was wrong...good for the pure volume players though...and KT players (Kools Tools players)
This chart is from yesterday, showing the expected projection off of the recent 1113 high... this is the 'low' i had hoped for! Now comes
fed day
.. and the seasonals should start to take effect?
Click image for original size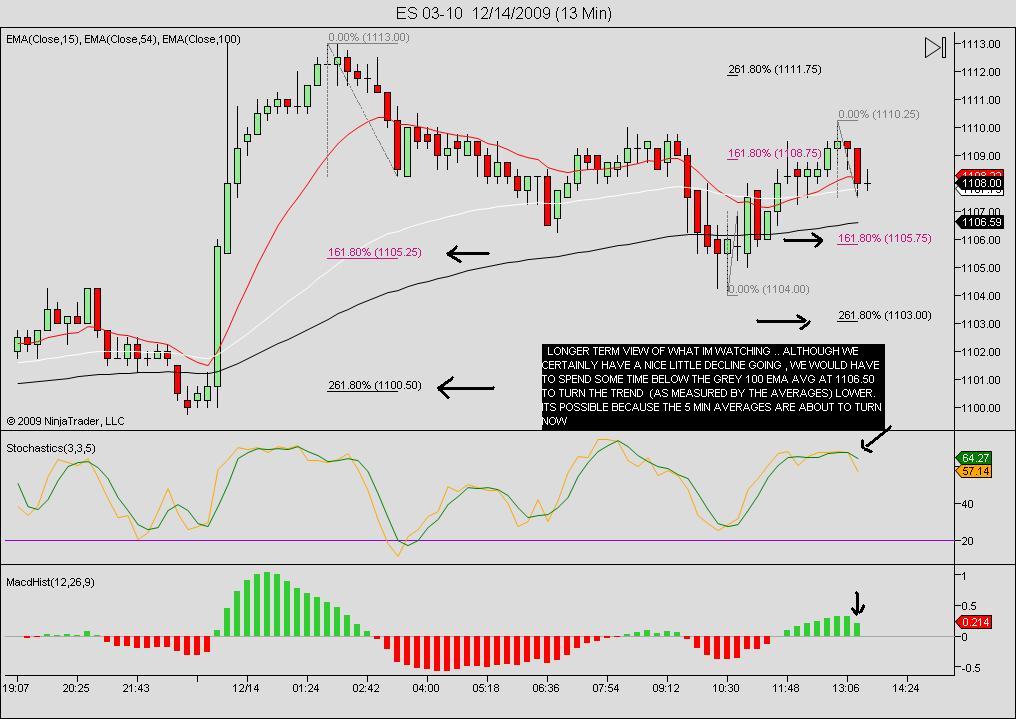 Wouldnt it be interesting to see a surge over the next day or two to , lets say 1126 area which ,using the 1100.50 low would then give a long term projection to 1168-70 ? That would be in line for the expected Jan high and would lead to a wicked decline into the 4 year low next June or July! Just thinking out loud.
Well ,i called it so far ..a low the first half hour bar!..see above chart. now can we go higher over the next few days?
Click image for original size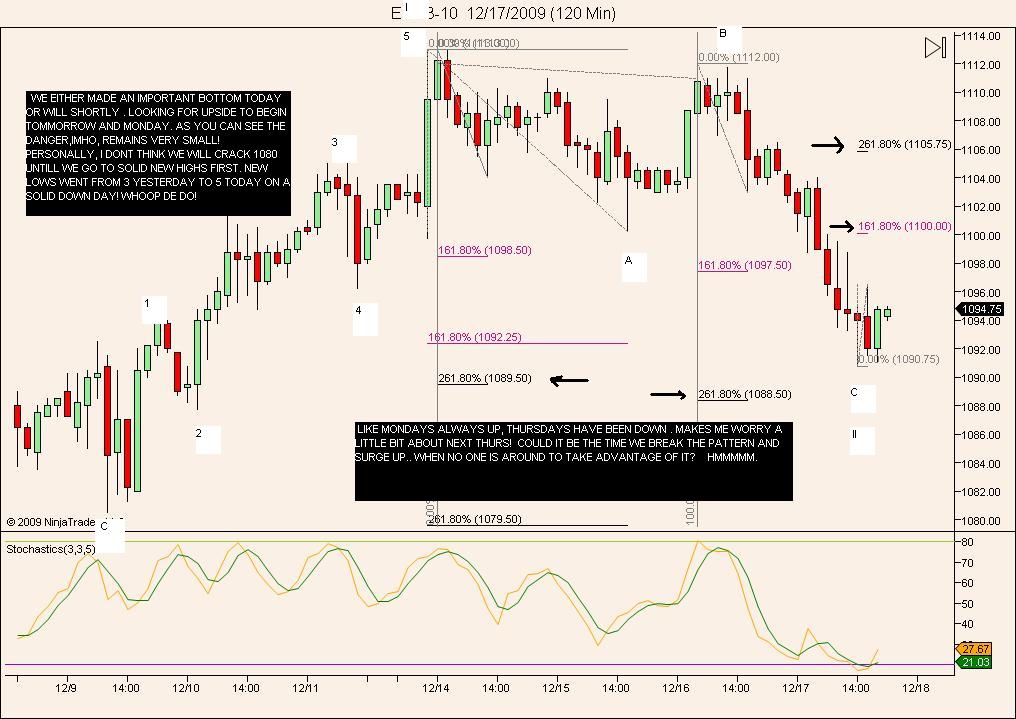 ...probably my last post before the holidays... i know im going against everyone elses views , but thats actually when im most comfortable! bought some calls near that 1090 low. always the chance of slightly lower, but i felt it was a good risk (jan 112's on the
spy
). even if im right , the risk of a wicked turn after new highs remains!...wanted to wish happy holidays to P.T, DAYTRADER,
VO
, BRUCE, CHARTER JOE, REDSIX, JIM KANE , ROOFER, AND
ALL
THE GANG HERE I RESPECT
SO
MUCH!
Happy Holidays to you too Kool.......that was a kool call...for me it was the minus 8 - 10 zone and then the volume surge...always great when our methods gel.....all the best to you and your family in case our paths don't cross next week

Bruce
OK , notice the above chart shows wave 2(of wave 5)ending at 1088.50. im really going out on a limb here but ,what the hey! I think there is a good chance that wave 3 may have ended and we are now in wave 4. If so , a 'normal' wave 4 would be .382 of wave 3. 1088.50 to 1128.25=39.75 handles. and .382 of that would be 1113.00...
Click image for original size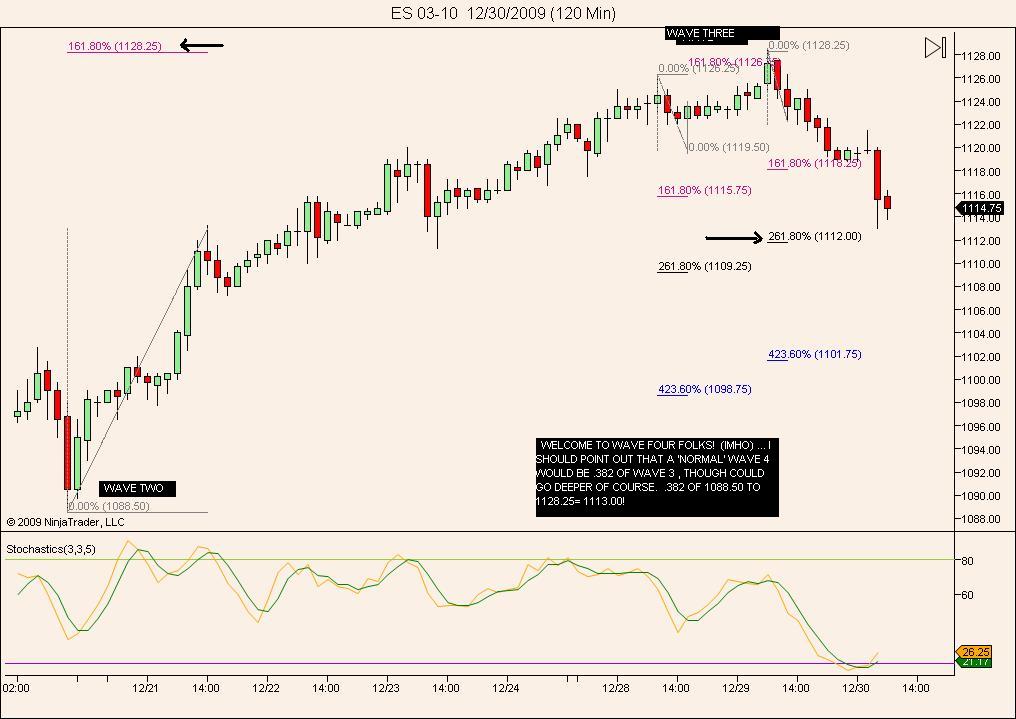 ... PS all my 'wave counts are purely speculation and i wouldnt trade just off of them! I dont!!