Phileo's Notes
Here is the chart leading up to tomorrow`s
NFP
day Jan 8, 2010
Click image for original size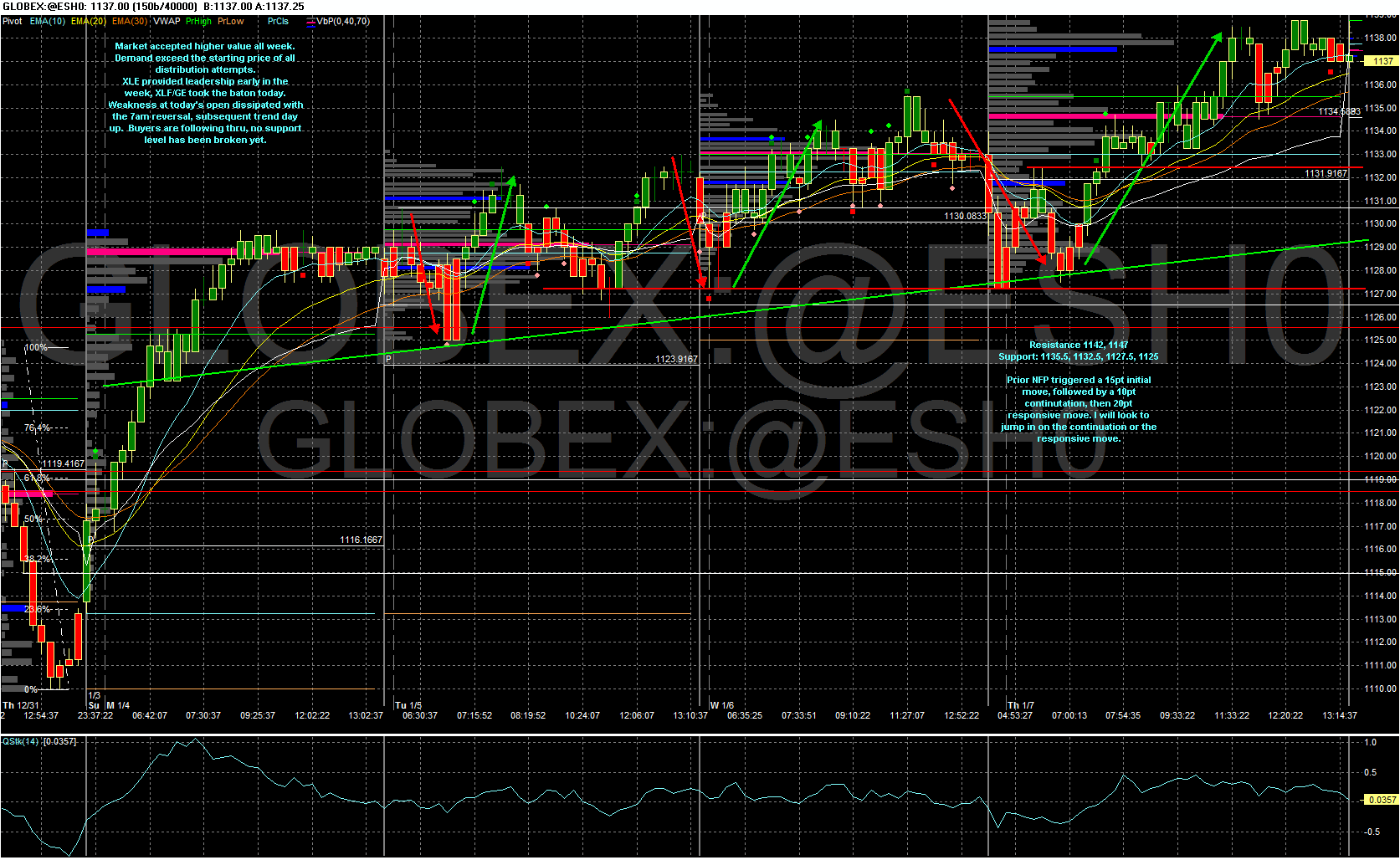 A few notes:
- 4 consecutive higher lows (although today's low was equal to Wed's. low)
- US Dollar Index has been trending higher since Tues.
-
ES
has been stronger than, and thus leading
NQ
higher this week.
- Dec31 was the successful test of the breakout from the prior 6wks of consolidation (1085 - 1112 range)
- Individual names (
BAC
,
GE
,
GS
) and sectors (
XLE
,
XLF
,
XLI
) have taken turns at providing leadership.
Here is the context leading up to
FOMC
day:
Click image for original size

- failed breakout friday, probe for support led back into last week's range
- trend of the past 2 weeks is clearly up; however, the trend of the past 4 session is sideways.
- 1146 is a Point of contention, as the market closed around that level for the 3rd consecutive session.
- Both
NQ
and
TF
are below Friday's close.
- a majority of the leadership stocks (
AAPL
,
GS
,
GOOG
) have unfilled
gaps
and closed below Friday's levels.
SMH
,
GDX
, and
XLE
are also below Friday's close.
- both NYMO and NYAD are at levels where previous corrections have started.
- TraderVic 2B Top watch: a close below 1134 (10d
EMA
=1135.25)
Resistanced levels: 1148.5, 1151, 1155
Support levels: 1134, 1137.5, 1140.5
my best guess: knee jerk spike up above 1151, then responsive move down. However, regardless if it is up or down, I believe the responsive move will be the best move to trade, a range expansion potential of 15points or more.
So here's what happened on
FOMC
day:
Click image for original size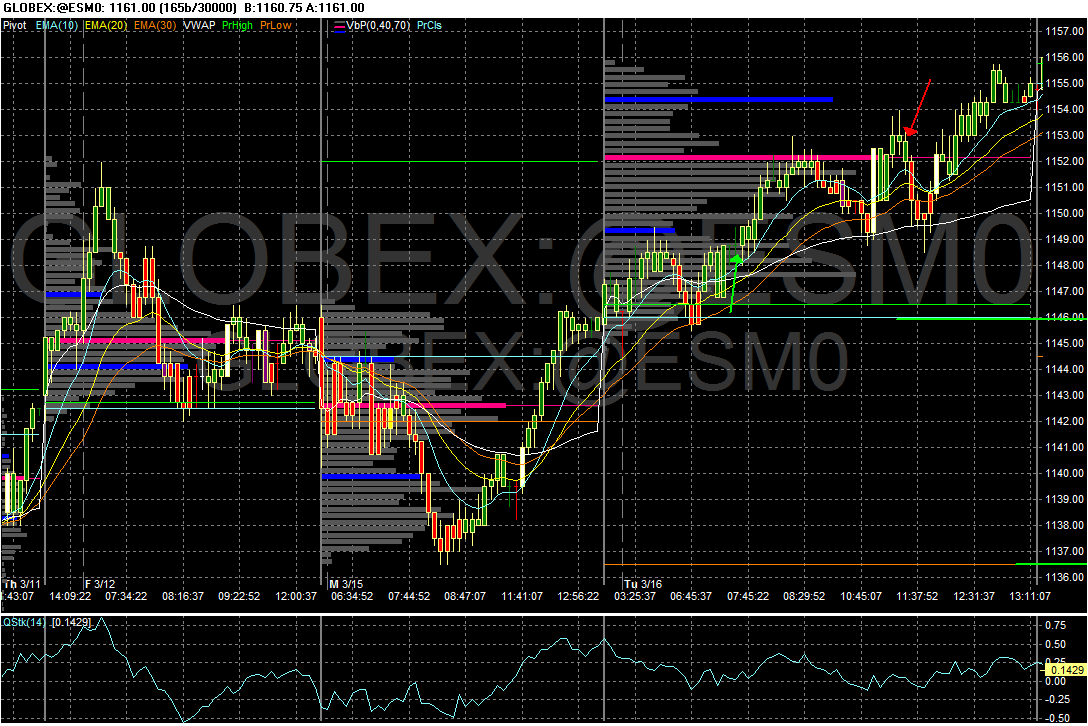 Notes:
- +3pt initial move, -4pt responsive move, then a muddy double bottom leading to a +6pt continuation move in the same direction as initial move.
- trend day up.
- pre-
FOMC
range 7pts, post-
NFP
range 6.5pts
- afternoon rally led to +ve close the day before
FOMC
day, overnight
GLOBEX
bias was up prior to open, opening pb that was bought before 7am reversal, leading to trend day up prior to
FOMC
announcement.
- broke to new contract highs post-
FOMC
.
- Tuesday's
FOMC
session opened with a
gap
up which was filled very efficiently. historical probabilities of a
gap
fill:
-> Opening between R1 and
PP
: 82%
->
gap
up to open
FOMC
day: 52%
-> Tuesdays in general: 77%
- NYMO and NYAD have now reached levels from where previous market pullbacks started
The best plays were:
catching the continuation move post-
FOMC
:
L1146.25 T1152
S1153.5 T1149
L1149.5 T1155
Again, it appears prior day. +ve bias and the +ve
GLOBEX
overnight bias were good clues as to what the market wanted to do.
I missed out on the
gap
fill play, but as indicated by the arrow, I took a long 1149 on the +ve bias after
gap
fill. I also took the short 1153 at the top of the
FOMC
reaction. Unfortunately, my bias prevented me from closing out the short when it broke below 1149 briefly - I had a target of 1146, but it turned out to be a double bottom. I also saw multiple +1K contracts long on almost every
tick
drop below 1150.5, all the way down to 1148.75. That should have been a huge warning sign for any short. 1151 (~50% retrace) should have been the line in the sand for the short attempt. I wound up exiting breakeven.
Here is the context leading up to
NFP
day (Good Friday)
Click image for original size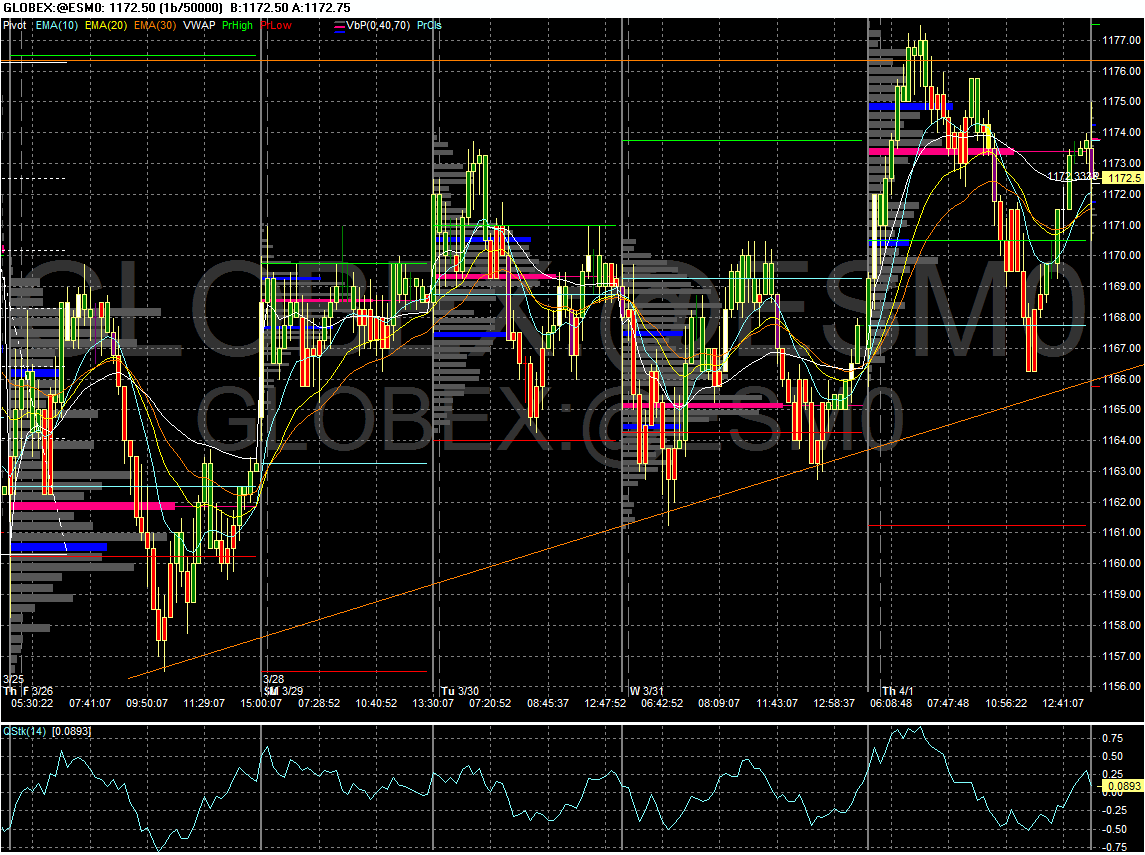 Notes:
- market has been repeating a failed breakout pattern
- all dips have been bought
- 10 20d &50d
EMA
pointing up.
- uptrend for almost 2 months.
- many sectors starting to show sideways range bound movement.
- For some time now, NYMO & 5d
MA
of NYAD have been at levels from where previous market pullbacks started.
Based on the past 3
NFP
's described here (small sample size duly noted), the biggest move (after the volatility stabilized) was in favour of the session bias the day before. Of course, there was that one
NFP
at the beginning of Feb/10 which carved out the hammer reversal that started this current uptrend. But even the Feb/10
NFP
had a big drop which was inline with the +20pt drop the day before. It is possible we have another trend changing event on Monday.
Bearish scenario:
false breakout above 1178, responsive selling appears in force, then selloff and close below 1158.
Bullish scenario:
False breakdown below 1165, responsive buyers appears in force, causing market to eventually accept 1175 (or higher) as fair value.