ES 3-24-2011
Here is the developing
RTH
weekly profile. Obviously prices are well above this at the moment. Also on the chart is Paul's Monday Range fib extension where if prices reach the 1.618 extension of Monday's
RTH
range on either side the probabilities of prices hitting the 2.000 range are extremely high during the rest of the week. In this case to the
tick
almost!
Click image for original size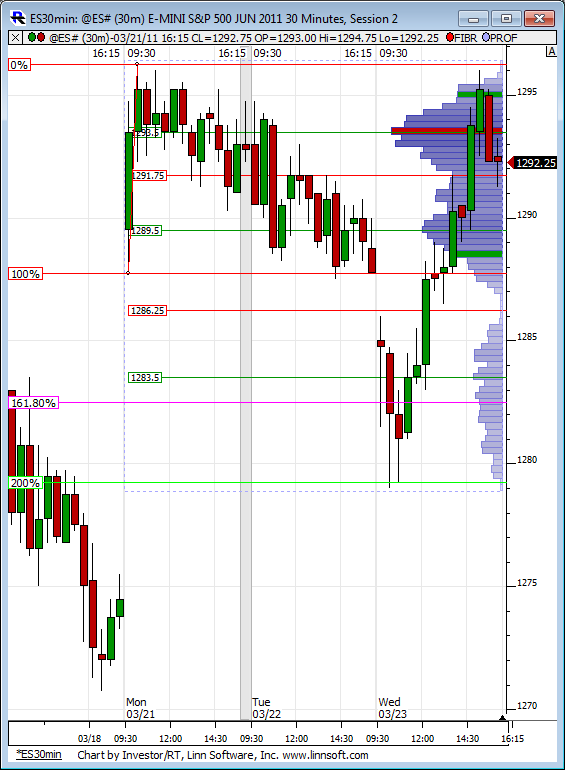 two more off at 04.25...last two will get stopped at 05.75 or will target 03 print...way too late here...a good end either way to a rough day..but sure would prefer to see 03 print
that was a nice volume
divergence
into that key area....but a scary time of day for it
flat 05 even...was hoping 4 pm close would be lower..
James Dalton: "1. What is resistance going up becomes support once it is surpassed.
2. Overnight inventory is mostly long.
3. Right now we would
gap
higher, the
gap
is the reference; failure to fill the
gap
is positive in the day timeframe.
4. Yesterday's rally was on poor volume and structure; this increases long side risk. If the market fails to hold the
gap
and finds acceptance below support, overnight inventory and late longs from yesterday could pressure the market to the downside. "
Click image for original size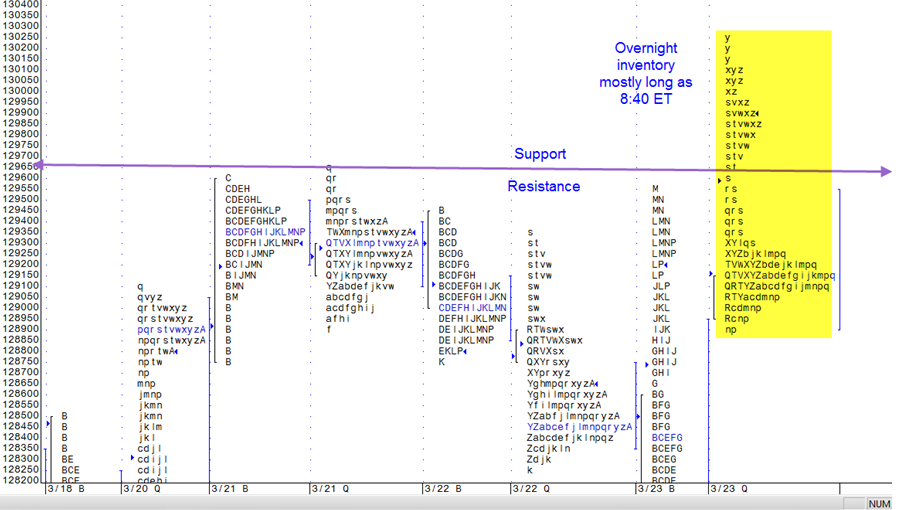 ...SMART
MAN
!
Originally posted by koolblue

Good morning! All along the recent decline from 1337 to 1241 i harped on the fact that it would likely be a supreme buying opportunity with higher prices due in April...i still believe that. the first phase of the rally(what wave theorists call wave one) is probably nearly over. The 1303 area is considerable resistance ,but i tend to think we top out a little higher..perhaps the triangle apex ? Afterward expect a swift decline for wave 2 of perhaps 38% from 1241 to wherever the high is!.. Heres the hourly picture so far...


Click image for original size



whew! tough day indeed! hourly proj hit, but it took all day and sure didnt help me ,as im a big loser today!...licking my wounds tonite..c ya tomorrow gang!
Lots of mistakes on my part today but I thought I'd share one that might be most useful to the forum......
I had a good short working from the open as I had the 99 volume number created in the
O/N session
and the 95.75 volume from yesterday.......I also had a target based on volume at 91.25 ( which never hit today)......now the part I messed up was at the closing range.....I missed covering ANY contracts right there....
I look at the closing one minute range just like I look at the one minute opening range....and should have taken something off there even if it was just one contract out of my last 2 runners..but I was hell bent on getting that 91.25 that I overlooked the closing range..I gave back 4 points by missing that target..
So the moral of the story is to know your closing range...especially on a day that we
gap
open outside of the previous days range...
Look at todays
RTH
low and look at yesterday last one minute range of trade....a perfect hit
s&p 500 cash high today...1311.34! Thats now a magnet,imho!