ES 3-24-2011
Here is the developing
RTH
weekly profile. Obviously prices are well above this at the moment. Also on the chart is Paul's Monday Range fib extension where if prices reach the 1.618 extension of Monday's
RTH
range on either side the probabilities of prices hitting the 2.000 range are extremely high during the rest of the week. In this case to the
tick
almost!
Click image for original size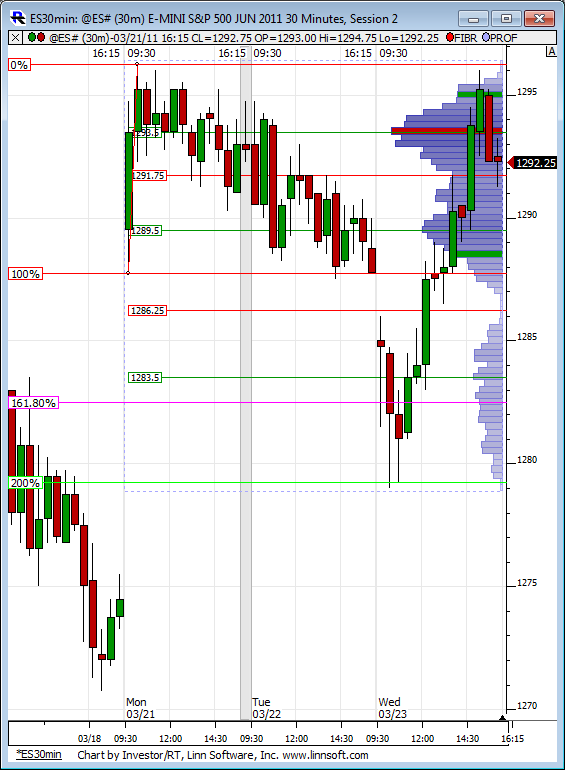 and there is the problem...that beautiful 1302 with all the volume just wanting to be tagged again...will need to look for additional sells above highs if they pop that top first...
ideal
add
point for me is above 05.50 after they run those highs..hopefully without volume
short from 306.5...ym also ran against the 130 resistance area i mentioned below...will look to take half off at 305 and 303.75 as secondary target (stop to b/e when/if first target reached)...vol dvg to go with it...
Originally posted by apk781

5min charts (ym, es) on their exhaustion waves here with clear dvg coming from long term macd indicators...a/d at only 1000 does not indicate a killer trend so that lt dvg is likely to play a role here...that said a final push up to 1306 area could still happen and that is where i would love to sell some (1.618 proj on longer term charts)...also decent resistnace on ym at 131 (some 35-40 pts away from where ym currently stands) which looks likely to coincide with the 1306 area on es

i have the 03.75 and the 06 working short....some may remember I had a 06 - 08 zone that I've been watching recently...let see how it does up here..target is now 03.75... due to
add
on....much higher risk for me...not a good day in general..and poor time for me..
flattened the second half manually on the push down here at 94.25 since we got to my time limit (15:50 et)
that is 304.25 of course, not 94.25....long day ...gn all !
Originally posted by apk781

flattened the second half manually on the push down here at 94.25 since we got to my time limit (15:50 et)