ES 3-24-2011
Here is the developing
RTH
weekly profile. Obviously prices are well above this at the moment. Also on the chart is Paul's Monday Range fib extension where if prices reach the 1.618 extension of Monday's
RTH
range on either side the probabilities of prices hitting the 2.000 range are extremely high during the rest of the week. In this case to the
tick
almost!
Click image for original size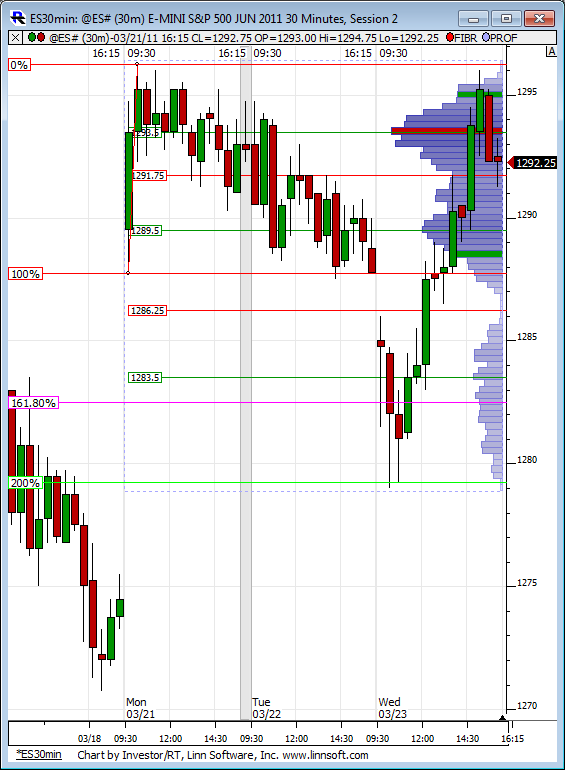 targeting 99.25....have 1302.25 now too.....a big failure here above the
O/N
high will try for 1306 - 1308...so I'm watching volume near
O/N
high IF it comes real close to take the loss...
added at new highs...this is a real time experiment that may really beat me up....
delta
divergence
up here...with volume diverging
targeting 1300.50 to close out this campaign...chart later...even if it fails..
i just got out of my position short..1301 not worth holing it.. this market has been over bought since 1297 someone is buying it up. just have to ask why? is it for a rally or do they want to be the only one holding the all cards when they short the market with 40K contracts
My mind set was bearish and so it kept me out of this rally.. thankfully i've learned that sitting out until you can adjust to market conditions is sometimes a better trade than forcing your will on the market. Admittedly a lesson i learned the very hard way when i first started out.
"The 1303 area is considerable resistance ,but i tend to think we top out a little higher..perhaps the triangle apex ? "... Nothing has changed for me!
PT
,
Delta
is not time based - it is more like "point and figure " chart. Actually it is a point and figure chart.
Mine is set to 5-
tick
return, meaning that if market moves more than 5
ticks
in the opposite direction, chart starts a new column.
Hope that helps.
s&p 500 cash high today...1311.34! Thats now a magnet,imho!