ES 6-3-2011
Putting this guy up before the big news out at 8:30. As Bruce pointed out yesterday 1313 zone is an important inflection point.
Click image for original size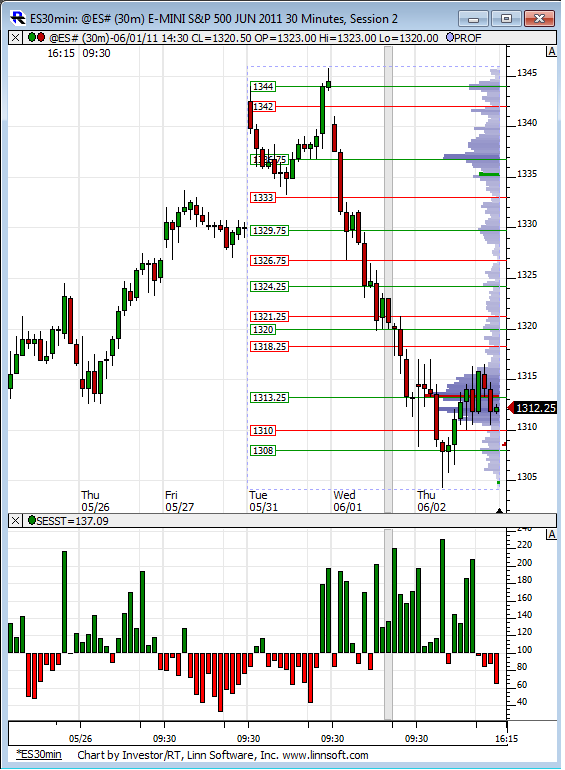 ahh..thanks, that is me done at 01.50...that is 50 % back and
single print
fill in....
Hey Neo..how about doing an offical educational thread on your pivot fib method..? this way the idea won't get lost in these day trading threads....I don't remember seeing one yet but then again I am burned out this week...
if the 12 noon bar ( 30 minute bar starting then) trades into 1301 then the
poc
will shift down to 1301....so in theory value is developing at lower prices..and will be in the center of the range
so the bulls need to get above 1303.50 and not trade back to 01 now,,
will be fun to watch over lunch
That was excruciating to watch...
Originally posted by BruceM

c'mon Lorn hit the damn sell button...always so much torture on the last one..

Thinking fractals.
1307.125 the 50% retrace level(strength above,weakness below) of 1241-1347 range, 1291 the 61.2 level.
Nothing will be postive until a lower high broken and held so the onus on yesterdays high.Operating between it and this
AM
low for now. If it can't be achieved the equidistant move down from that high is around 1280 area, if it doesn't extend. Close higher than 1307 level would be hopeful.If so and that
hod
broken, target 1324.50, previous 50% level,and 1332,
KEY
level.
So,
gap
close and drop?
Gap
open and drop?
Gap
closed and proceed up?
I consider a lot of things and the targets for the
ES
C wave up was minimum 1378 and a 5th wave minimum was 1404. I don't chart the cash levels as it's not necessary to me. Futures, with rollovers, vary. I don't know if high of year set but close enough for futures to me(5 pt variance). Not a prediction, just trading and analyzing(no faith in anything but current price).
I pattern trade primarily ,but use a lot of tools(never volume). Fib levels, like volume markers, are interpreted by how price does or doesn't react to them. Reverses, pauses, cuts right through,etc..., and you move on to the next dynamic analysis/trade the same way as in
MP
with new levels to consider.
A lot of new contributors here and lively give and take. Good to see.
Last trade of the day for me was shorting at 1308 at 1050 EST. Not knowing what to expect and not even sure why we were even that high again to begin with I elected to exit quickly at 1306.50. I still had thoughts that we could go lower but dismissed those so I could go to bed.
Woke up this
AM
to see we closed at 1295.75!
Perhaps it is better this way. Two profitable 12 point plus trades in one day is still a pipe dream for me. One such trade a few much smaller trades is what I will settle for for now.