ES 12-17-08
great trading gang...for all you lurkers and onlookers feel free to contribute your own style or method
This is my reading of today's chart of the
ES
. At 1015 this morning Trins were 141 & 179--Volume was 92,000 & 157,00 more to the downside Adv. Vs. Declines were 984 & 589 to the downside. The market had moved down to 895.25 at 1013. All BEARISH except for one thing, both
VIX
'S had moved lower from the opening on. As the day continued the
Vix
& VXN contined to go lower & volume continued move to the upside. Both Trins also moved lower & Adv vs. Declines moved towards the upside. Except for 2 trades short the other trades were all to the upside. I used the above info to set up my trades & was lucky enough to end the day up 25.25 pts. I hope I didn't bore anyone, however, Palmer had seen my post re. a
Trin
trade & had asked for an explanation.
quote:

---

Originally posted by redsixspeed

so many trades; so little time. I don't see how you guys
post so much and trade. My hats off to you


---
I got my great big foot stuck in my mouth,
if I ever get it out I won't do it again.
I saw one from yesterday I believe Jack...perhaps you could expand with some charts if you get a chance...and congrats on a great day....and Redsix...no offense here/...all is cool with me
quote:

---

Originally posted by JackS65

This is my reading of today's chart of the ES. At 1015 this morning Trins were 141 & 179--Volume was 92,000 & 157,00 more to the downside Adv. Vs. Declines were 984 & 589 to the downside. The market had moved down to 895.25 at 1013. All BEARISH except for one thing, both VIX'S had moved lower from the opening on. As the day continued the Vix & VXN contined to go lower & volume continued move to the upside. Both Trins also moved lower & Adv vs. Declines moved towards the upside. Except for 2 trades short the other trades were all to the upside. I used the above info to set up my trades & was lucky enough to end the day up 25.25 pts. I hope I didn't bore anyone, however, Palmer had seen my post re. a Trin trade & had asked for an explanation.


---
Jack could you explain some more - I know people play the extremes in trins. Very high trins is bearish and waiting for a climax, while a low
trin
reading is bullish.
I know some people also use the trins at closing as swing position overnight. For example on a bearish day when the trins closes above 3 you would buy the market at the close. I haven't tested this myself but I know people who use it to great success. I am also watching the
tick
closing analysis brought forward by Kool, which is almost the same analysis.
i keep my mouth shut because i dont want other ppl to leech off my fail. im a total newb.
Click image for original size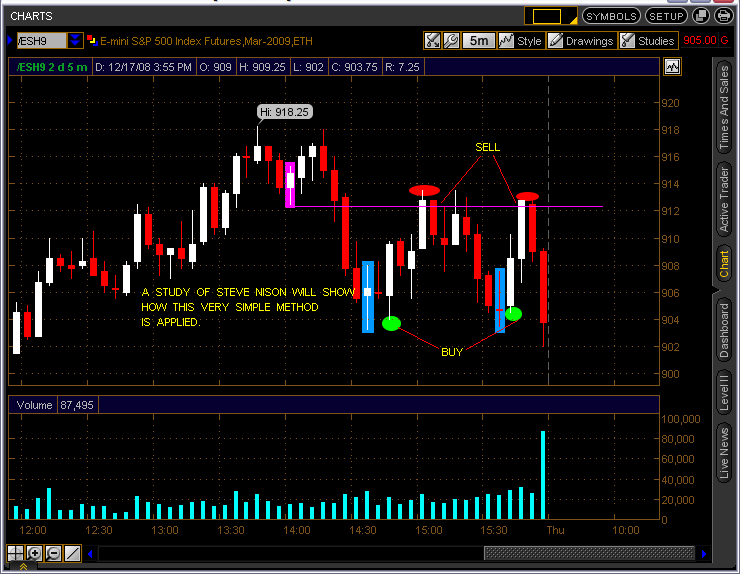 Thanks to all the great traders in this forum.
I hope you all have a great '09
God bless......Bye