Candle Pattern
ES
15min. @ 8:30
bear harami
/ 9:15 bear engulf / if we
close above could be a further move up
Some people use the daily / hour candles ( I do some as well) but if you
look @ the previous charts in this topic you will see they are 15min. patterns.
5min. for me is also a good time frame
I like the lowest... range 15 minute bars RED from the day session...they do a great job at pointing out the consolidtaion periods..and usually form around those one minute volume spikes I'm always babbling about.......take a look at all those low range 15 minute bars at the 93 - 94 area.......from Monday.....and some good ones yesterday.......the trick is knowing when they go for the fake outs....
I imagine you would Red.......looked like a "smooth" ride..
quote:

---

Originally posted by redsixspeed

I don't have the RedSixSpeed anymore and I miss it....


---
Click image for original size
Here is a 30min
NQ
chart, with a new high at sq nine 1260 and a close on the low, and another test of 1260.5 we took some shorts at 1259 (55
tick
SAR break) Notice the
divergence
on the
tick
chart...
Click image for original size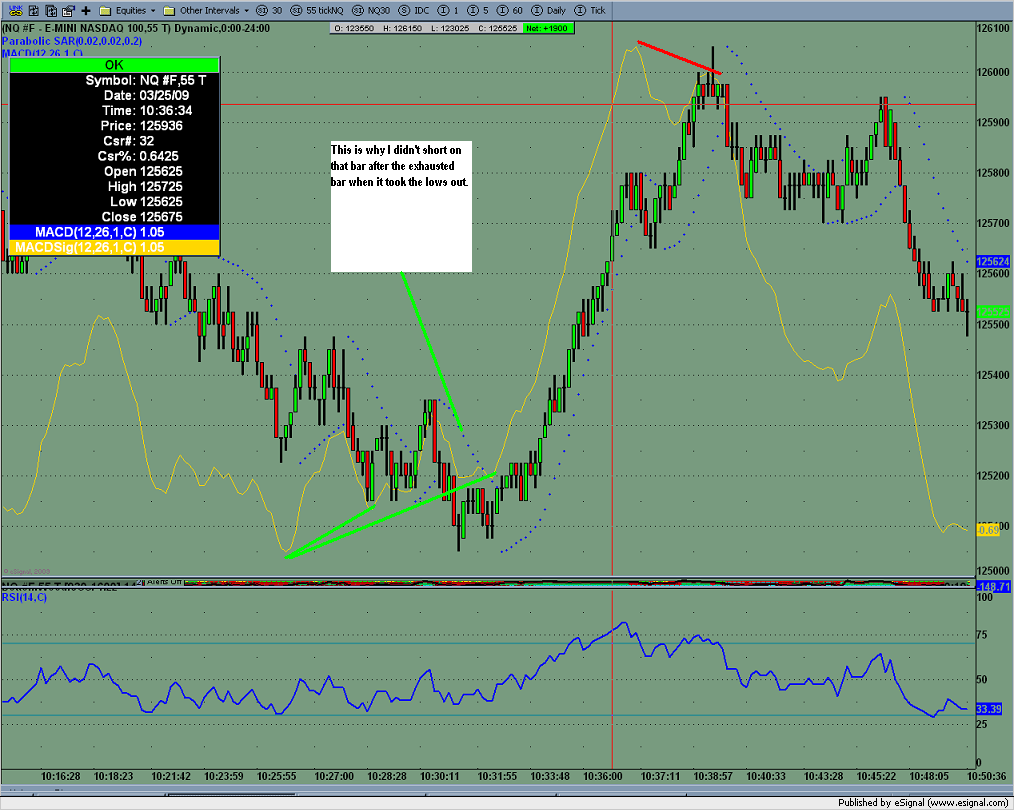 see that 15 minute inside bar just at the high volume spike and
VA high
...that holds the key for me..lowest range 15 minute bar of the day..gheesh...look at all those stops at the 16 area.......perhaps they are the smart buyers...I hope not!! I will not be thrilled with new highs now...
I have a 5min. candle pattern to post but these things happen so fast its's hard to get it
up in time. I'll have it in alittle
I don't trade with MAs ... but recently I started looking at them .. I have set up a quad chart with different time frame of MAs .. Today at 11:30am et. all four MAs came together and in fact price hit them about the same time .. I just got started with this so I'll post what I see from time to time .. looks good so far .. My intent is to use them as a confirming tool not a primary ...